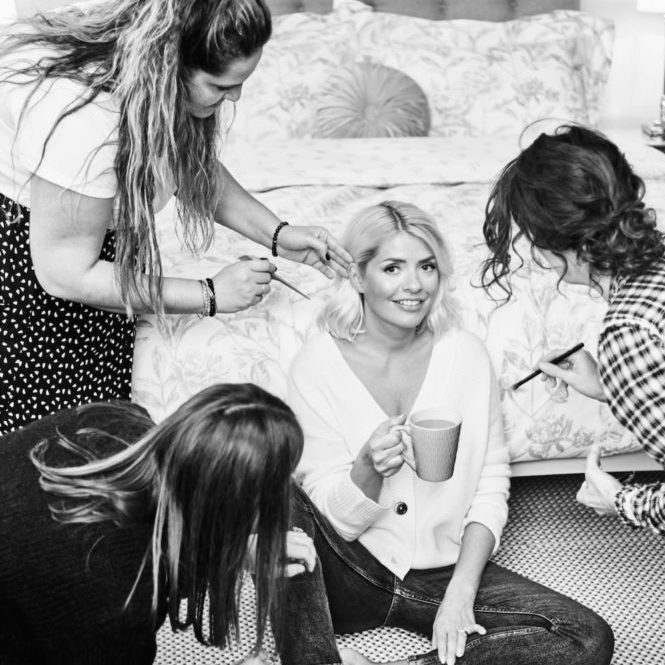 Holly Willoughby with Patsy (makeup), Ciler (hair) and Danielle (style).
WYLDE MOON is full of expert advice from Holly Willoughby's glamsquad; makeup artist Patsy O'Neill, hairstylist Ciler Peksah, and fashion stylist Danielle Whiteman. The team are truly experts in their fields, and have shared their industry secrets with us here; from what it's like working with Holly, to how they progressed through their careers, to the products they can't live without after trying quite literally hundreds of them. Enjoy!
  How did you get into your chosen field?
Patsy (makeup)
"Originally, I wanted to do a BA in Fine Art, but my early 90s course at the London College of Fashion led me down a different path. Creatively, it was all an all-encompassing course that included hair, makeup, fashion – even some history of art – and whilst there, I had the opportunity to assist some amazing makeup artists.
"Saying yes to shoots, music videos and editorial meant I could move out of home and after deferring my degree for a few years because I was so enjoying being an MUA, I ended up setting up my own business in 1995, building my own client base, and here I am!"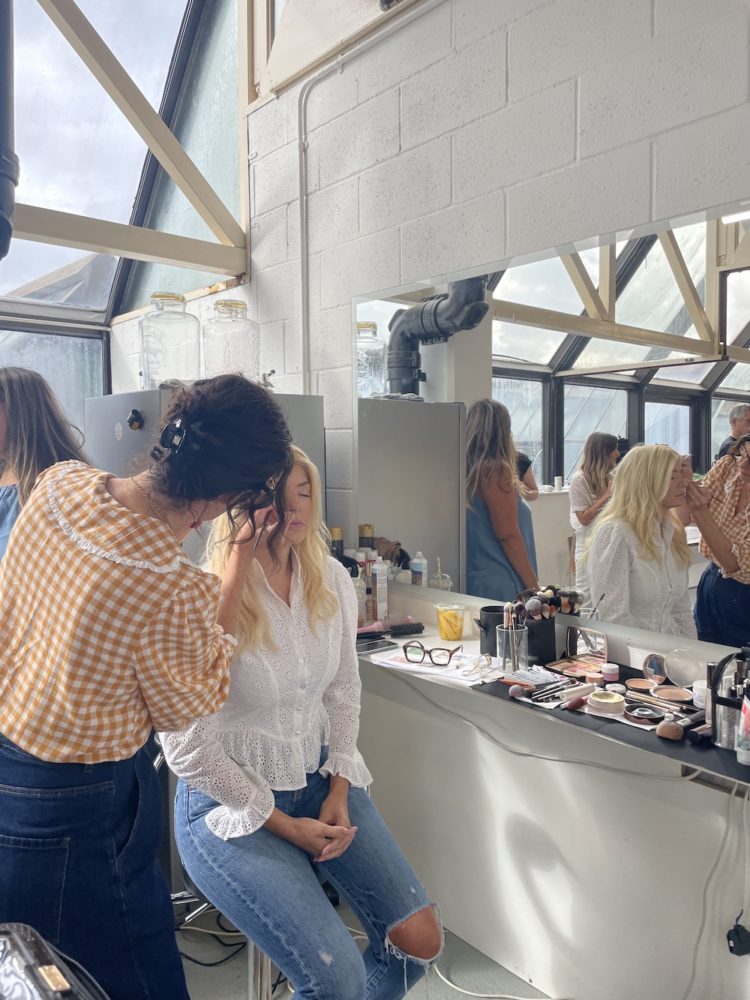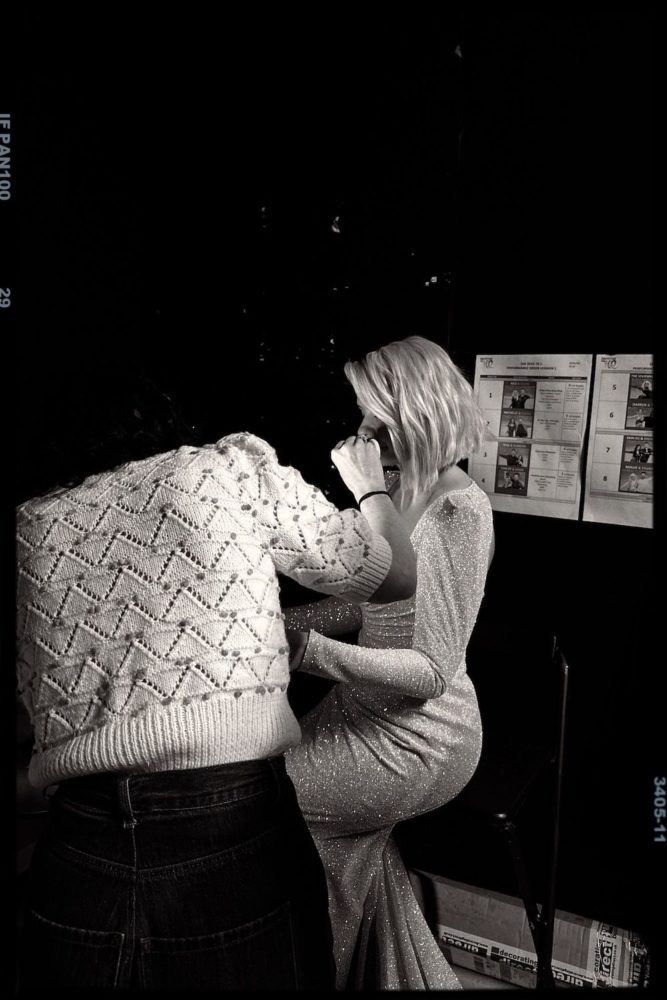 Ciler (hair)
"My love affair with hair really started when I used to accompany my mother to the salon for her Saturday morning blow-dry. There was one particular hair stylist there who she loved because he understood her afro hair, and whilst in her case beauty most definitely meant pain, thanks to his skills she always had the most immaculate straight hair and I always remember how happy it made her feel.
"When I was a bit older, of my 'cousins' (a close family friend) used to regale us with tales from the glam chair of a hair salon in Knightsbridge and I was hooked! At 13, I dropped out of my Saturday drama school to become a 'Saturday Girl' at the salon with my 'cousin'. I actually had to get written permission from my school to do it on Saturdays in case it started to affect my schoolwork. As the years went on, I knew this love for hair was real and by 16, I went from a 13 year old 'Saturday Girl', to an apprentice…and the rest, as they say, is history!"
Danielle (fashion)
"Growing up in the rural Welsh valleys, I dreamed of a fashion career in London, so I opted for a London university. Whilst there, I spent every spare minute interning as a fashion PR assistant for free, just to get my foot in the door because I thought fashion PR was what I wanted to do. Then one day, a stylist from the X Factor came in for a showroom appointment and I immediately changed my mind. Luckily for me, when I asked about it, I discovered the show was short of an intern, and off I went to the X Factor (One Direction year) for a 2-week internship that quickly turned into me staying on for the whole 3 month show run!
"From the X Factor, I continued to assist stylists, until I became Holly's personal stylist a few years ago. I learnt to do all the running around very early on, which in case you're under any illusions, is what this job is all about! To this day, as a stylist I turn up with 12 suitcases of clothes I've run around to collate, and leave with 12 suitcases of returns to run around and take back! But I love it!"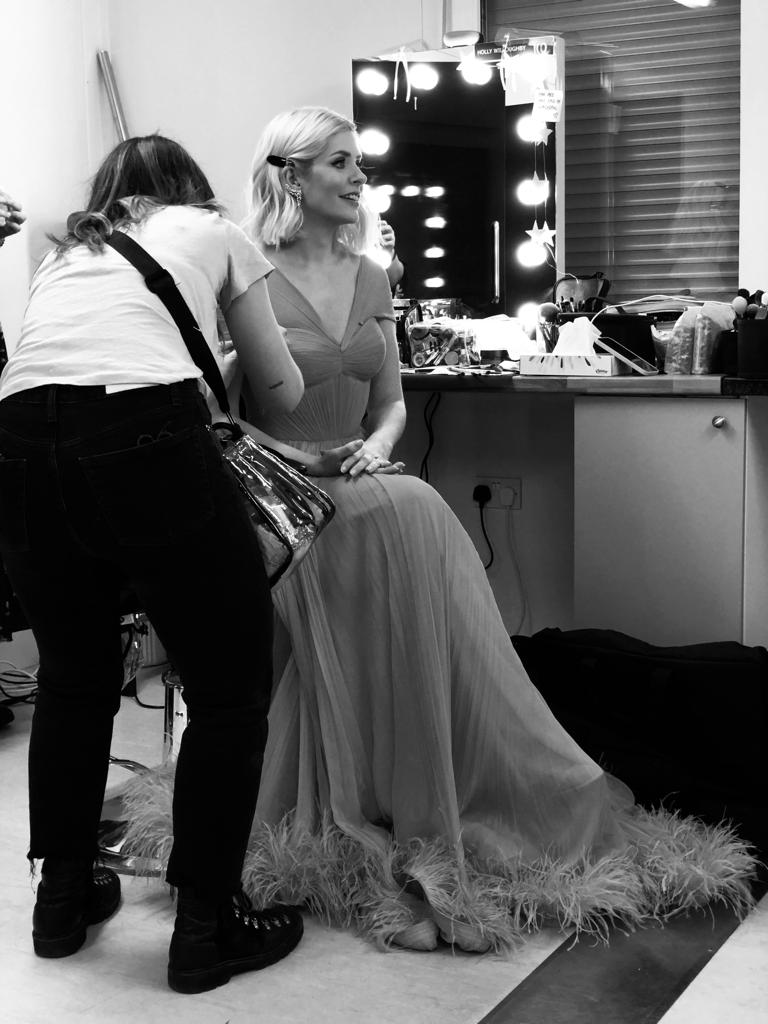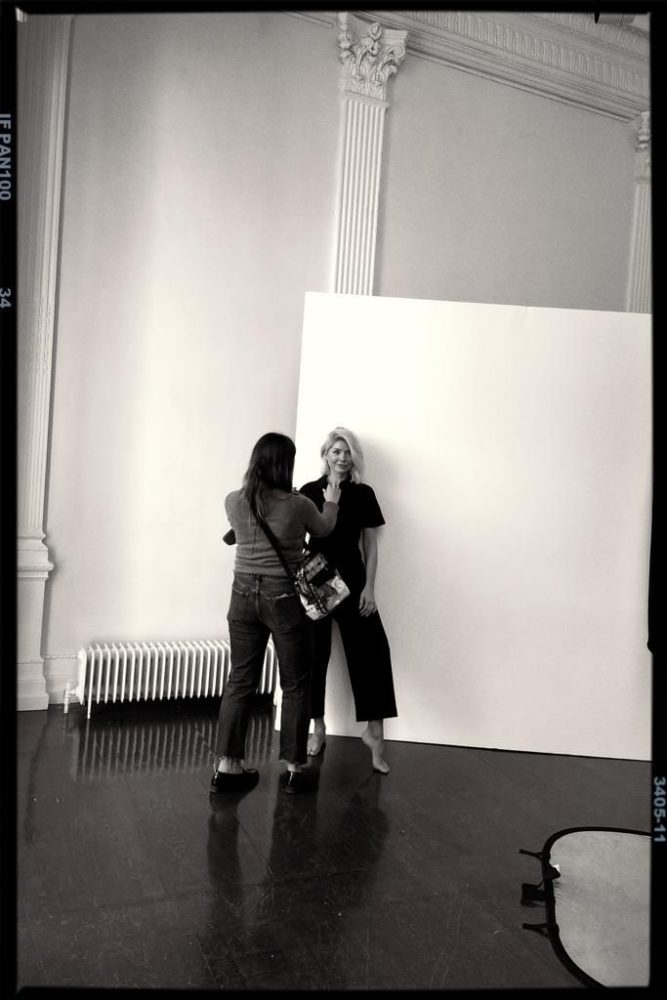 What is one thing you can't live without in your kit?
Ciler
"The first thing I reach for is heat protection/leave in conditioner. Whether as a result of heat, colour, chemical, or environmental damage, damaged hair can develop cracks in the cuticle or outer layer which need to be protected from the outset."
(NB: Ciler has previously recommended this Schwartzkopf Keratin Heat Protect Spray)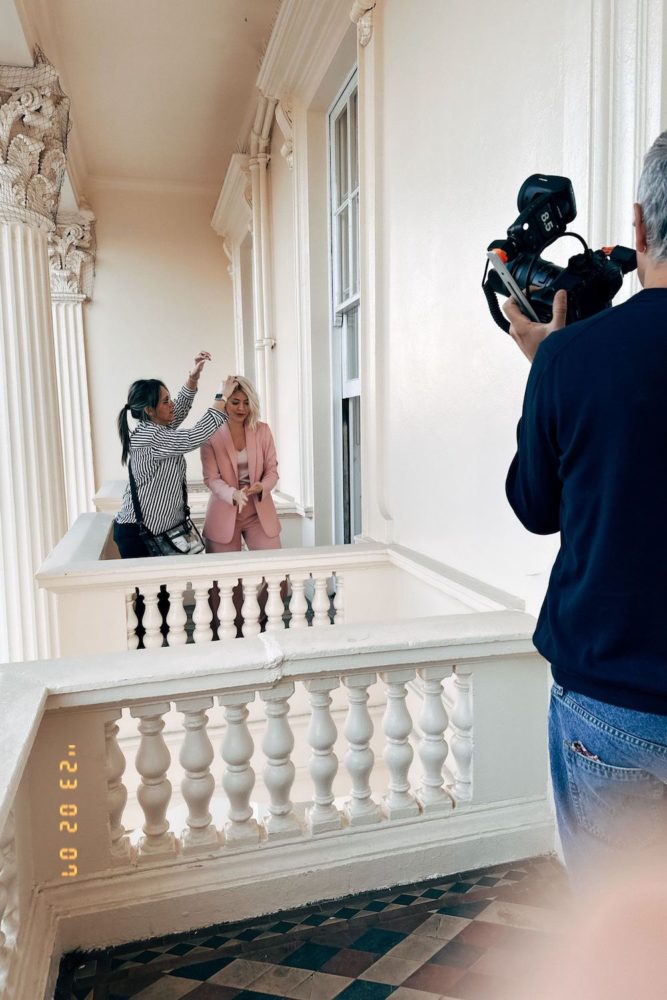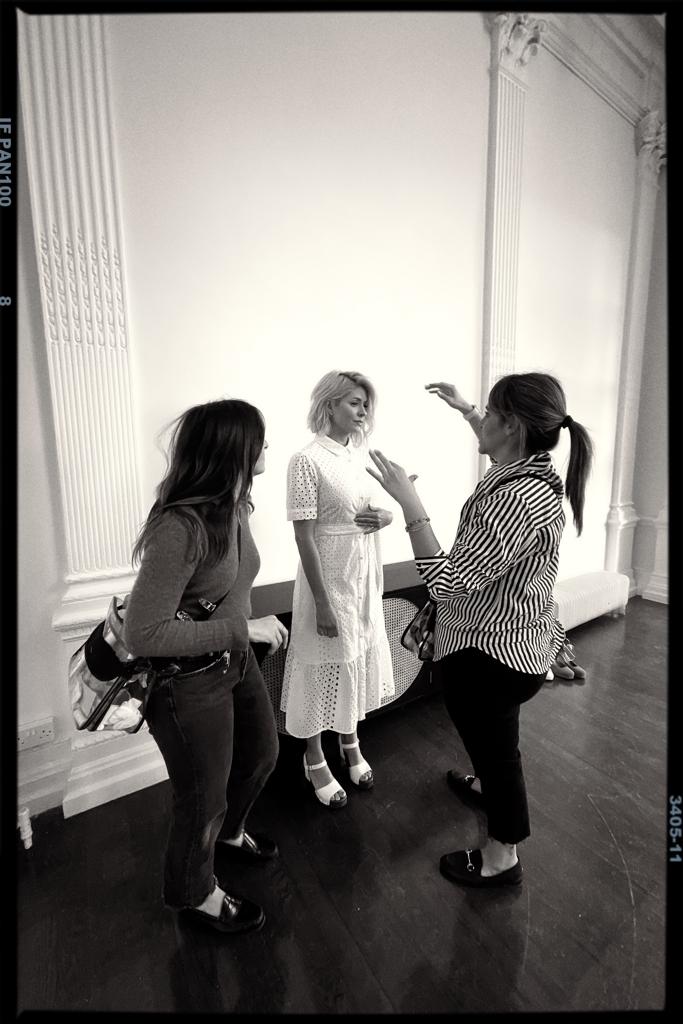 Danielle
"My micro-stitcher for last minute alterations on set. It's basically a plastic kimble tagging gun and it's never far from my person. Oh, and my happy-go-lucky-can-do attitude –  obviously."
  What has been your favourite shoot with Holly?
Patsy
"I think one of my favourite Holly shoots happened many moons ago, when we'd just started working together. I can't for the life of me remember what it was for, but I made Holly look like a 1960s baby doll, complete with individual bottom lashes as well as top. It was a very iconic black and white picture that really felt like we'd travelled back in time to the swinging 60s!"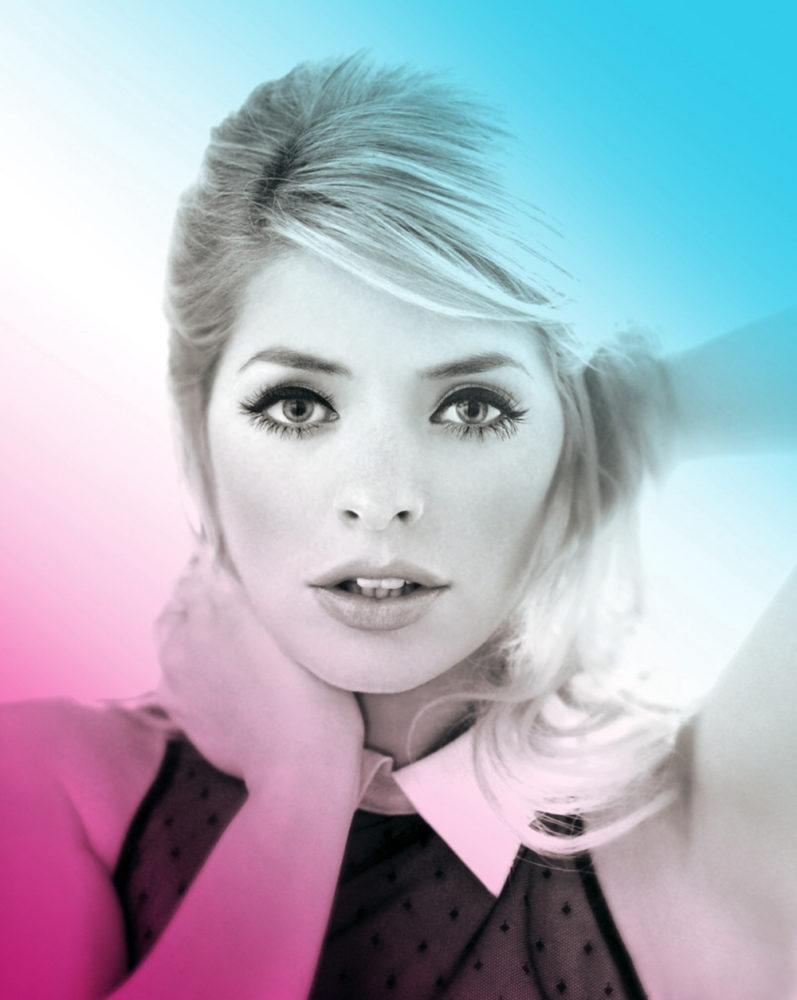 Ciler
"Wow, what a question…there have been too many amazing ones to pick just one!! If I had to pick one look, it was where Holly was a vision in Barbie pink for the National Television Awards 2017. It was just so Hollywood red carpet glam!
"And…secret squirrel… we also did a 'wet hair' shot at the latest WYLDE MOON shoot – still to be revealed – but I've been itching for Holly to do that for years. The photos from that set up are incredible. For me, it was a moment worth waiting for…hope you feel the same when the photos surface!"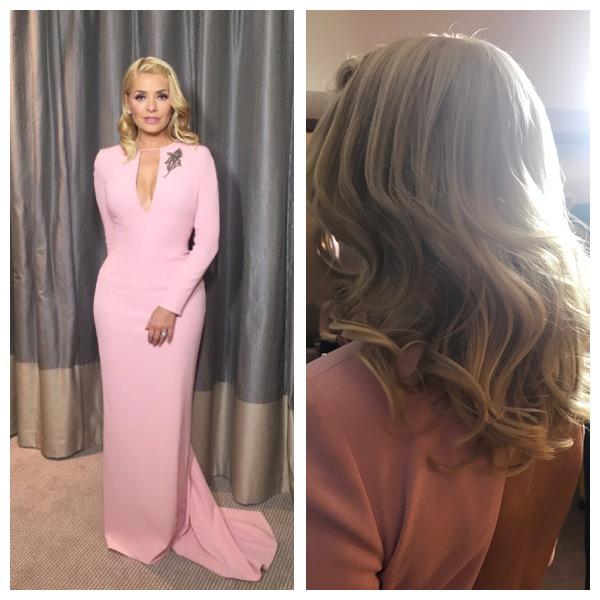 Danielle
"I'm not just saying this, but I think the first ever WYLDE MOON shoot, where we commissioned an enormous crescent moon and photographed her on it. It set the look and feel for the whole WYLDE MOON journey and the pictures were unreal. I mean…if there was ever a perfect moment for that vintage inspired Vampire's Wife gold lamé gown…this was it!"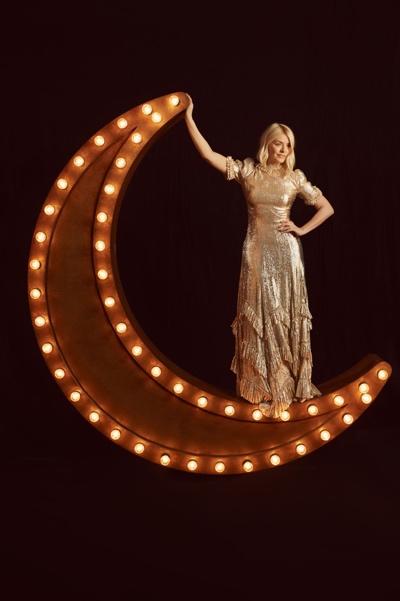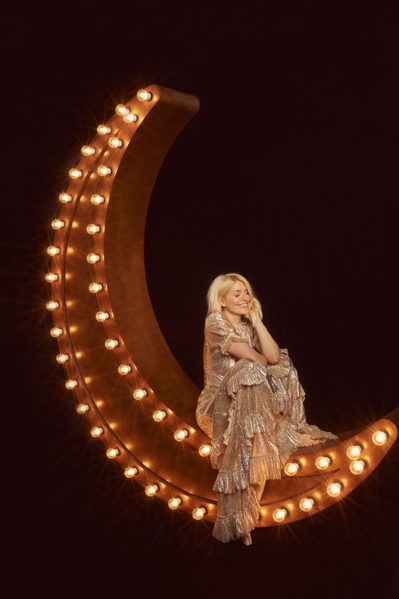 What is your most asked question and what's the answer?
Patsy
"Actually, I'm always asked, 'How did you become a makeup artist?' – normally by those aspiring to be one. To add to my previous answer, I do think you have to have a natural flare for art because you need to see everyone's face as a canvas. It's about having the creativity to provide a vision for other people's faces, not just for your own.
"If a career as a makeup artist really interests you, there are some great summer courses at the London College of Fashion you could explore that would give you a real feel for it."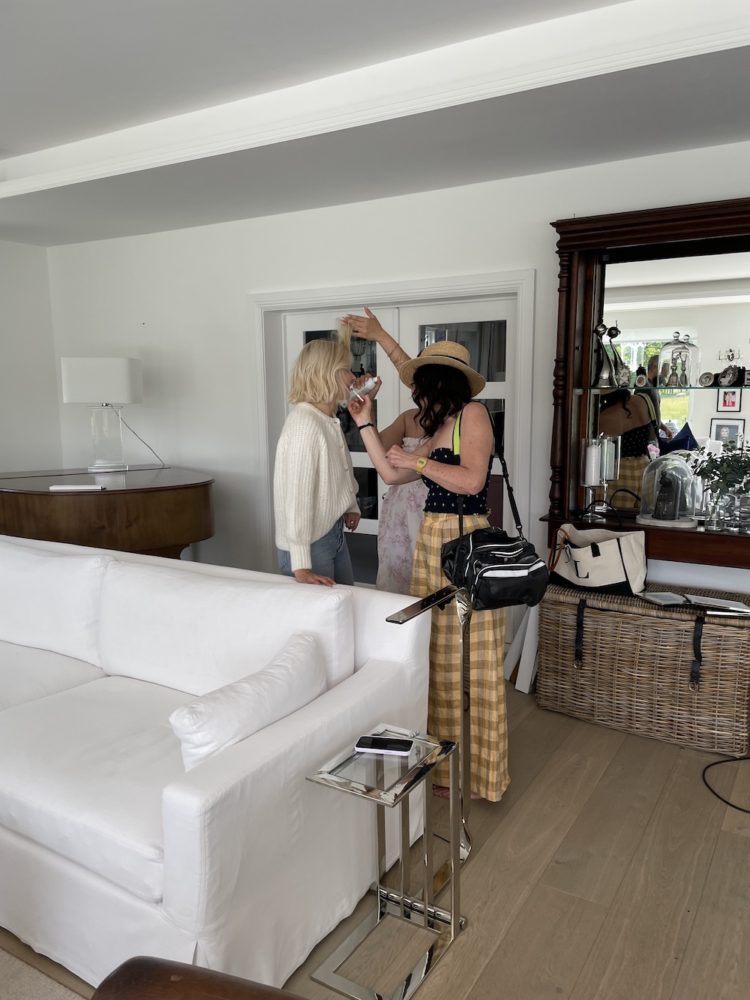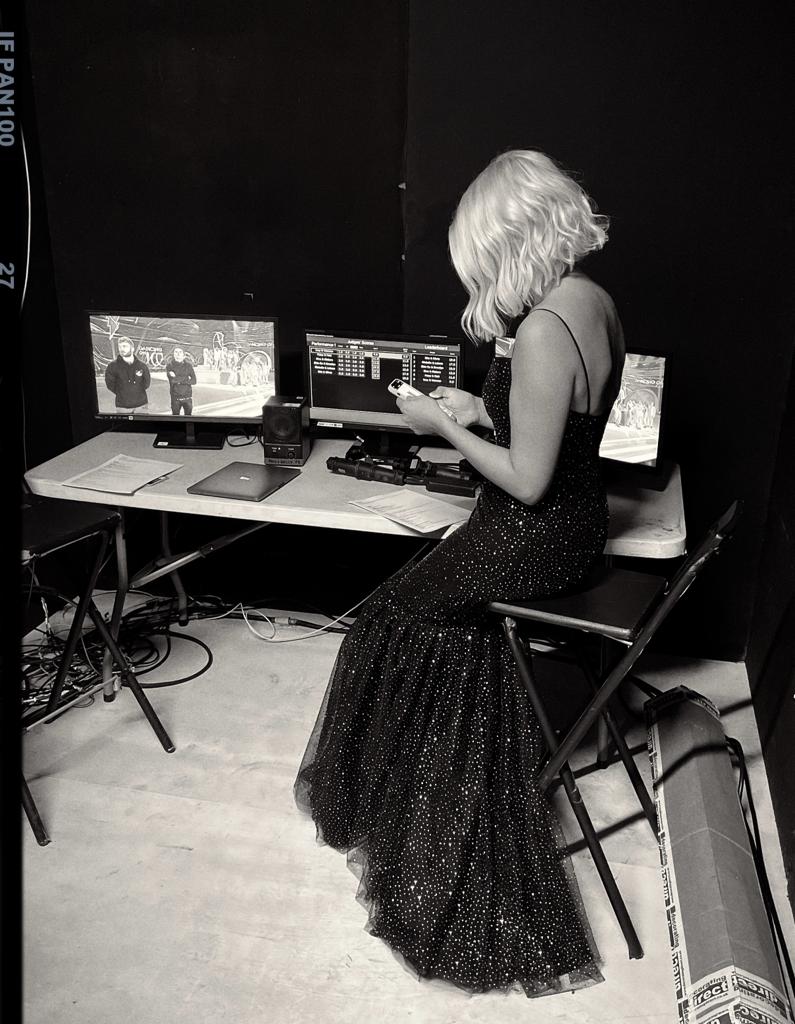 Ciler
"Funnily enough, the number one question I get from people is, "Please can you do my Hair like Holly's?" – which is a compliment for both of us. I've tried to give some insight into how I do it on my Instagram reels, so check those out for starters."
Danielle
"The most asked question I get asked is, 'Do you have to buy all the clothes?' The short answer to that is no. We have great relationships with most of the fashion/designer PR's where we're able to loan sample items for Holly to wear, that we then return afterwards – which is great for sustainability! There are of course some occasions where I do need to buy, but more often than not, the outfits go back."
  What is your process when it comes to preparing Holly for an event or shoot?
Patsy
"Normally I start by finding out who or what is for; a fashion brand / a hair campaign / a TV show etc. Then I research what the brand is about. Garnier, for example is fresh, clean and crisp so Holly's makeup for those shoots needs to be as realistic and natural as possible. Then I speak to the stylist or art director about the outfits/shoot location and make my own mood board to help grasp the feeling of the shoot.
"In terms of Holly's prep, sometimes I ask her to apply a face mask the night before – or if we have time on the shoot, I can do this on the day and follow with great skin prep. I love to give a really good facial massage when applying skincare and primer to wake those muscles up, as we often forget about those and working them can help tighten pre-makeup application."
Ciler
"It's a real team effort. Depending on what it's for – and particularly if it's just a single look, we all come together (Holly included) and brainstorm, using the outfit as our starting point. When it then comes to getting Holly ready on the day, I start with wet hair; applying heat protection/ leave in conditioner; followed by a volume spray all over to help build the thickness and movement.
"Depending on the look, I may blow-dry or bone-dry, before using the curling irons. Then the final step is to add texture spray or powder for texture and hold."
Danielle
"Once I have the brief – whether it's a single outfit or multiple – I send out emails to my PR contacts. I have different contacts for different jobs so if it's for an event, like the NTA's for example, I email my event contacts asking if they would be interested in dressing my client, and if so, could they send through look books or links or photos for their current collection.
"If it's for something like a photo shoot, usually I, or the client will produce a moodboard of images, from which I make selects and then arrange a 'call-in day' that everything needs to arrive for. The other thing I would usually do – more so for an event than a shoot – is a client fitting. And then we're good to go. The fun bit, as always, is the returns!"
  What is your favourite part of your job?

Patsy
"I love the diversity of the job – and the fact that it's changed along with me. I've been a makeup artist for over 28 years now and it's a career choice that's adapted with me. After I had my son for example, I didn't do anywhere near as much of the travel I did at the start of my career.
"We all know about the motherhood/work juggle and how hard it can be to successfully combine the two, so I'm very lucky that my job has allowed me to still be creative and work without sacrificing being a mother. I love that there is no set structure, as that works with who I am."
Ciler
"I love that I get to see, chat, laugh and moan about life's woes with my friends every day – to the point where it doesn't feel like work. It's like being with my girlfriends, but where we get to glam someone up on a daily basis and for that, I feel extremely grateful."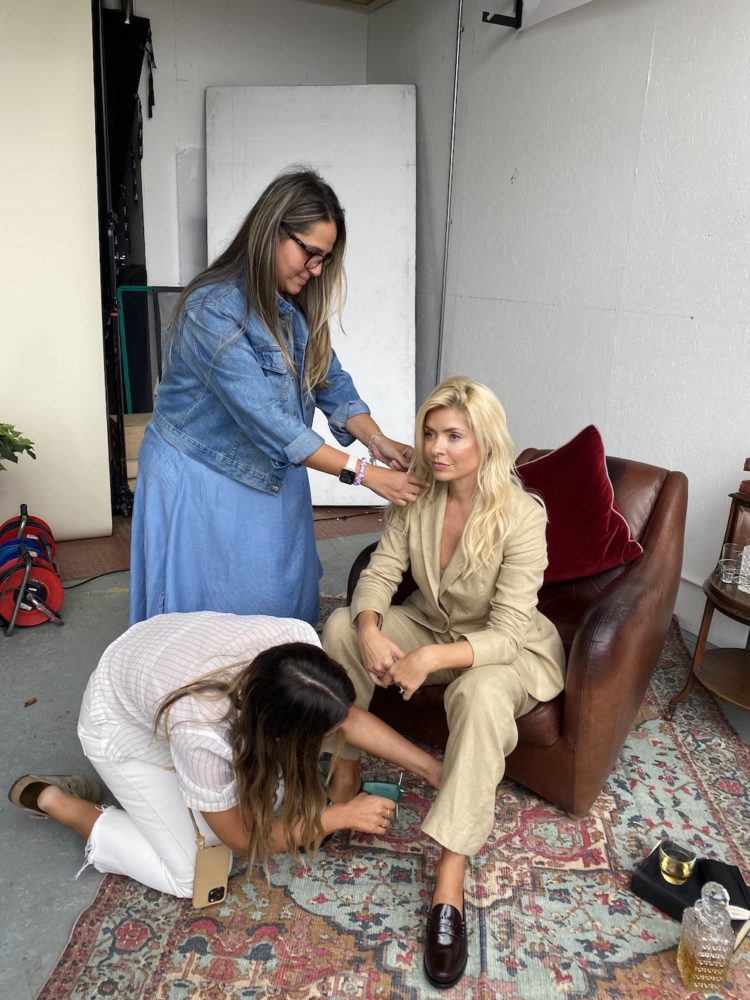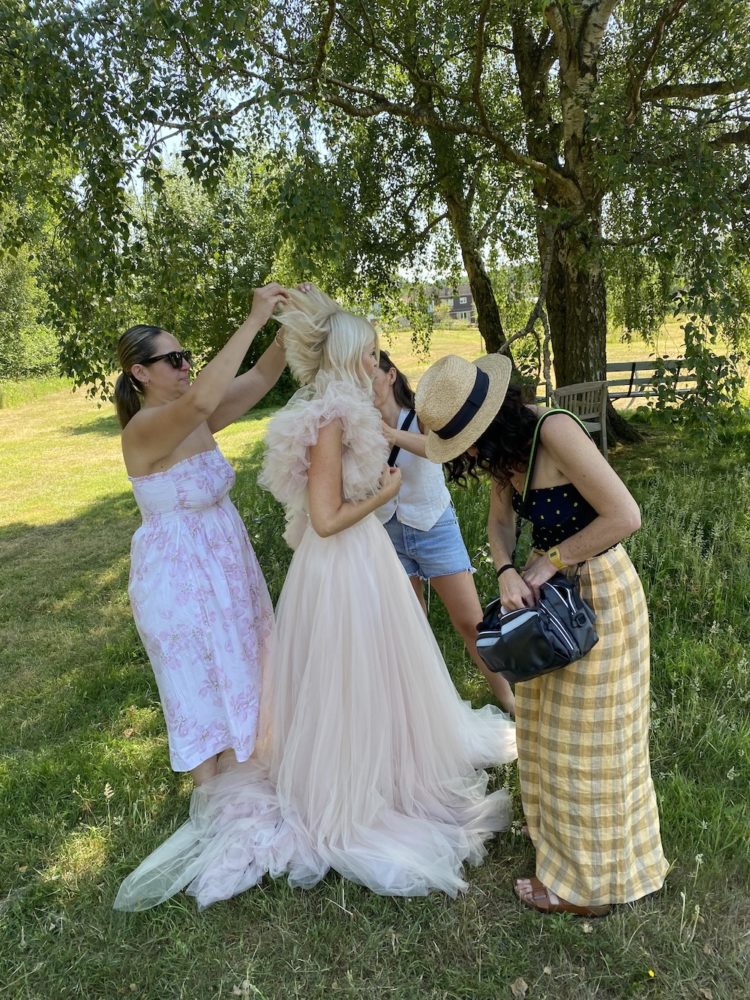 Danielle
"I love the aspect of the job where I get to meet people that wouldn't normally cross my path in everyday life. And most importantly the fact that I get to work with my friends! Because we spend so much time together, there's nothing we don't know about each other's lives and support each other through. It's honestly not like work.
"I'm so lucky…apart from the returns…did I mention the returns?!"