Words by Danielle Whiteman
One clothing staple that most people will have in their wardrobe is the classic white shirt. Truly a piece for all seasons, a white shirt is easily one of the most versatile items we own. The days where it would only be considered as workwear are long gone and now, the trusty white shirt can be dressed down for daytime, dressed up for night-time, and suit any occasion in between.
Whether you're in the market for a new shirt, or you have one you love, I've got you covered with my current market favourites – plus 4 ways to style a white shirt to ensure you're getting the most out of this timeless piece.
To start with the basics, a crisp, well-fitting shirt is key when curating a wardrobe – it's an investment piece to be worn all year round. A crisp white shirt can be the perfect go-to piece if you're looking for an instant, 'well put together' look, especially when you're pressed for time.
Hot tip: As an added beauty bonus, wearing a flash of white around the neck instantly creates the illusion of a brighter complexion!
For a white shirt to be at its best, it has to fit well and to be a crisp, bright white colour. Over time, clothes can lose their structure or become dull due to washing, wear and tear, so if the shirt you have in your wardrobe is lacking in either of these departments, you might need to invest in a new shirt. But don't worry, there are so many on the market to suit all budgets.
Two of the best white shirts on the high street:
My usual go-to on the High Street for a purse-friendly white shirt would be the H&M, Oxford Shirt, £17. For a higher end High Street option, look to Massimo Dutti for well made wardrobe staples. I love their Stretch Poplin Shirt, £59.95.
1: How to style a white shirt with a pop of colour
If you're looking for a fun, casual, yet put together day look, add some colour to your outfit with a floral midi skirt, like this Nobody's Child, Multi Floral Mila Midi Slip Skirt £49.00. It's a great look for a summer picnic or lunch with friends that you can keep more casual with trainers or dress up with summer wedges. If skirts aren't your thing but you want that pop of colour, statement shorts or trousers are your best bet and will achieve a similar look. I love this timeless scarf print from Zara which is available in both Printed Shorts £32.99 and Printed Poplin Trousers £32.99, so whether it's a pins-out or legs under-wraps kinda day, Zara has you covered. To style, I would wear your crisp white shirt tucked in. These colourful looks can easily take you from a beer garden lunch to an evening out with a quick change of accessories.
Hot tip: If you're looking to highlight your waist, a great trick is to fake a wrap-around style shirt. You can do this by simply tucking each corner of the shirt into your bra strap or simply using a safety pin to secure in place either side.
2: Monochrome style made easy
For a classic, timeless yet simple-to-achieve look, keep it monochrome.
For a modern casual look, style an open white shirt with a simple black tank top underneath (Cos, Ribbed Tank Top, £15), a great pair of tailored black trousers (Lindex LYKKE High Waist Linen Blend Trousers, £39.99) and chunky black shoe (New Look, Black Chunky Toe Post Flip Flops, £25.99).
The simple addition of gold accessories like a chunky gold hoop, like these H&M, Mija Hoop Earrings, £10, can bring the look to 2023, whilst maintaining a timeless elegance. If the thought of wearing an open shirt over trousers feels daunting or seems like too much volume, a great way to draw the eye to the waist and create structure is to add a simple black belt.
3: Dress your shirt up or down with denim
The denim midi skirt is really having a moment right now and I am here for it! Denim is something most of us have in our wardrobe in some capacity and styling it with a white shirt it can instantly update your spring/summer wardrobe.
I love this mid blue 90s style Stradivarius, Long Comfortable Denim Skirt £29.99. For a great day-to-day, casual but stylish look, I'd say to wear your shirt tucked in paired with a loafer. Something like these John Lewis, Black Patent Penny Leather Mocassins, £52, would work really well.
If you're more of a jeans person, pair with a great fitting pair of vintage wash jeans, ideally a slim, straight leg with a mid-rise waist. A clever way to draw the eye to the waist is by adding a contrast with a black belt, and to elevate the look with the 2023 shoe of the moment, pair with a 'ballet pump'.
My evening denim tip: Don't be afraid to don heels to with denim for evening. A heel with a subtle sparkle is the perfect accompaniment to such a simple but effective look.
4: A white shirt for seaside glamour
Something that may seem like a distant thought for most of us is to wear the classic white shirt as a beach cover-up. If you're not sure where to start, keep it chic and classic with a black square neck swimsuit like this Cupshe, Paneling Square Neck Black One Piece Swimsuit, £27 and pair with raffia accessories. This gorgeous & Other Stories, Sun Hat, £29 and Large Woven Straw Tote Bag, £65 will keep this look luxurious but without the crazy price tag.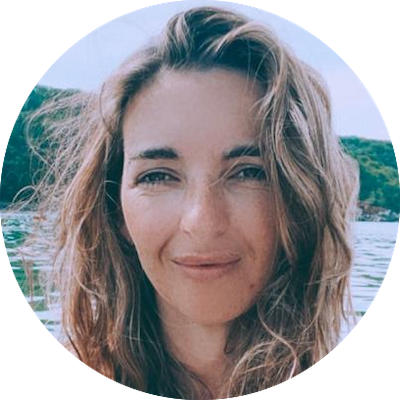 Danielle Whiteman
Stylist
@danniiwhiteman