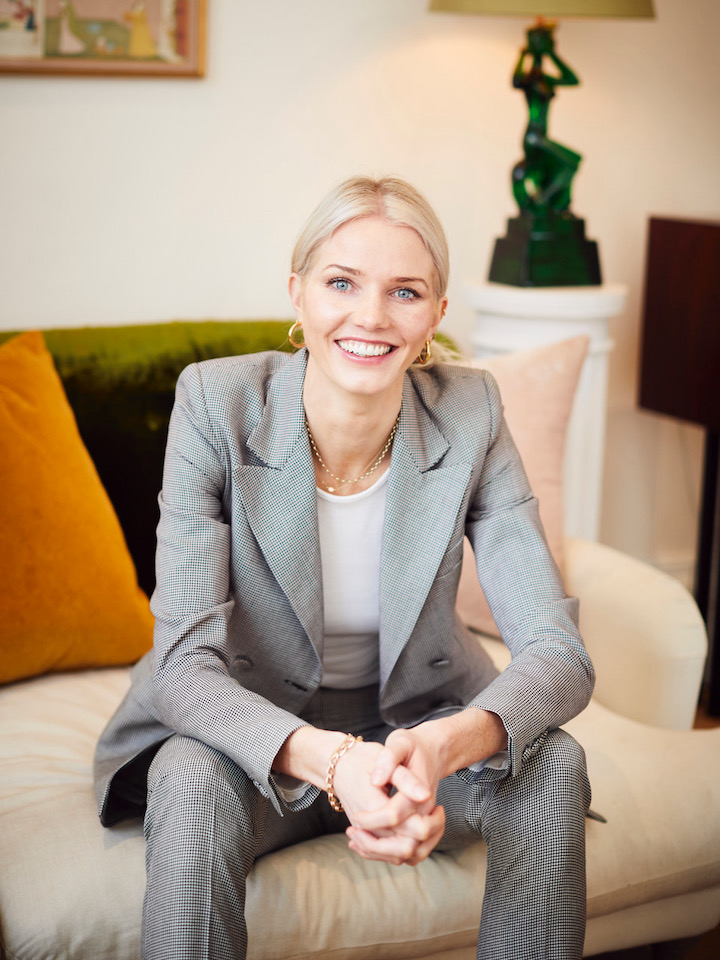 The idea for a great business can come from the strangest of places. For Georgiana Huddart it came when she discovered a bundle of retro fabric from the 1980's.
Taking a big trend from the past and reinventing it takes a special skill. Georgina Huddart decided to revive Hunza G, a fashion brand from the 80's, and created a luxury one-size-fits-most, swimwear collection.


Loved by everyone from Holly Willoughby, Kim Kardashian, Chrissy Teigen, Rosie Huntington-Whiteley and Rihanna, the Hunza G range of swimwear has become a celebrity holiday fashion staple.


But the woman behind the brand, Georgiana Huddart, says she did not create the label for showbiz stars. She initially became obsessed with making costumes with the unique, crinkle-stretchy fabric that was a major trend in the 1980's. It had been used to create the iconic cut-away dress in Pretty Woman that Julia Roberts wears the first time we see her in the movie. Georgiana's goal was to use the same material to create swimwear for all.
"Commit to the thing you want to do and put your all into it."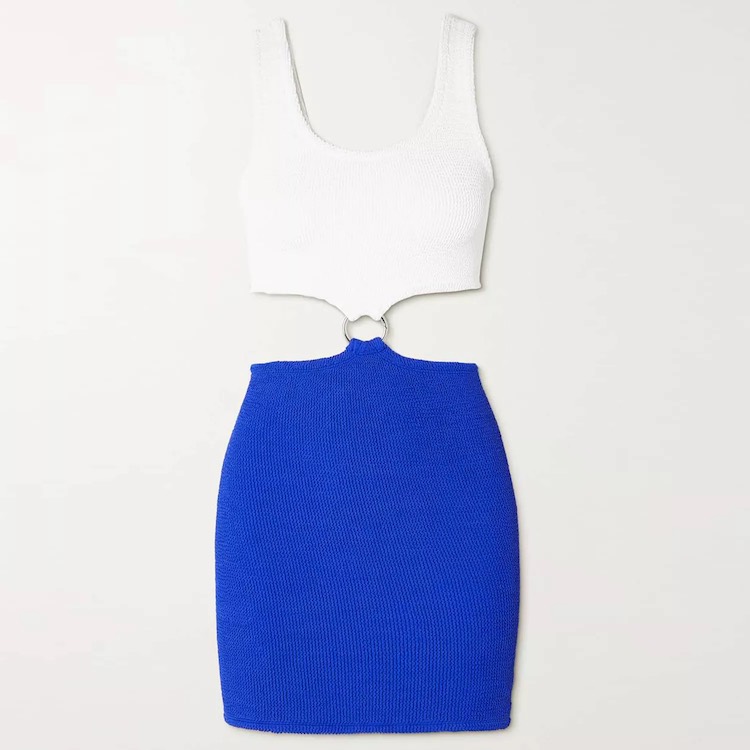 How did the revival of Hunza start?

"I'd been thinking about setting up a swimwear brand but, I had no idea where to begin. I'd found 500 metres of the original Hunza fabric, which is what we now call the crinkle fabric. I got some samples made up of styles I had designed. One of them was a black dress, which I wore to a party. While I was there, someone came up to me and said that she knew Peter Meadows, the man who'd originally founded Hunza back in 1984. A few days later, we went for a coffee and he said that he was up for me trying to revive the brand. He had all of the production in place so I could use all of the seamstresses, use a space in his office, have some of the original fabric, and off I went. Peter is still a majority shareholder in the brand today."
  Was it easy to revive a vintage brand and fabric?
"Because Hunza was started in the 80s, there wasn't really anything on Google about it. Now, you can Google it and see Julia Roberts. So, when we revived the brand, the power of social media was very much in place and within about five months, we were marketing really well on Instagram. We had an inexpensive website that my friend kindly helped me set up and we managed to spread the word relatively quickly. 
We had a nostalgic fabric that meant so much to so many people and we were really one of the only brands making inclusive, one-size-fit, sustainable clothing."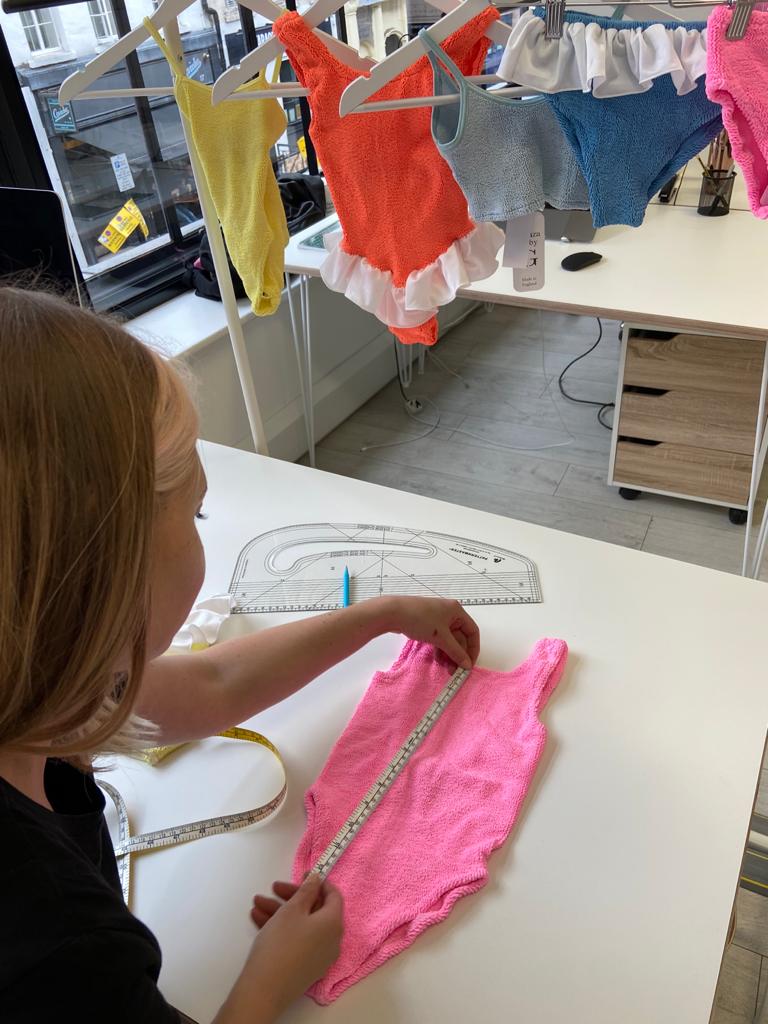 Perfecting the swimsuit sizing
  Did you know it was going to be a success? 
"In those beginning stages, when I was making my own clothes in black and white fabric, people would always come up to me and comment on what I was wearing whenever I wore one of my designs. When I met Peter, about six different people came up to me that night. People's engagement with the fabric was so high that I just knew that this idea of making a one-size-fits-most product was really exciting.
"Two years after we launched, American model and actress, Emily Ratajowski was pictured wearing it – I hadn't sent it to her and I wasn't sure how she had even got it. Her world was so far from my outreach, so that was incredibly exciting. Our Instagram froze and website crashed when supermodel Rosie Huntington-Whiteley wore the domino swimsuit. She posted it on her Instagram and tagged us. At the time, we were still tiny, so were taking orders and making them as we got them. We got something like 300 orders in three hours so we had to shut down the website to keep up with the demand.
"We've since had amazing people, like Holly, Rihanna, the Kardashians all wear our pieces. It's really exciting for me when I see people wearing them. A few years ago, I was on holiday in about three different places in Europe and I saw tons and tons of people wearing it, all from different backgrounds, all with different body shapes. That same year at Glastonbury I saw about 15 girls wearing the swimming costumes with shorts. To me, there's nothing more exciting than two completely different women wearing the same item and it looking amazing on both of them."
"You can purchase our pieces and know that whatever journey your body is on, they'll still fit you."
How important is inclusivity for you? 
"Inclusivity is huge for us and I think is a big part of our success. Most brands either come up smaller or larger than standard sizing. I think Hunza G works because it's an easy purchase and one that'll continue fitting you, whether you get pregnant, put on weight, lose weight or whatever. You can purchase our pieces and know that whatever journey your body is on, they'll still fit you.
Inclusivity is also about age, and we have a strong customer base of older women. I love the idea of three generations all wearing our brand, which is why our baby range was so fun to do. For me, inclusivity is everything: it's age, it's skin tone, it's body size. I'm aware that we aren't the cheapest swimwear brand, we're a luxury item that's made in the UK, creating pieces that will grow with you and last forever."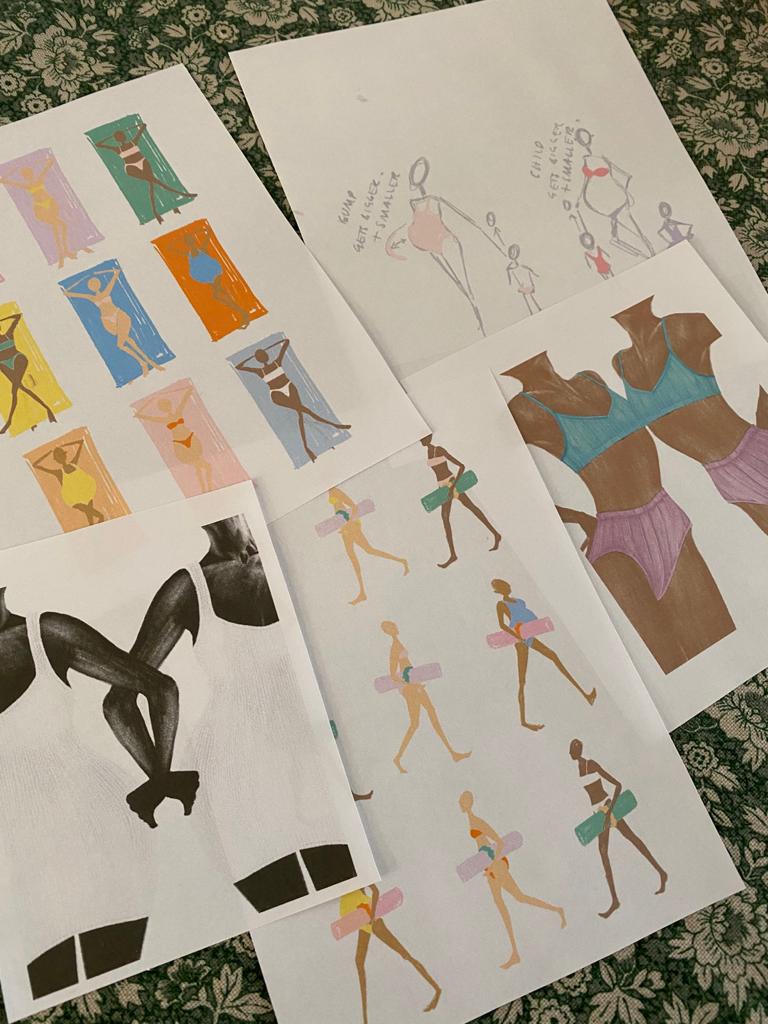 Where do you go to for inspiration? 
"I read constantly and I'm looking for inspiration everywhere and anywhere. I feel lucky that we are a London-based swimwear brand which I guess is unusual in itself. I don't just want us to be about taking pictures of women with amazing bodies on beaches – that's not what we do. When I design, I like to think about women's bodies and what actually works in terms of movement, too. I'm sporty myself, so I know the importance of actually being able to move in a swimming costume. The styling has never been super glamorous because you're meant to be able to jump into a pool and swim around."
 What advice would you give your younger self?
"I don't know anyone who's really successful and who hasn't worked really hard for it and been really committed. You can of course have success without hard work, but there's no longevity to that. Commitment is everything: commit to the thing that you want to do and really put your all into it."
Thank you, Georgiana, for sharing your story with us.
Follow the official WYLDE MOON accounts on Instagram, Facebook and TikTok, and sign up here for exclusive content from Wylde Moon and Holly Willoughby.