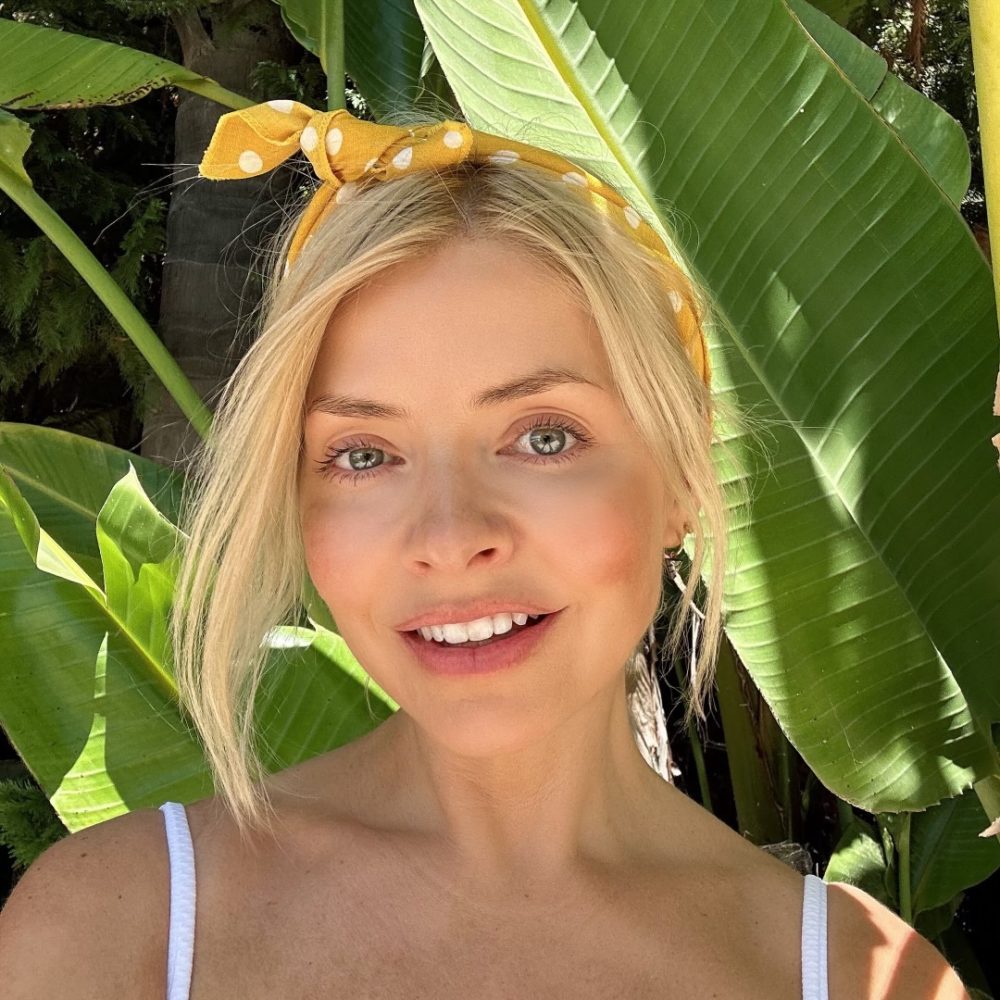 Don't suffer hot hair tools in the heat! We asked Holly's hair stylist, Ciler, for her favourite heatless summer looks.
I'm in no doubt that the sun's warmth is healing for mind, body and soul, so try capitalise on this healing by allowing your hair to dry naturally as often as you can during the summer months. When we're melting either at home or abroad, the last thing any of us want to do is to whip out the hair dryer to blow-dry and style our hair! There are so many styling tricks you can use that don't involve heat, you just need to find the right tricks and styles for your hair type.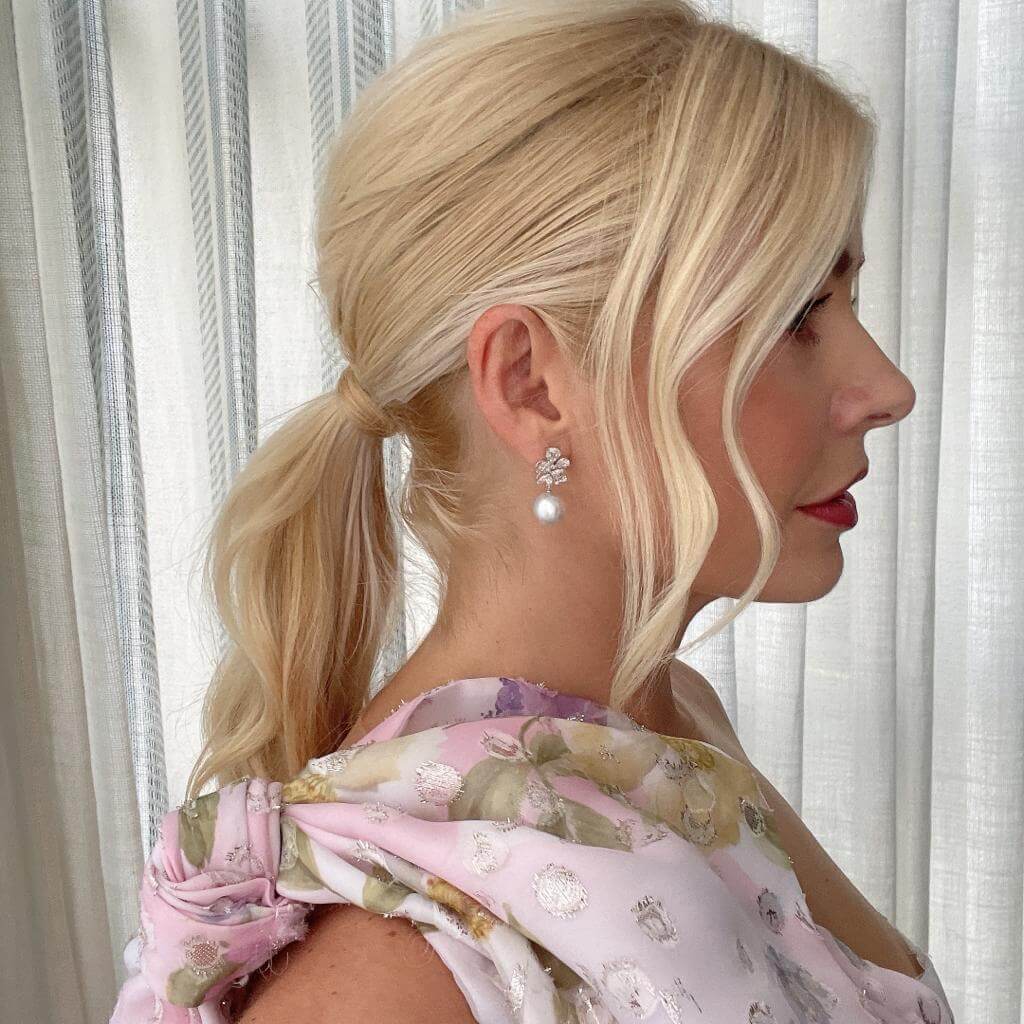 My favourite go-to, heatless hair style for myself and my clients is The Low Ponytail. This sleek look is super simple and can be done in minutes, meaning limited time spent faffing around in the heat and more time enjoying the day or night ahead. I would say the best prep you can do for a sleek look like this – and something your hair will continue to benefit from beyond styling is to condition it really well. Then you can either leave it air dry before pulling into a pony, or do it when wet.
How to create the perfect low ponytail
1. Shampoo and condition your hair. My current 3 favourite conditioners for all budgets are;
2. Start with a clean parting. This can be side or middle, whichever you prefer and brush through the hair to get rid of any tangles/knots.
3. Now apply your chosen smoothing product such as hair oil/conditioner/gel or hairspray to the top of the hair and comb through to smooth down. One of my all-time, favourite products to keep any slick look in place, is the Larry King, Haircare Flyaway with Me Kit, £20. It's brilliant for on the go and tames any pesky fly away hairs.
4. Brush the hair down towards the nape of your neck into a low ponytail, I find using a flat bristle brush really helps keep everything smooth and sleek.
5. Secure in place using a strong hairband.
6. To elevate this look you could wrap a scrunchie or scarf around the hair tie. I'm loving Anthropologie's Geometric Satin Square Head Scarf, £18 at the moment, as well as Kitsch's Multi-Way Satin Sleep Scarf in Blush, £10.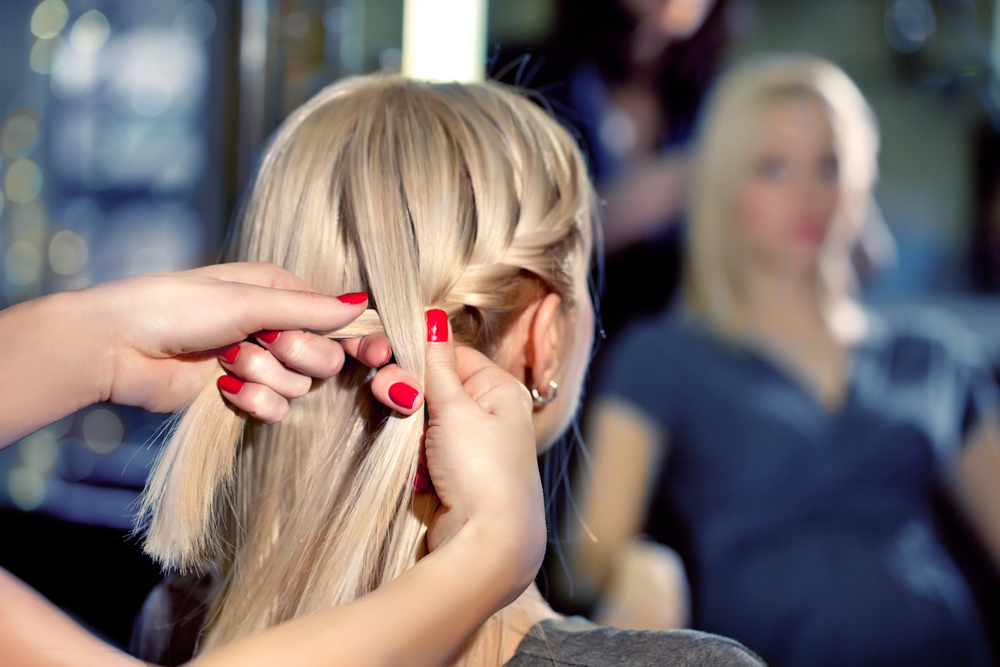 This is another style you can do whether your hair is wet or dry. It's also a 2-4-1 style as not only do you get to enjoy the braided look, when you take it out, you're left with beautiful curls. This style is a little trickier to master than the low ponytail, but with a little practice, you'll never look back. You can wear your braids tight, or pull them out slightly once you've done it for a looser, boho type braid.
One big thing to remember with this braided style is to ensure you apply sunscreen to your scalp because it will be more exposed. A great value product for scalp protection is the Malibu, Clear Hair and Scalp Protector, £2.99. There is another option which is a little pricier but I it's worth a mention;  SACHAJUAN, Hair in The Sun, £31 is a light-weight serum with built-in sun protection that helps to protect coloured hair.
How to create the perfect french plait
1. Brush through the hair to make sure there are no knots.
2. Part your hair down the centre and tie one side off for the moment so it doesn't get in the way or caught up in your braid.
3. Take 3 small same sized sections of hair close to the temple and start a traditional braid.
4. To create a braid, start by taking the left section of hair and crossing it over the middle section. Then, take the right section of hair and cross it over the middle. As you repeat this, the left and right strands will become the new middle section.
5. As you follow the pattern, make sure that when you are taking from each side piece, you add more hair in every time, trying to take the same thickness of hair each time.
6. As you start to near the end and have collected all the hair, the braid will return to the normal pattern of a plait with just three strands.
7. Plait down to the ends and secure in place with a small clear elastic if you have them.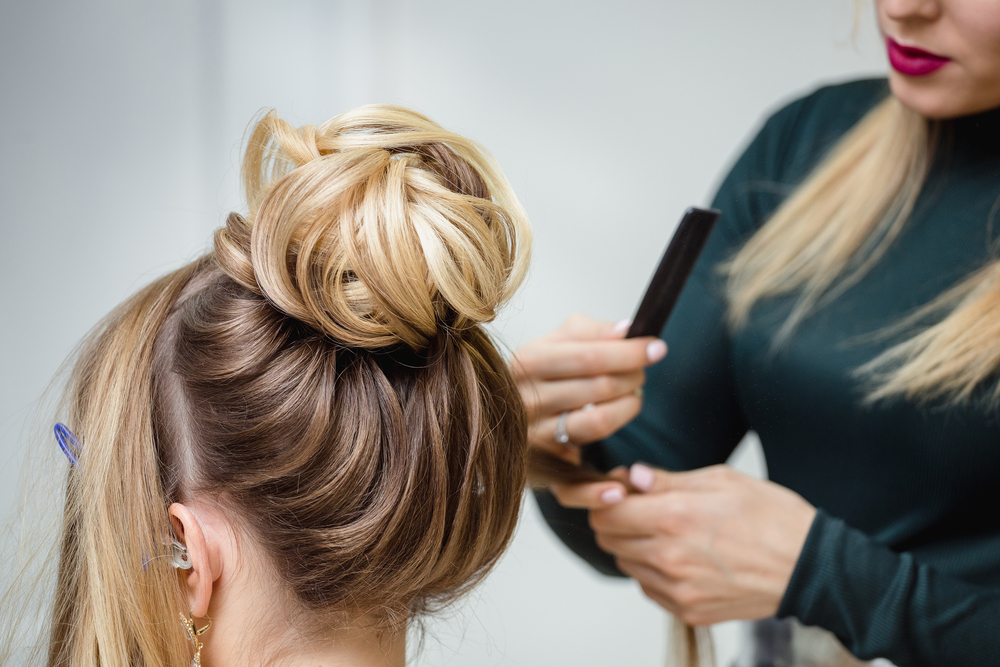 First and foremost, this style is not just for mums! It's a look that anyone can pull off and the perfect, simple style for when you are embracing your wild, natural hair. You can elevate it by adding in some extra texture with a product like Maria Nila's Salty Mist, £29.50. And whilst we're after a bit of extra body and oomph with this look, we certainly don't want frizz, so to avoid that I'd use a product like the Noughty Frizz Magic Serum, £8.99 or the Living Proof, No Frizz Smooth Styling Cream, £16.
Create the perfect mum bun
1. Apply your chosen products throughout your hair. This can be done on clean or dirty hair.
2. Tip your head upside down and with your fingers brush your hair towards the crown of your head.
3. Using a strong headband start to tie a pony tail but rather than pulling all the hair through only pull half back through so you are left with a loop.
4. Using pins create the shape you'd like. I then like to pull bits out from the bun and around the hairline and at the back of hairline to make it look more natural and messy. Et voila!
How to create heatless curls
Lastly, if you like the idea of creating some heatless curls, in addition to braiding you can actually get heatless curl kits that are for all year round use. These are an absolute godsend in the summer because they are so easy to use and really effective. I tend to opt for ones that are silk or satin, just because they are gentler on the hair. I adore The Cheshire Silk Co, Heatless Curl Kit, £29.99 and the Kitsch Satin Pillow Roller, £15.00.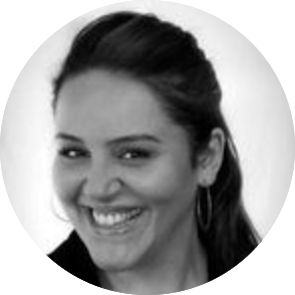 Ciler Peksah
Hair Stylist and Consultant
@cilerpeksah_hairstylist