Gino D'Acampo; @iamginodacampo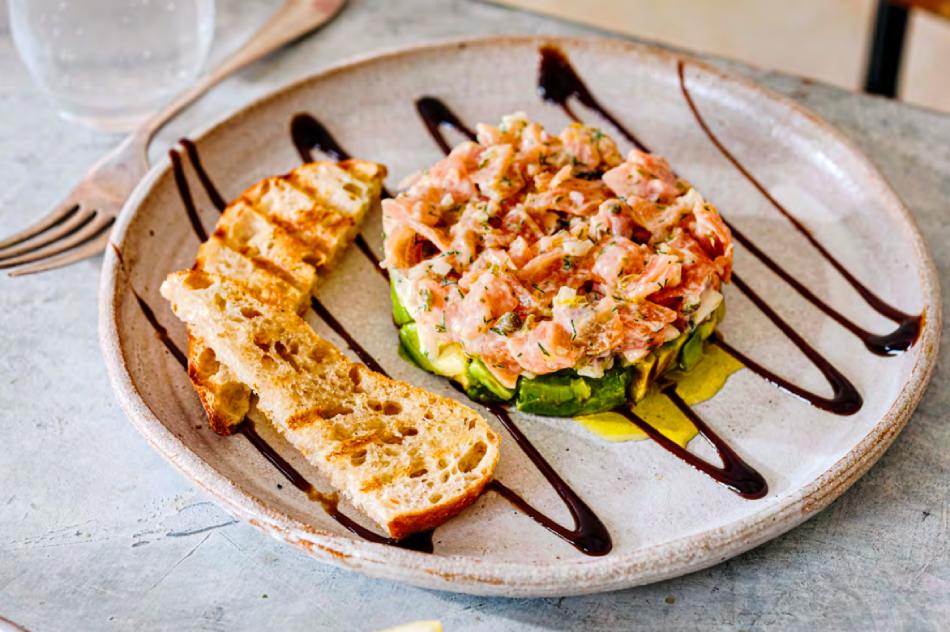 Ingredients
2 tbsp finely chopped dill, any coarse stalks removed
2 tbsp capers in brine, drained and roughly chopped
1 tbsp crème fraîche
1 tbsp Dijon mustard
1 lemon, plus lemon wedges to serve
2 small shallots, finely chopped
400g skinless salmon fillet
200g smoked salmon
2 large ripe avocados
4 tbsp balsamic glaze, plus a drizzle for decoration
8 slices of ciabatta, cut into 1cm-thick slices
4 tsp extra virgin olive oil
Fine sea salt and freshly ground black pepper
Method
1. Before you start, note that you can prepare the first 3 stages and place in the fridge separately, but do not mix until you are ready to serve, as the salmon will 'cook' in the lemon juice.
2. Stir the dill, capers, crème fraîche, mustard and 1 tbsp lemon juice together in a small bowl, cover and set in the fridge.
3. Place the shallots and the remaining lemon juice in another small bowl, mix, cover and set in the fridge.
4. Cut the salmon fillet and smoked salmon into small cubes, place in a medium bowl, mix, cover and set in the fridge.
5. When you are ready to serve, pour the crème fraîche and shallot mixes into the larger bowl of salmon and stir gently.
6. Peel and pit the avocados and chop into small cubes. Place in a medium bowl and add 1⁄2 tsp salt, 1⁄2 tsp pepper and the 4 tbsp of balsamic glaze. Stir gently.
7. Toast the bread on both sides, using a griddle pan or toaster.
8. Zig-zag balsamic glaze over 4 serving plates. Place a cooking ring in the centre of a plate. Spoon in one-quarter of the avocado and gently push down, covering the base evenly. Spoon one-quarter of the salmon on top, again pushing down. Gently lift off the ring. Repeat on all 4 plates.
9. Drizzle 1 tsp of extra virgin olive oil over each pile of salmon tartare and garnish each with a lemon wedge. Place 2 slices of toasted ciabatta on each plate and the dish is complete. Your guests will feel very spoilt.