Claire Thomson; @5oclockapron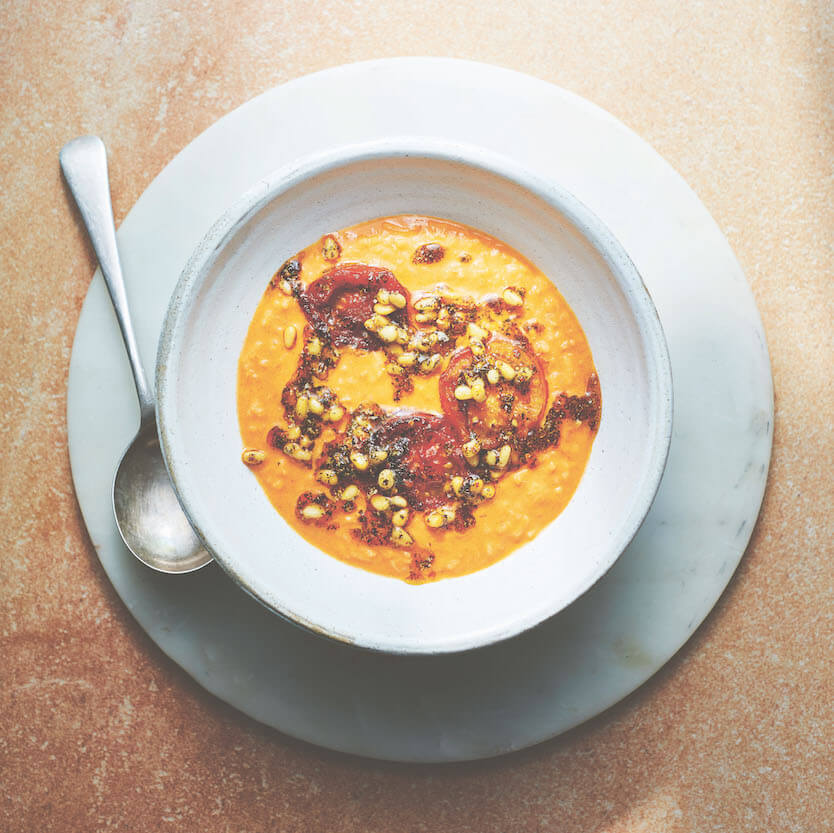 Ingredients
800g (1lb 12oz) tomatoes, halved
1 onion, finely diced
3 garlic cloves, thinly sliced
60g (2oz) butter or ghee (or a sprinkle of olive oil)
75g (2½oz) short-grain, risotto or pudding rice
1 litre (35fl oz) chicken stock or water
1–2 teaspoons dried mint
1 tablespoon red chilli flakes, preferably Aleppo or Urfa
2 tablespoons pine nuts (or use crushed walnuts, or sunflower or pumpkin seeds)
Juice of ½ lemon
1 tablespoon plain (all-purpose) flour
½ teaspoon salt, plus more to taste
1 egg, beaten
350g (12oz) full-fat natural (plain) yogurt
Freshly ground black pepper
Method
1. Preheat the oven to 220°C/200°C fan/425°F/Gas 7.
2. Arrange the tomatoes, cut-side up, in a roasting tin and add the onion. Stuff the sliced garlic deep down into the tomatoes, dot with half the butter or ghee (or use the olive oil) and season well with salt and pepper.
3. Roast the tomatoes for 15–20 minutes, until they are tender and beginning to caramelize at the edges. Remove from the oven, then blend three-quarters of them until smooth. Put both the blended and whole baked tomatoes to one side.
4. While the tomatoes are roasting, put the rice and the chicken stock or water together into a pan and bring to a boil over a high heat. Place a lid on the pan and reduce the heat to simmer with the lid on for about 20–30 minutes, until the rice is tender and cooked through. Give the rice a good stir every now and then. Remove from the heat and keep warm.
5. While the rice is cooking, in a small pan heat the remaining butter or ghee (or oil) along with the dried mint and chilli flakes for 1–2 minutes, until just beginning to bubble, then stir in the pine nuts (or alternatives) and lemon juice. Remove from the heat and put to one side.
6. In a bowl, whisk together the flour, salt, egg and yogurt.
7. Whisk the yogurt mixture into the cooked, soupy rice, stirring well, then gently heat, never boiling, for about 5 minutes for the egg to cook out and the soup to take on a creamy, homogenous liquid consistency. Add the blended tomatoes, stirring to heat through. Check the seasoning, adding more salt and pepper, as necessary.
8. To serve, ladle the soup into bowls, distribute the remaining roasted tomatoes among the bowls and spoon over the spiced butter. Serve hot.
Stabilizing and thickening a soup using a mixture of egg and plain yogurt and a scant spoon of flour is a Turkish preparation I have enjoyed both in northern Cyprus and in London's Turkish restaurants. It's the sort of gentle alchemy that I like and admire in Turkish cooking. In this soup, a small amount of rice provides bulk. The spiced butter serves to remind us all that, while warm, soupy bowls of delicious-flavoured ingredients are comforting and lifegiving, what we all need, almost always, is a good slick of spiced molten butter spiked with invigorating dried mint. I cannot imagine many things that this spiced butter will not make taste better – a few, but not many.