Clodagh McKenna; @clodagh_mckenna
Preparation time approx. 15 Minutes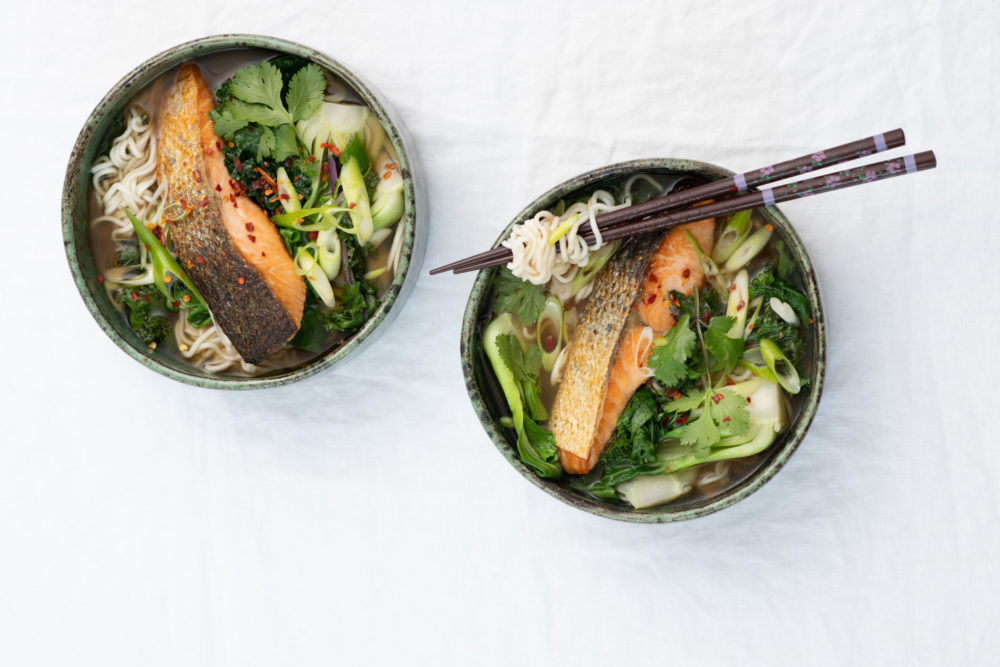 Ingredients
Olive oil
1 filet of salmon
1 miso ramen pack
2 pak choi, quartered length-ways
¼ tsp dried chilli flakes
3 slices of fresh ginger
3 sprigs of fresh coriander
Sea salt and freshly ground black pepper
Vegetable Alternatives
Spinach
Scallions (spring onions)
Shredded cabbage
Peas
Baby kale
Purple sprouting broccoli
Sliced mushrooms
Salmon Alternatives
Shredded leftover roast pork, chicken or lamb
Tofu
Prawns
Soft boiled egg
Meaty fish such as hake or cod
Method
1. Pre-heat the oven to 180C (fan).
2. Start my cooking the salmon. Place a frying pan over a medium heat, add 1 tbsp of olive oil. Once the pan is hot, place the salmon on the pan, skin side down and season with sea salt and freshly ground black pepper. Turn the fish after one minute, cook for another minute and then transfer to the pre-heated oven for 8 minutes.
3. If using a ready-made miso ramen pack, like I do, then place the noodles, chilli flakes, sliced ginger and ramen mix in a saucepan – pour 300ml boiling water on top. Otherwise instead of using the ramen pack, you can whisk 1 tsp miso paste into the boiling water with one serving of ramen noodles. Place over a medium heat, and stir. Then stir in the pak choi and allow to cook for 3 minutes.
4. After 3 minutes pour all the ingredients of the saucepan into a warmed bowl and place the cooked salmon on top.
5. Sprinkle the fresh coriander leaves on top and that's it, enjoy!