Gems Wholesome Kitchen; @gemswholesomekitchen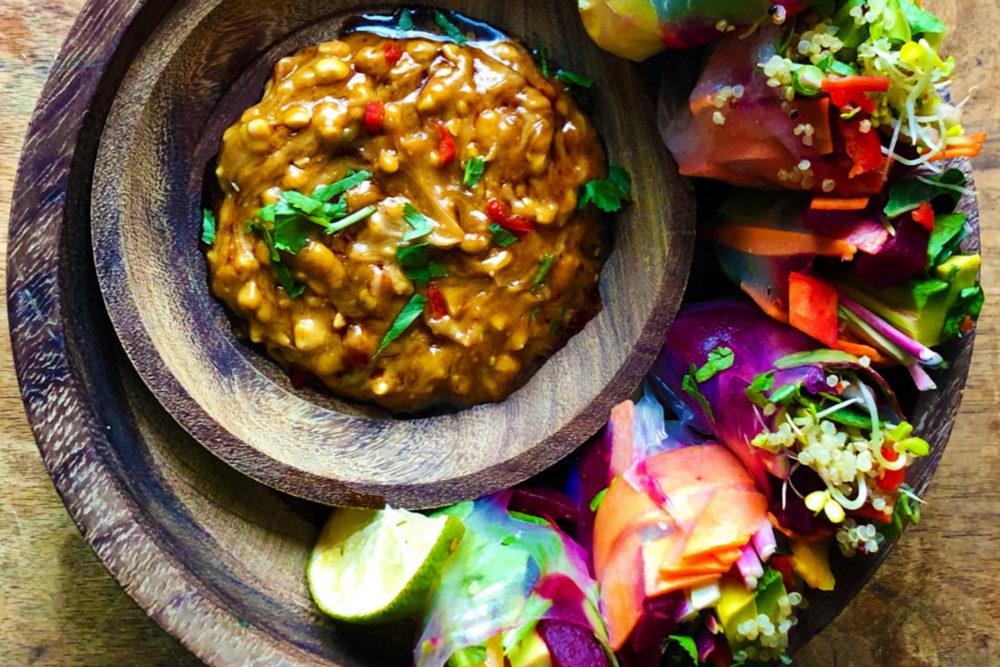 Ingredients
8 rice spring roll papers
1 Carrot thinly sliced
1 yellow pepper, thinly sliced
1 red pepper, thinly sliced
1 ripe mango, cut into small chunks
1 beetroot, peeled and finely grated
Large bunch of mint, chopped
Large bunch of coriander, chopped
100g of cooked quinoa or brown rice
For the Spicy Nutty Sauce
1 tbsp peanut butter
1 tbsp tamari
2 tbsp maple syrup
Juice of 1 lime
1 small fresh chilli, chopped
1.5cm fresh ginger root, grated
Method
1. Get all the veggies prepped and ready.
2. To make the spicy nutty sauce, combine all the ingredients in a bowl and whisk together. If it's too thick add little of the hot water to thin it out.
3. When ready to assemble the rolls, submerge a rice paper into the warm water for about 10–20 seconds to soften. Put on a clean surface and gently smooth out.
4. Add carrots, peppers, mango, beetroot and a small handful of herbs. Fold the bottom edge of the rice paper over the fillings, then gently roll over, folding in the side to completely seal.
Please note this recipe contains nuts.