Alexandra Dudley; @alexandradudley
Preparation time approx. 45 Minutes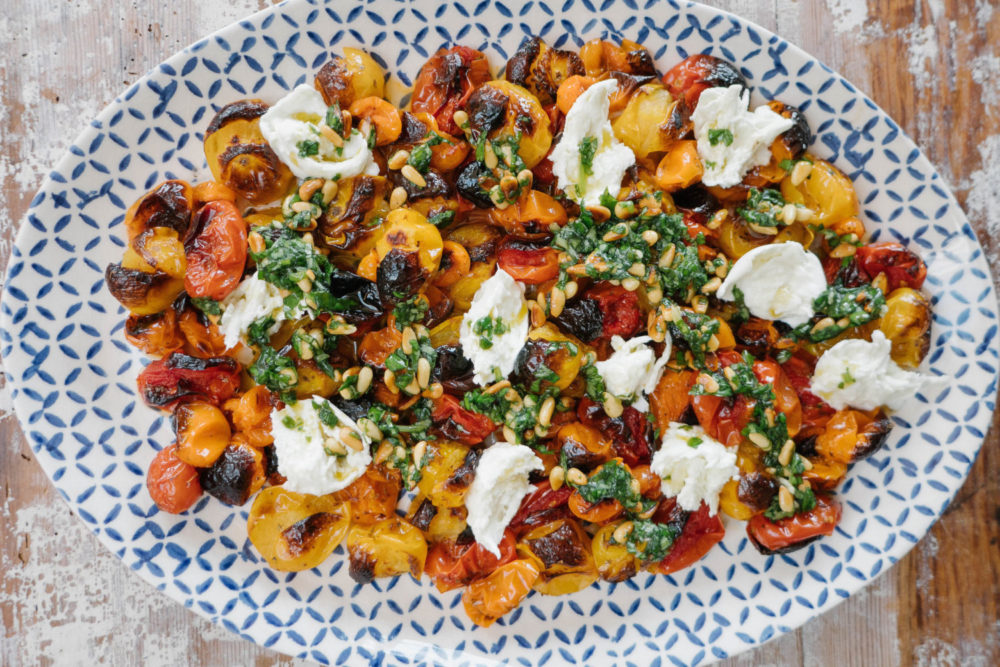 Ingredients
1kg mixed cherry tomatoes (red, orange, yellow)
Olive oil
1 tbsp dried oregano
80g pine nuts
Large bunch of basil
1 small garlic clove, crushed
Pinch sea salt
125-150g ball buffalo mozzarella
Method
1. Preheat your oven to 250°C fan setting and line a large oven tray with parchment.
2. Spread your tomatoes over the parchment lined tray. Drizzle with olive oil and sprinkle over the oregano. Season with salt and massage everything with your hands to ensure all the tomatoes have an even coating.
3. Roast for 20-25 minutes until the tomatoes have cooked and are slightly blackened in places. Allow to cool completely before removing from tray.
4. Toast the pine nuts in a frying pan over a low-medium heat until lightly browned. Remove and allow to cool.
5. Finely chop the basil and add to a small bowl. Add the garlic, sea salt and olive oil and give it a good stir.
6. When ready to serve stir through your pine nuts.
7. To serve, transfer the tomatoes onto a serving dish. Tear over the mozzarella and spoon over the basil, pine nut oil. Enjoy.
Note. This also makes for a very good bruschetta topping. Take slices of sourdough or baguette, brush with oil and toast them on a hot griddle pan for 3-4 mins either side. Top with tomatoes, torn mozzarella and the basil pine nut oil.