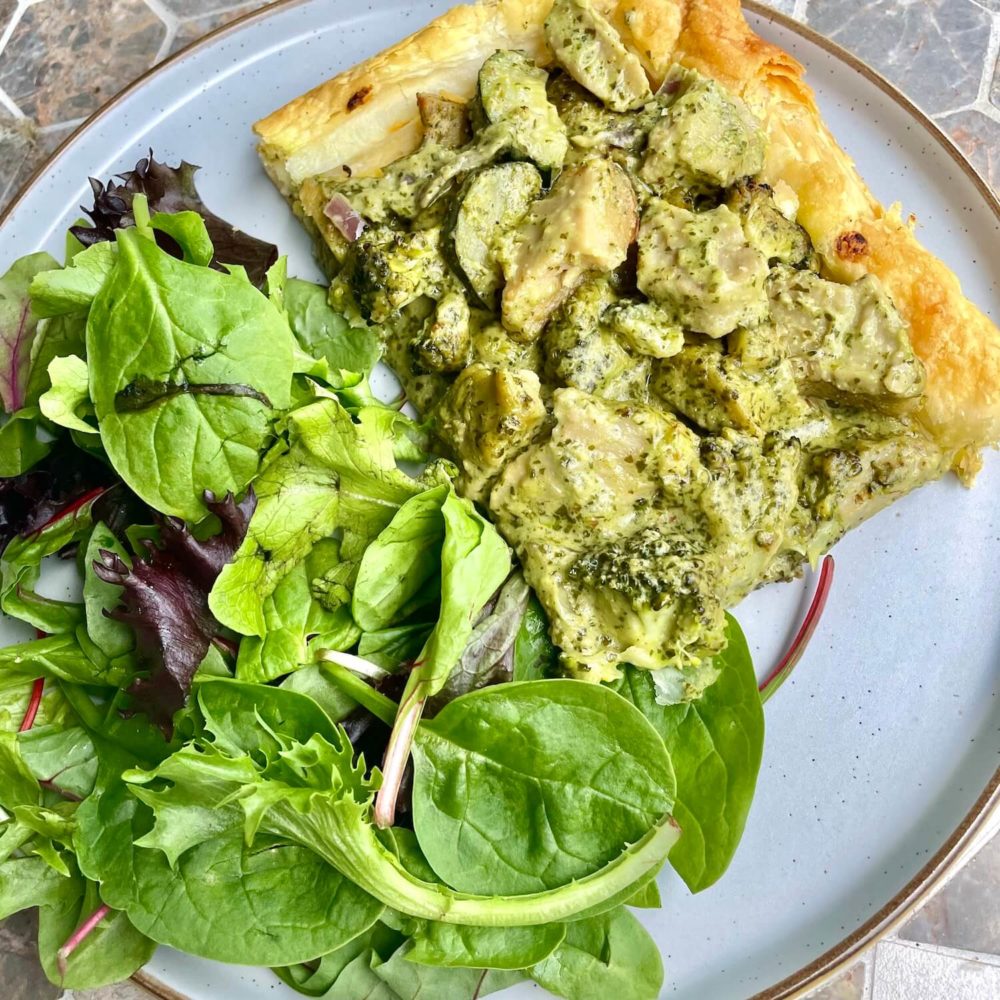 For the Pesto
60g pine nuts, toasted
2 supermarket packs of basil (remove the bigger stems)
Approx 70ml olive or rapeseed oil
Approx 60-70ml water
1 large garlic clove
Juice of 1 large lemon
Pinch of salt
4 tbsp nutritional yeast
For the Tart
Roll of puff pastry (most supermarkets own & jus-roll are accidentally vegan but double check!)
2 packs of vegan chicken
Veggies of your choice, I used red onion, broccoli & courgette
Approx 300-350ml vegan single cream
Your pesto (or jarred pesto)
Method
1. Firstly, roll out the puff pastry and score a border round the edges. Bake this in the oven for 20 minutes at 180 degrees. Remove from the oven and use a spatula to push down the middle of the pastry, leaving the border round the edge puffed up. Leave to cool.
2. Meanwhile, blitz together the ingredients for the pesto and set aside.
3. Fry off your veg in a pan for about 5 minutes until it's just starting to soften.
4. Add in your vegan chicken and cook off for a couple more minutes, then add in your pesto and vegan cream. Mix well and let it simmer for about 5 mins.
5. Spoon the filling onto the puff pastry and spread evenly.
6. Bake in the oven for a further 20 minutes at 180c until the edges are nice and golden.
7. Serve up with whatever you like!
Please note this recipe contains nuts.