Recipe by Bettina Campolucci Bordi; @bettinas_kitchen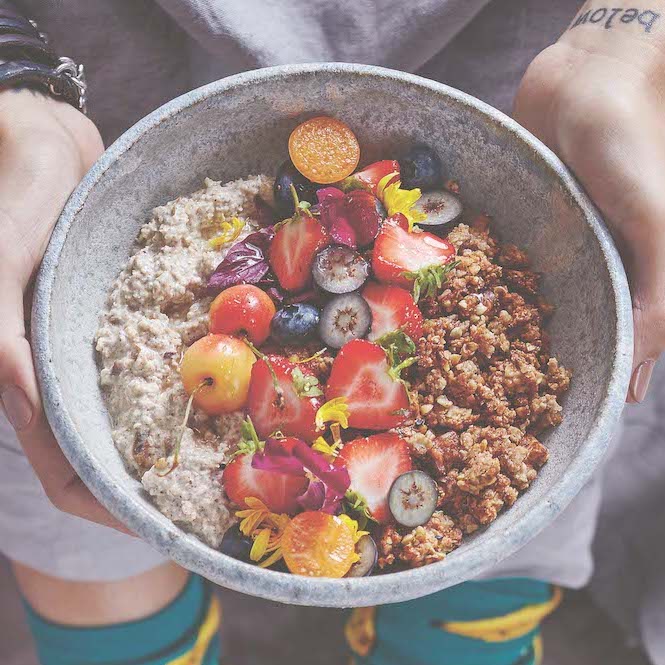 Ingredients
1 tablespoon peanut butter
250 ml (81/2 fl oz / 21/3 cup) water
220 g (8 oz / 1 cup) gluten-free milled oats
1 medjool date, stoned (pitted) and chopped
1 tablespoon chopped
Toasted hazelnuts
1/2 vanilla pod (bean), scraped, or 1/2 teaspoon ground vanilla pod
For the Granola Crunch*
*makes a batch for a 450 g / 1 lb jar
1 ripe banana, mashed
60 ml (2 fl oz / 1/4 cup) melted coconut oil
60 ml 2 fl oz / 1/4 cup) maple syrup
1/2 teaspoon ground cinnamon
120 g (4 oz / 11/4 cup) gluten-free milled oats
20 g (3/4 oz / 1/4 cup) desiccated (shredded) coconut
60 g (2 oz / 1⁄2 cup) chopped walnuts
60 g (2 oz / 1/4 cup) whole buckwheat
40 g (11/2 oz / 1/4 cup) black sesame seeds
1/2 tablespoon grated orange zest
To Serve
Fruits and berries
Chopped nuts and seeds
Edible flowers (optional)
Method
1. Mix the peanut butter with the water in a bowl. Then add the rest of the overnight oat ingredients, give it a mix and cover. Place in the fridge overnight.
2. Now make the granola crunch. Preheat the oven to 140oC (275oF/Gas 1).
3. In a bowl, stir together the mashed banana, melted coconut oil, maple syrup and cinnamon. Make sure you have an even mixture without any lumps.
4. Add all the dry ingredients to the mixture except the sesame seeds and orange zest. Make sure everything is well incorporated with the banana mix.
3. Line a large baking tray (baking sheet) with greaseproof paper (wax paper). Tip the crunch mixture onto the tray, spreading it out evenly, and bake for 40 minutes. Check it every 10 minutes to make sure it's not getting burnt. Once the mixture is dry and crispy, it's done.
4. Remove from the oven and leave to cool on the tray. Once cool, stir in the orange zest and sesame seeds. Transfer to a large glass jar with an airtight lid. Alternatively, store it in a ziplock bag in the freezer, which will keep it fresh and crispy for longer.
5. Serve the overnight oats with a handful of granola crunch and choose from any of the serving options. I always tend to go slightly over the top with extra nut butter, berries, nuts, seeds and edible flowers.
This breakfast can be made in a bigger batch and lasts for 3–4 days in the fridge. It's a perfect takeaway breakfast or snack.