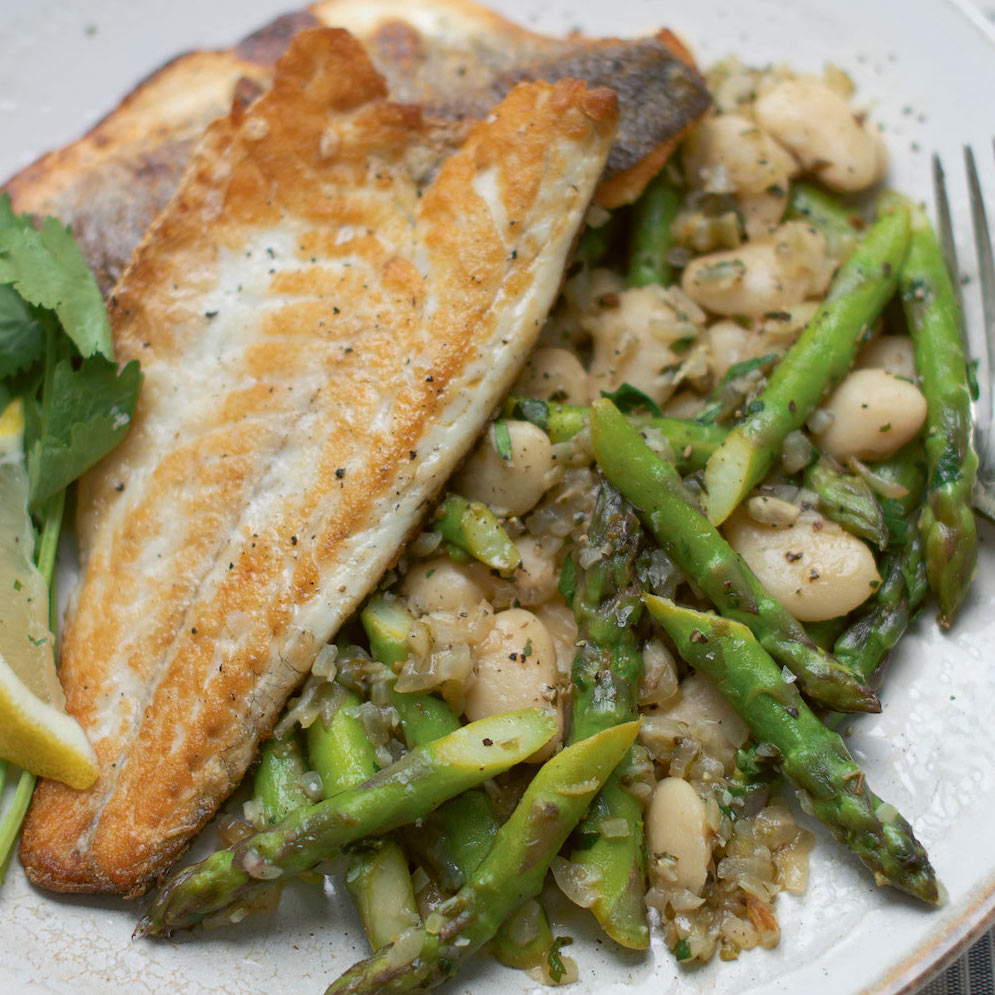 Ingredients
4 sea bass fillets
3⁄4 tsp sea salt flakes
1⁄2 tsp cracked black pepper 300 g (101⁄2 oz) asparagus
2 × 400 g (14 oz) cans butter beans
4 tbsp olive oil
1 large onion, finely diced
1⁄2 chicken stock cube
200 ml (7 fl oz) boiling water 3–4 garlic cloves, finely diced
1 tsp dried oregano
2 tbsp fresh lemon juice
Grated zest of 1 large lemon Small handful of fresh coriander,
finely chopped
Method
1. Using some kitchen paper, pat the sea bass fillets completely dry, and very lightly score the skin in three places. Season both sides with half a teaspoon of the sea salt flakes and a quarter teaspoon of the coarse black pepper and leave to one side.
2. Wash the asparagus, cut or break off the woody ends, and cut the spears in half or in thirds measuring approximately 8 cm (3 inches).
3. Drain and wash the butter beans.
4. Heat two tablespoons of the olive oil in a large frying pan over a medium–high heat. Add the onion to the pan, reduce the heat a little and soften the onion for 10–12 minutes until translucent and caramelised. While the onion is cooking, dissolve the stock cube in the boiling water.
5. Add the garlic and dried oregano to the onion and stir well for a minute before adding the asparagus and frying for another minute. Add the butter beans to the pan, stir well, then add the remaining salt and pepper, the lemon juice, lemon zest and stock to the pan. Bring to the boil, then reduce the heat and simmer for 3–4 minutes until the stock reduces a little. Remove from the heat.
6. Heat the remaining two tablespoons of olive oil in another large frying pan over a medium heat.
7. Place two of the fillets, skin side down, in the hot olive oil and gently, and carefully, push down the fish with the tips of your fingers to ensure the skin is flat to the pan, so that the fillets crisp up, cook evenly and do not curl at the sides. Cook for around 2 minutes on each side (you can check that the underside of each fillet is crispy and golden brown before flipping over). Remove to a warmed plate while you repeat the cooking process with the remaining two fillets.
8. Stir the coriander through the butter beans and asparagus and serve immediately while the sea bass fillets are still hot.