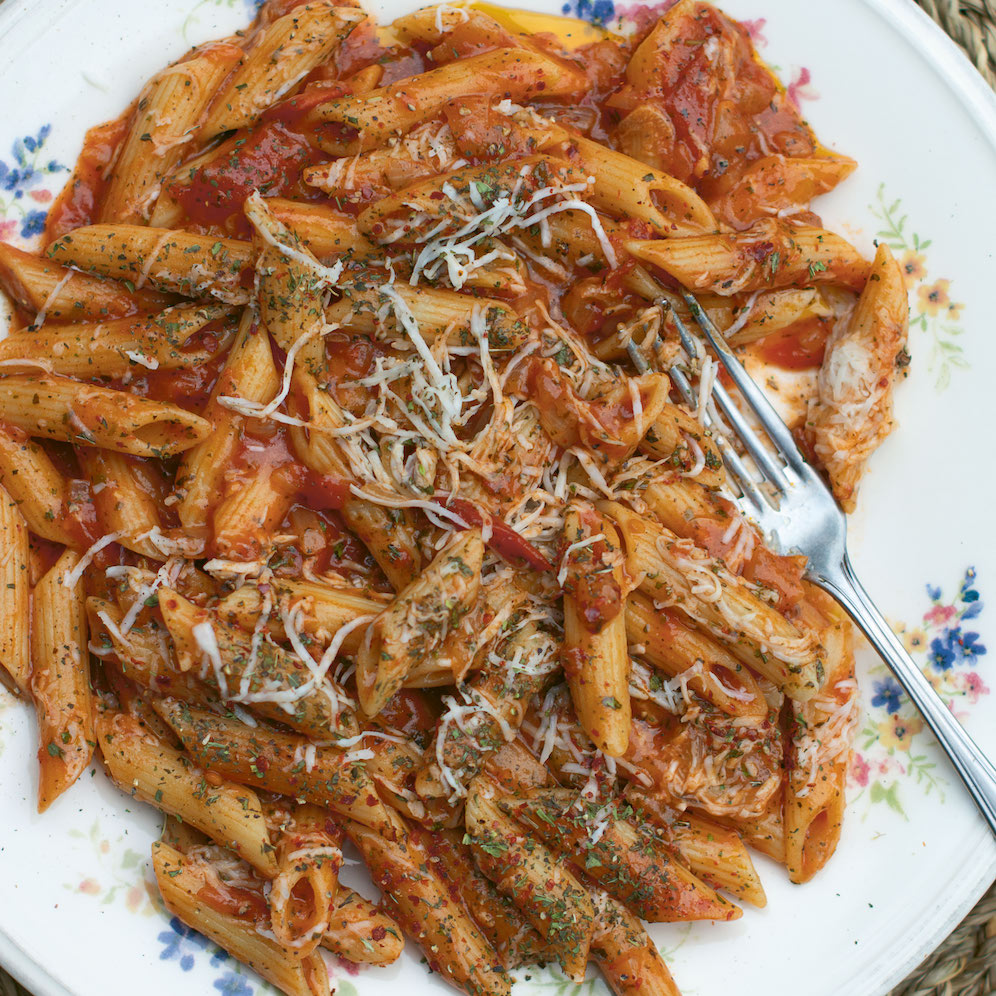 Ingredients
3 tbsp olive oil
2 onions, finely chopped
4 garlic cloves, finely grated 1⁄2 tsp paprika
1 tsp ground cinnamon
1⁄2 tsp sea salt flakes
1 tsp coarse black pepper, plus extra to serve (optional)
6 tsp dried mint, plus extra to serve (optional)
4 tbsp tomato purée
400 g (14 oz) can chopped tomatoes
1 chicken or vegetable stock cube 500 ml (18 fl oz) boiling water
2 bay leaves
300 g (101⁄2 oz) penne pasta
1 tbsp fresh flat leaf parsley, finely chopped
150 g (51⁄2 oz) halloumi cheese, grated, plus extra to serve (optional)
Extra virgin olive oil, to serve
Method
1. Heat the 3 tablespoons of olive oil in a large non-stick pan over a medium heat and add the onions, softening until caramelised for around 12–15 minutes. Add the garlic and stir for around a minute or two, then add the paprika, cinnamon, salt, half a teaspoon of the black pepper and two teaspoons of the dried mint and stir well. Add the tomato purée and the chopped tomatoes, stir well and reduce the heat down to the lowest simmer and let everything cook for 2–3 minutes while you get the stock ingredients ready. Keep checking the pan and giving it the occasional stir to make sure it doesn't catch on the bottom of the pan.
2. Add the stock cube to a large measuring jug and dissolve fully in 500 ml (18 fl oz) boiling water. Fill the empty can of chopped tomatoes with cold water, add to the jug, stir, then top up with as much as necessary to bring the stock mixture up to 1 litre (13⁄4 pints).
3. Add the bay leaves and the pasta to the pan, stir everything through the mixture, then pour in the stock. Stir the pasta well, bring to the boil, then reduce to a low–medium simmer for around 12–15 minutes.
4. In a bowl, combine the grated hellim with two teaspoons of dried mint and the remaining half teaspoon of black pepper.
5. Once the pasta has cooked (there should still be some juices in the pan, but the sauce should have reduced down), carefully pour it into a large serving dish, stir through the parsley, the hellim and the remaining two teaspoons of dried mint. Drizzle over some extra virgin olive oil to serve and garnish with extra hellim, dried mint and black pepper if desired.