Recipe by Bettina Campolucci Bordi; @bettinas_kitchen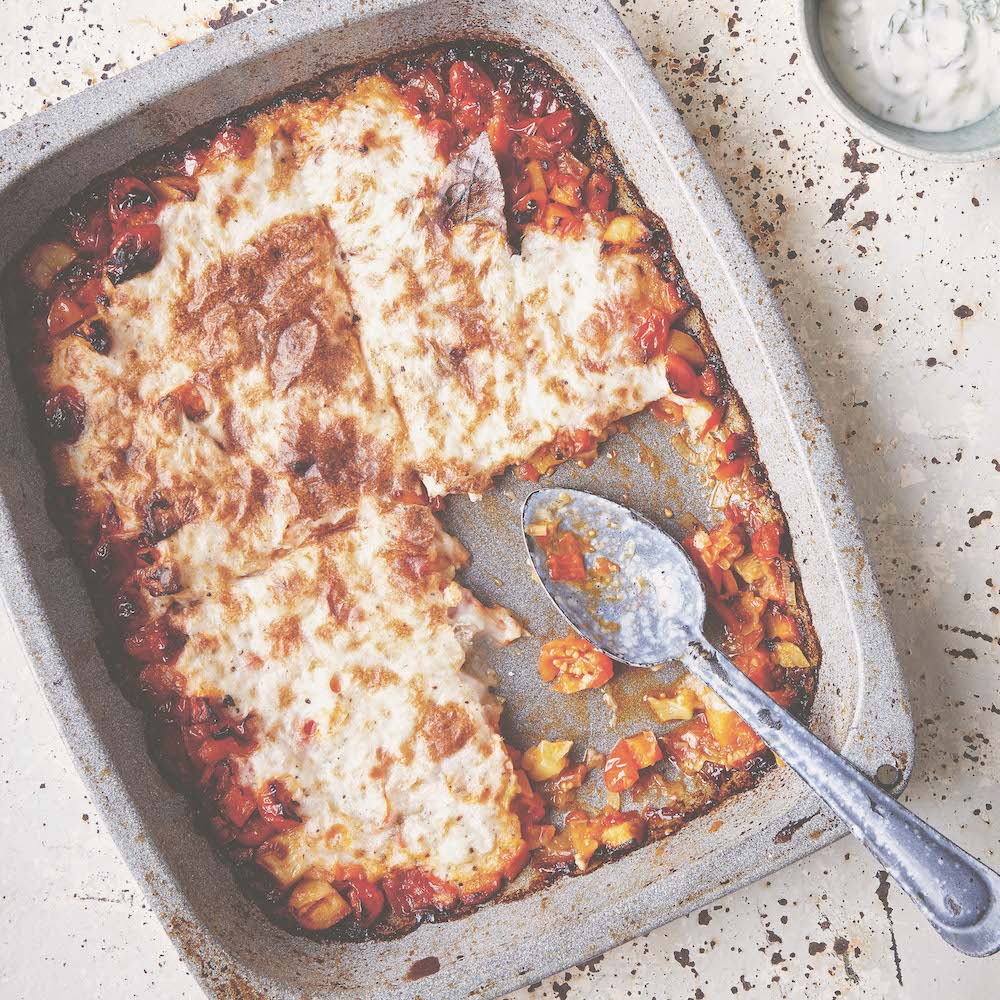 A dish that deserves the time that it takes to prepare, and for me a reminder of many holidays spent in Bulgaria. The smell of my grandmother's and aunties' kitchens and memories of myself sat at the kitchen table peering at the hustle and bustle around me in a family that loved to cook.
Ingredients
1 whole leek, chopped, greens and all
2 carrots, chopped
Olive oil, for cooking
1 aubergine (eggplant), chopped
2 large baking potatoes, chopped
1 green (bell) pepper, deseeded and chopped
2 tomatoes, chopped
1 bay leaf
1 tablespoon thyme leaves
1 x 400 g (14 oz) tin of tomatoes 250 ml (81/2 fl oz / 1 cup) vegetable stock
500 ml (1 lb 2 oz / 2 cups) cashew yoghurt or any plant yoghurt
2 tablespoons gluten-free flour
Pink Himalayan salt and black pepper, to taste
For the Tzatziki
375 g (13 oz / 11/2 cups) cashew yoghurt or any plant yoghurt
1/4 cucumber, finely chopped
1/2 garlic clove, peeled and grated
1 tablespoon chopped dill
Juice of 1/2 lemon
Method
1. Preheat the oven to 200oC (400oF/Gas 6).
2. In a big pan on a medium heat, add the leek and carrots to some olive oil and cook until soft for about
5 minutes. Add the aubergine, potato, pepper, tomatoes, bay leaf and thyme and cook for another
10 minutes.
3. Add the tinned tomatoes and stock and cook on a medium heat with a lid on for another 10 minutes.
4. Once the vegetables have softened, pour the mixture into an ovenproof dish and bake in the oven for about 30 minutes.
5. Add all the tzatziki ingredients to a bowl, give them a good stir, then set aside.
6. Now start to assemble the moussaka topping. Mix either cashew yoghurt or your choice of plant yoghurt with 2 tablespoons of gluten-free flour mix and salt and pepper to taste. If it's too thick add water to thin it out.
7. Take the vegetables out of the oven and pour over the topping mixture – make sure the whole surface is covered.
8. Heat the grill, pop the moussaka underneath and cook for 10 minutes or until the top is nice and golden brown.
9. Once browned let the moussaka cool for 10 minutes before serving with the tzatziki and some crispy greens.
Perfect dish for batch cooking. Make one of these at the beginning of the week and enjoy for the next few days at home or as a takeaway. It's also very freezable!