Gino D'Acampo; @iamginodacampo
Preparation time approx. 35 Minutes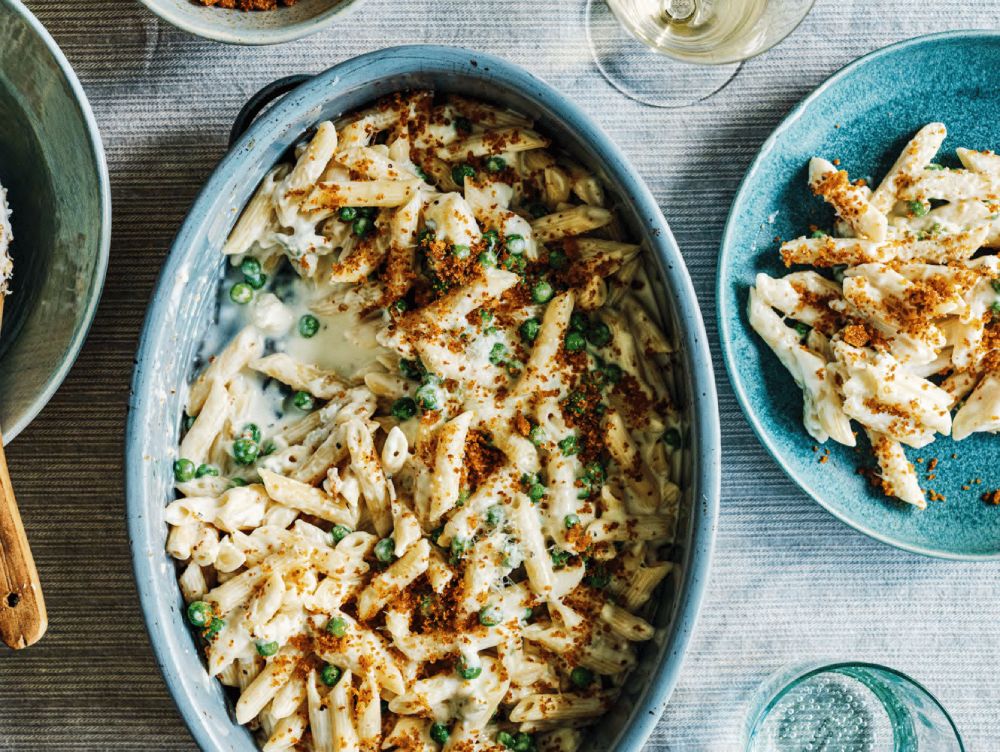 Ingredients
500g dried pasta. Pennette or penne, rigatoni, farfalle, pipe rigate, fusilli…whatever you like or have in
250g mascarpone cheese
250g gorgonzola cheese, crumbled
70ml whole milk
150g fresh peas, or frozen peas, defrosted
150g finely grated pecorino cheese, or parmesan cheese
1 mozzarella ball, roughly chopped
Fine sea salt and cracked black pepper
For the Pangrattato
50ml olive oil
100g fresh white breadcrumbs
1 tsp paprika
Method
1. First make the pangrattato by heating the olive oil in a frying pan before adding the breadcrumbs.
2. Fry gently for 8–10 minutes in the oil until golden and crispy, then stir in the paprika and spoon onto kitchen paper to absorb excess oil.
3. Meanwhile, bring a large pan of salted water to the boil and cook the pasta.
4. Place a saucepan over a medium heat, add the mascarpone and stir to melt, then add the gorgonzola.
5. When the gorgonzola has melted and the mix is bubbling gently, add the milk and some cracked black pepper, then tip in the peas and warm them through.
6. Add half the pecorino, mix well, then turn off the heat.
7. When the pasta is cooked, use a slotted spoon to transfer the pasta directly to the sauce. Pop the heat back on, stir to make sure the pasta is well coated in the sauce, then add the chopped mozzarella and the rest of the pecorino. Keep stirring until the mozzarella has started to ooze and melt.
8. Add in a handful of pangrattato and mix together before plating up. Top with the rest of the crunchy breadcrumbs and serve immediately.