Melissa Hemsley; @melissa.hemsley
Preparation time approx. 1 Hour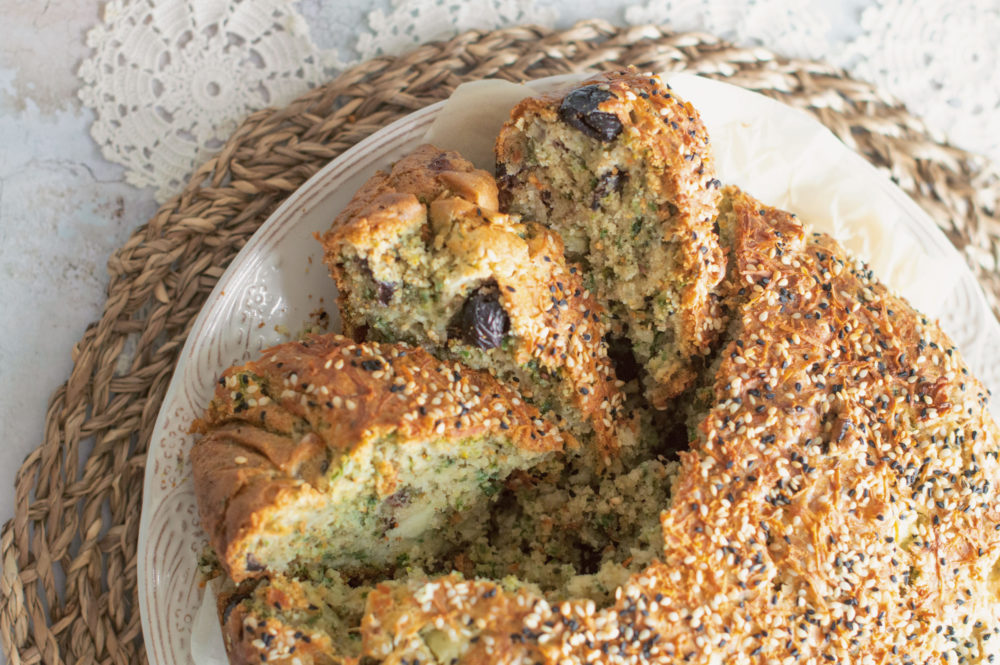 Ingredients
3 tbsp olive oil, plus 200ml and extra for the tin
1 small onion, finely chopped
3 eggs
250ml whole milk
400g self-raising flour
1 tsp baking powder
1½ tsp caster sugar
165g pitted black olives
200g halloumi, cut into 2½cm cubes, plus 25g, finely grated
4 tbsp coriander, finely chopped
4 tbsp dried mint
1 tsp sesame seeds
1 tsp nigella seeds
Method
1. Heat the oven to 200C/fan 180C/gas 6. Line a 23cm springform cake tin with baking paper and brush with a little oil.
2. Put a large frying pan over a medium heat and add 3 tbsp of the olive oil. Once hot, add the onion and turn down the heat. Cook the onion for 12-15 minutes or until softened, then remove to a plate to cool.
3. In a bowl, whisk the eggs, then add the milk and 200ml of olive oil, and stir. Sift in half of the flour and all the baking powder, then add 1 tsp of salt and the sugar, and whisk together. Sift in the rest of the flour and whisk well. Use a spatula to fold in the onion, olives, halloumi cubes, coriander and mint until combined.
4. Pour the mixture into the tin, sprinkle over half of the sesame and nigella seeds, the grated halloumi and then the remaining seeds.
5. Bake on the bottom shelf for 40-50 minutes. After 40 minutes, insert a cocktail stick into the middle of the cake – if it comes out clean, it's ready. If not, give it another few minutes in the oven.
6. Leave to cool slightly in the tin, then remove and cool fully on a wire rack for an hour before serving.