Melissa Hemsley; @melissa.hemsley
Preparation time approx. 35 Minutes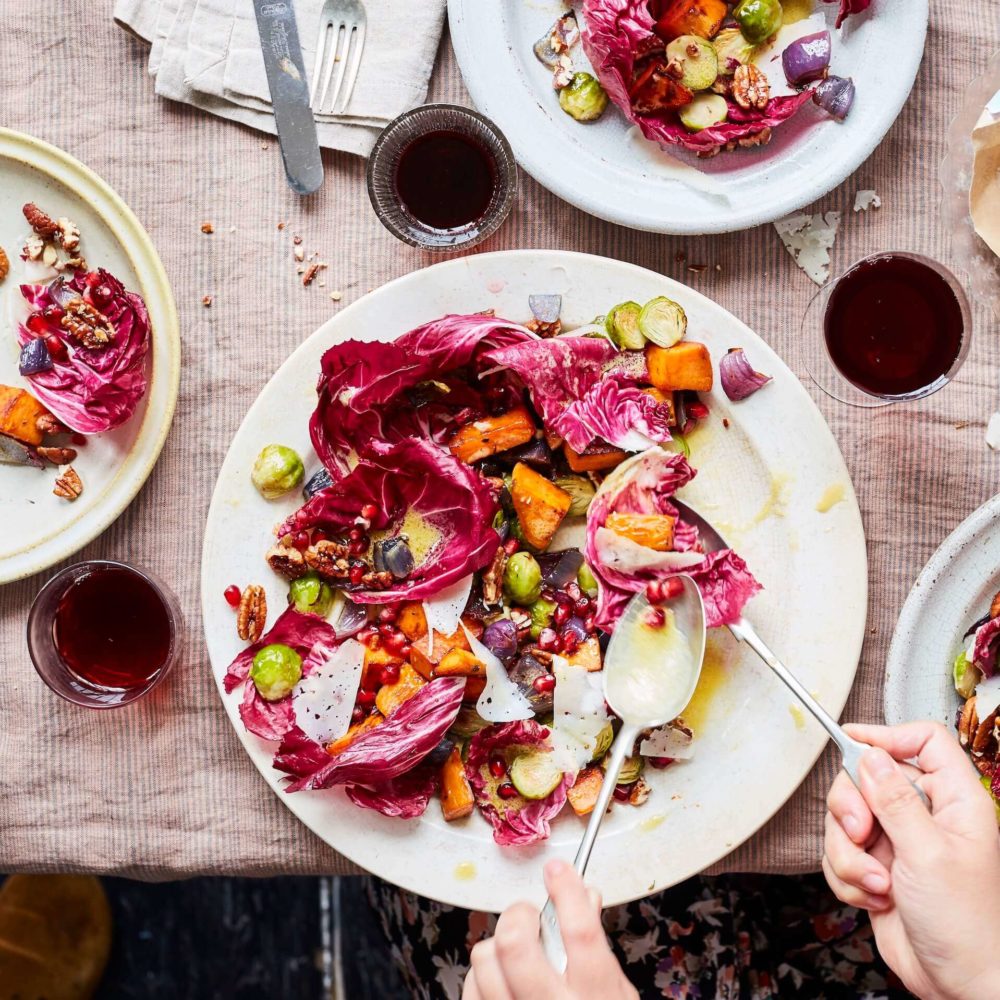 This is inspired by the big 'holiday' salads served at Thanksgiving celebrations in America. I find a big platter like this so cheerful and fun to share as part of feast. It's got all those beautiful colourful autumnal vegetables and sweet and salty flavours.
I feel there's been a growing love of sprouts in recent years, but if you still can't stand them (!), swap them for cauliflower. To make this heartier and to feed four as a main meal, cook up 200g quinoa or lentils, double the dressing and gently toss together to serve.
Ingredients
2 1⁄2 tbsp ghee or coconut oil 1 large red onion, roughly chopped
2 handfuls of brussels sprouts, halved, or cauliflower florets
700g sweet potatoes (about 2 medium), scrubbed, or squash (see tip), cut into 2.5cm cubes
2 tsp dried thyme or mixed herbs
Sea salt and black pepper
For the sticky pecans
1 handful of pecans (or walnuts)
1 tbsp maple syrup
For the dressing
3 tbsp extra-virgin olive oil
1 1⁄2 tbsp apple cider vinegar
1⁄2 tsp maple syrup
1 tsp dijon mustard
1 small garlic clove, finely chopped
To serve
1 head of radicchio, sliced, or 1 big handful of salad leaves
1 handful of pomegranate seeds or dried cranberries or 1 small chopped apple
1 handful of cheese shavings (such as pecorino, manchego or parmesan – use a veg peeler)
Method
1. Preheat the oven to fan 220°C/gas mark 9, then place the ghee in a very large roasting tray and pop in the oven to heat up.
2. Take the hot tray out of the oven and tumble the veg into the tray with the dried herbs and a generous pinch of salt and pepper. Gently toss together in the hot ghee, spread out on the tray in a single layer and roast for about 25 minutes, tossing halfway through. Take out of the oven when the veg are tender but not too soft (check with a knife) and going golden at the edges.
3. Roughly break the pecans or walnuts apart in your hands as you scatter them over a medium frying pan and toast on a medium heat for 2–3 minutes, shaking the pan halfway through the cooking time. Drizzle over the maple syrup and a pinch of salt, stir into the nuts and cook for another 30 seconds before taking straight off the heat and leaving to cool.
4. Place all the ingredients for the dressing in a bowl or clean jar with a lid, season to taste with salt and pepper and stir or shake well.
5. Tumble the roast veg onto a serving platter and gently toss with the dressing and the radicchio or salad leaves. Scatter over the sticky nuts, fresh pomegranate seeds and cheese shavings to finish.
Tip; Save the seeds from your squash. Simply clean, dry and roast with a little sea salt and oil for a 'no waste' snack.