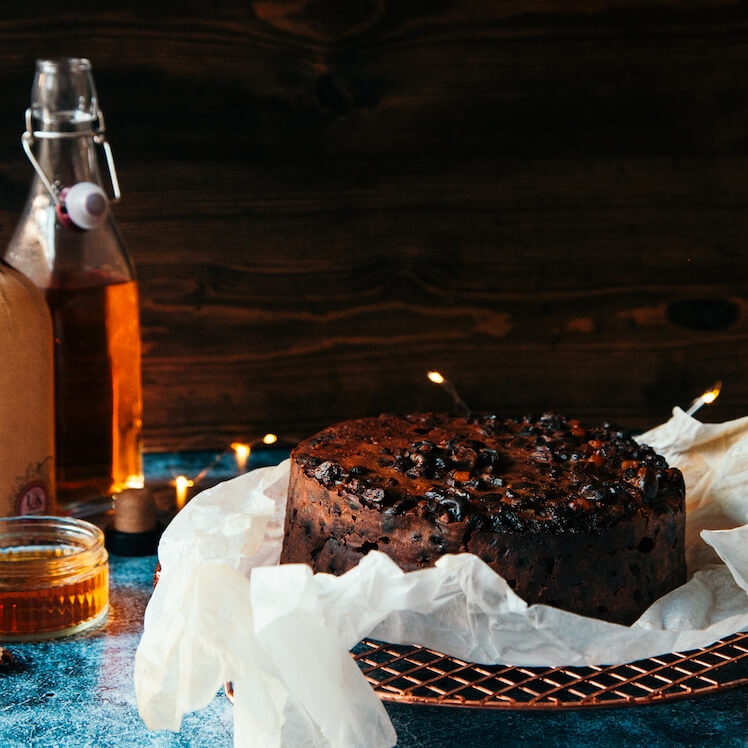 This recipe is absolutely delicious. It's a Sear family tradition to bake a few and decorate with the kids. We keep one for us and give a few to close family.
I used to make thousands of these for Fortnum and Mason and Harvey Nichols when I had my bakery. I also used this for weddings. You can make this even just a week before Christmas and it is perfect, or you can bake it in July as we used to do just keep feeding it every few weeks with a little brandy. This recipe works so well served with a cheeseboard because it has a chutney like quality, I hope it will become a favourite tradition of yours once you bake it. I've posted a video up on my Instagram (@julietsear) for how to mix it up, happy baking!
Equipment
An 8" round deep-sided cake tin (about 3" deep min is good), base and side lined
Large mixing bowls
Ingredients
300g natural-colour glacé cherries, washed and halved
250g sultanas
350g raisins
350g currants
100g mixed peel
40g glace ginger (or finely chopped stem ginger if you have trouble getting hold of it)
200g salted butter
200g molasses sugar
200g plain flour
4 medium free range eggs
2 teaspoons vanilla extract
1 teaspoon ground cinnamon
1 teaspoon ground ginger
½ teaspoon ground nutmeg
A Pinch of ground cloves
½ teaspoon mixed spice
160 ml brandy, plus more to feed (about 100ml's)
75 ml vodka
Method
1. Preheat the oven to 140°C (275°F/Gas 1).
2. Grease, base and side line an 8" round solid base cake tin (min 3" depth)
3. Place the dried fruit, peel and glace ginger into a large bowl and mix.
4. Place the butter and sugar in a small, microwave-safe bowl and heat for 1 minute at a time, stirring with a whisk at each interval, to mix the butter and sugar together.
5. Beat the eggs together with the vanilla extract.
6. Add the spiced flour to the fruit and mix.
Tip the warm butter and sugar mix into the fruit and mix well. Add the beaten egg and mix well. Finally, add your brandy and vodka. Stir and make a wish.
7. Pour into the tin and level. Place in the oven and bake for 1 hour then turn the heat down to 125°C (250°F/Gas 1/2) and continue to bake until completely cooked through. This will take approximately 2–2 ½ hours, depending on your oven. Check that a sharp knife or a skewer comes out almost clean.
8. Whist still hot, spike all over the cake with a skewer and pour over more brandy to soak the cake.
9. Once cooled, double wrap in parchment and then wrap in strong foil. Store in a cool dry place, feeding with extra brandy if you wish.