Manon Lagrève; @manonlagreve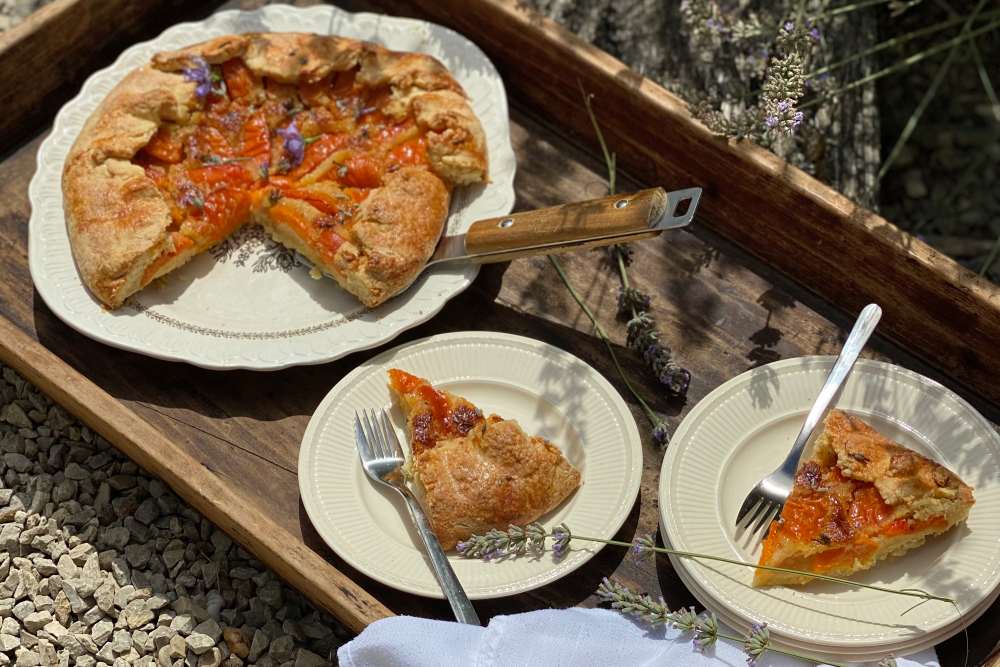 For the Pastry
300g of plain flour
150g of salted butter
1 egg
2/3 tbsp of water
2 tbsp of sugar
For the Frangipane
50g of butter
50g of sugar
50g of grounded almonds
400g of apricots
Lavender
Some honey
Method
1. Make the pastry: crumble the butter onto the flour and sugar with your hands. Add the egg and the water and make a ball. Cover and Keep in the fridge for 20min.
2. Make the frangipane: cream the sugar and the butter with a fork. Add the egg and mix well. Finish with the grounded almonds.
3. Roll the pastry out on a floured worktop. It should be about 4/5mm thick and quite a large circle. Don't worry if it is uneven. Place on a floured baking sheet.
4. Assemble: quarter the apricots. Spread the frangipane in the middle of the circle you made. Leaving 5min around the sides free. Place the apricots on top and close the pastry on itself to make a sort of galette.
5. Wash with egg wash and sugar and add 1 pod of lavender on top. keep in the fridge for 15/20min before cooking it for 30/40minutes at 180C fan oven.
6. Eat warm or cold, un délice!