Emily from Myriad Recipes; @myriadrecipes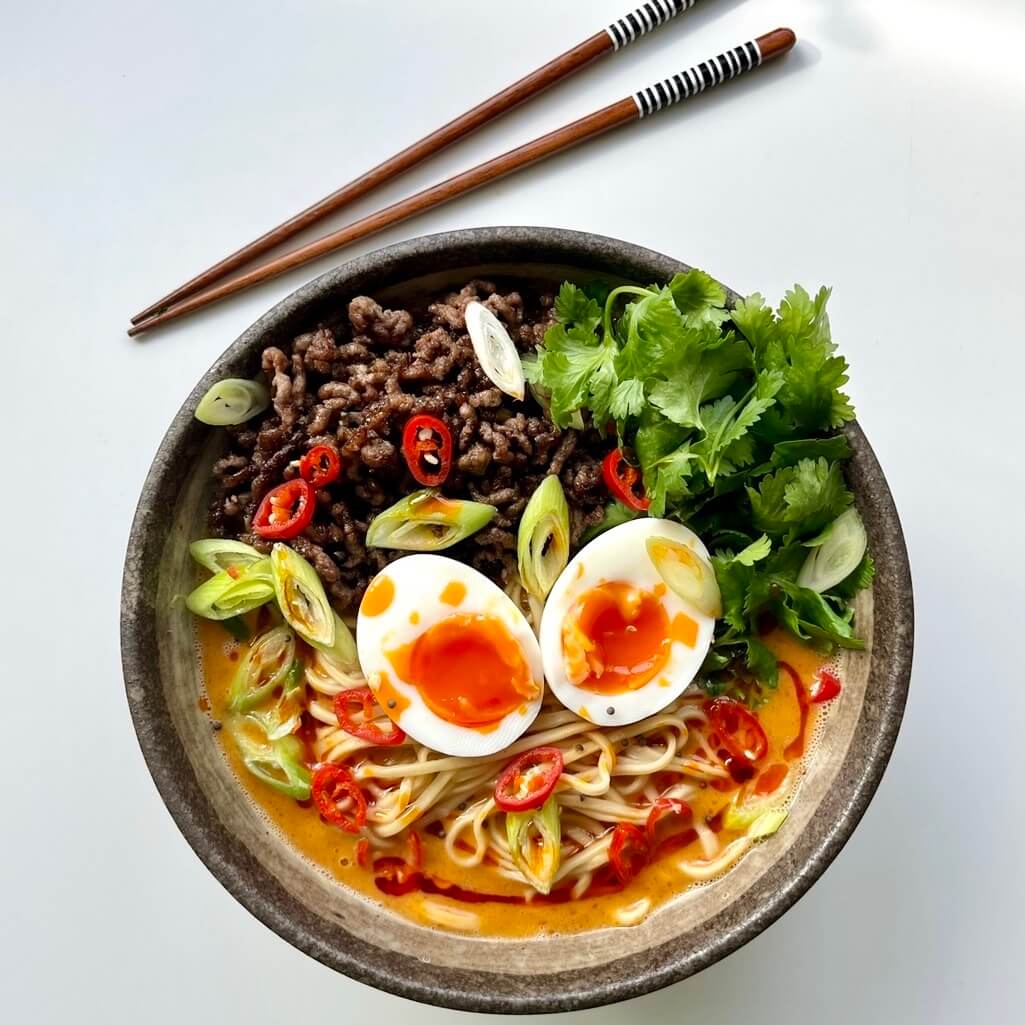 For the Soup
1 beef stock cube + 500ml boiling water
100g beef mince
1 chilli, sliced
1 spring onion, sliced
2 eggs
2 nest of egg noodles
Bunch of coriander (optional)
Drizzle of chilli oil (optional)
For the Seasoning
2 tbsp soy sauce
2 tbsp sesame oil
2 tbsp rice wine vinegar
2 garlic cloves, minced
2 tsp ginger, minced
2 tsp chilli flakes
2 tsp sugar
2 tsp peanut butter
3 tbsp vegetable oil, hot
Method
1. Add a drizzle of oil into a pan and place it on medium heat. Add in your beef mince with a sprinkle of salt and pepper. Break up the beef and sprinkle in your sliced chilli. Fry for 10 minutes until slightly crispy. Remove and set aside.
2. Place your eggs into a pan of boiling water and cook for 6 1/2 minutes. In another pan (or the same one, up to you!), cook your egg noodles to packet instructions.
3. Meanwhile, combine all of your sauce ingredients in a large bowl except the oil. Heat up the oil for 3 minutes in a small saucepan and then pour it over your sauce ingredients to briefly fry them. Give it a good stir and then add in your beef stock mixture. Pour the spicy beef broth equally into two separate bowls.
4. Transfer your eggs from the pan once they're cooked into a cold bowl of water. Once cooled, peel them, and slice them in half. Once your noodles are cooked, add them to your bowls of broth. Top with coriander, minced beef, spring onion, chilli, egg, and a drizzle of chilli oil. Enjoy!
Please note this recipe contains nuts.