With lighter makeup coming into play now spring is here, Holly's makeup artist, Patsy, shows us how to use different types of concealers for different problems without having to do a full face
With more and more people ditching 'full-face' make up for a more 'natural look', concealers have had a bit of a renaissance. I have to say that personally, I've been way ahead of this trend as my own lazy girl makeup look has consisted of concealer and setting powder for years!
The idea of a concealer is to try and 'conceal' an area you wish to blend into your natural skin. Coming into spring/summer, you can actually use concealer to replace heavier autumn/winter foundation, as it allows you to cover what you feel needs covering, whilst allowing your natural skin to show through, giving you a flawless, light and effortless finish.
Application tips
Ensure your skin is suitably hydrated pre-application to avoid the area looking dry once you've applied your concealer.
Be sparing and try to isolate where you place it.
I would suggest using a small brush to blend the concealer into the surrounding area.
Always apply in good light – whether fake or natural light.
The world of concealers has exploded in recent years, with every colour under the sun available. Whilst this is brilliant news, it can be overwhelming, so I'm here to crack the code on concealers so you feel more confident on how to use them to their full potential.
Which colour concealer corrects what?
Let's start with the minefield that is colour-correcting. These coloured concealers help balance out different tones within the skin, which is a savior if you're in need. Now, this pie chart may make you feel like you're back at school, but it's a really helpful visual.
The colour-correcting wheel
This chart has one rule – opposing colours cancel each other out. If you apply this theory to your 'problem' area, you can make your concealer work better for you by blending it with the correcting shade that will fix it.
Green Concealer (Opposite Red)
Balances out redness so it's perfect for hiding any Acne spots, scars and Rosacea.
Orange Concealer (Opposite Blue)
If you have darker skin with blue dark circles, orange will work to help conceal uneven undertones.
Pink Concealer (Opposite Green)
If you have lighter skin with dark circles, pink concealer is usually salmon or peach in tone – created from a mix of red, orange, and yellow hues – to cancel out all dark tones.
Yellow Concealer (Opposite Purple)
Yellow concealer will cover up any blemish that is purple in tone, such as bruises, veins, and dark under-eye circles.
Purple Concealer (Opposite Yellow)
Purple is best for combatting yellow undertones and brightening a dull complexion. You can also use a purple primer to remove yellow tones from your entire face.
Which concealer formulation is best for me?
There's no right answer to this question. As always, the magic of makeup is trial, error and practise, but as a starting point, I would recommend you assess your makeup routine. If you're always in a hurry, the doe-foot and bullet applicators are going to work best for you, whereas if you have plenty of time, pots and the use of your finger will give you lots of control over application.
The best medium coverage liquid concealers
For the majority of people, a good, medium coverage concealer is a good place to start. It provides enough blemish coverage when layered, but when used sparingly, it evens the skin tone whilst still enabling it to breathe and look natural to the naked eye. Here are some of my current favourites:
This brightening Rose Inc., Soft Luminous Hydrating Concealer, £24, is lightweight but easily buildable. Creamy in texture it nourishes the skin with Vitamin E, helping to condition and protect, whilst hydrating with Squalane. It's a product that lasts a long time and the shade range is vast!
Since I started using this Beauty Pie, Everyday Great Skin Concealer, £10 member price / £22 non-member price, I've stopped using my foundation so often. It gives a perfect amount of coverage, bedding into your skin beautifully without appearing 'cakey' and contains nourishing Shea Butter, Olive Fruits and Hyaluronic Acid. It's Vegan, Cruelty-Free and visibly blurs and brightens imperfections and dark circles. Love it!
The Makeup Revolution, Conceal & Define Concealer, £2.99 – £4.99 comes in an incredible amount of shades – 50!!! A massive hit when it launched in 2018, it continues to be a top product and is great value for money. It gives lightweight, buildable coverage, a matte finish, evens skin tone and counteracts dark circles. The doe-foot applicator is quick and easy to use and it's also non-Comedogenic, which means it doesn't block pores and won't cause breakouts. And it's Cruelty-Free and Vegan too…just brilliant!
The best heavy coverage liquid concealers
Heavy coverage concealers are a makeup essential if you are trying to cover scaring, serious pigmentation, or you have an isolated skin break-out that you want to conceal day long.
This e.l.f., 16hr Camo Concealer, £6, promises not to crease and to provide 16 hours of coverage. The large doe-foot applicator is great for covering pigmentation. The added Kaolin Clay is a bonus as it helps control excess oil and shine and keeps the product in place for longer. Its full coverage power means it covers up imperfections and under-eye circles while giving your skin a moisturizing boost. With 26 shades to choose from and the brand being both Vegan and Cruelty-Free, it's a super product
The Hourglass, Vanish Airbrush Concealer, £34 is a liquid concealer that delivers full coverage. It's a go-to in my kit if I need to cover a blemish or pigmentation at speed, but if you're after a natural concealer this is product is not for you. The long-wearing formula provides crease-proof coverage while brightening and refreshing the skin from morning into evening. The product comes via a flocked applicator, which is super gentle on the skin and disguises the appearance of pigmentation, dark circles and blemishes. It comes in 22 shades and is Vegan, Cruelty-Free and waterproof!
The hydrating and nourishing Morphe, Soft Radiance Concealer, £12, delivers on coverage whilst maintaining radiance due to its sweat-proof and water-resistant properties. It's a great one for if you're on the go! The Pomegranate Seed Extract ingredient helps to brighten complexion. And it's formulated without oils, fragrance, and parabens, which is always a win.
Best concealer sticks and pots
Back in the 90's the most popular concealer was the Rimmel Blemish Stick – reliable and so easy to use in its lipstick bullet style case – but now we have so many more options to contemplate!
Personally, I love a bullet application as you can see exactly where you will be applying your concealer and how much…you also know when it's about to run out! Here are some of my recommendations:
The long-wearing No7, Stay Perfect Stick Concealer, £9.95 is formulated to provide up to 24 hour wear. The easy to blend, semi-matte formulation conceals the appearance of under-eye circles, blemishes, and fine lines. It's comes in 36 shades and is a great affordable staple, making it the perfect first concealer if this is all new to you.
They call this Bobbi Brown, Skin Concealer, £26 a transformative stick and it does indeed transform, concealing skin blemishes and redness with ease! This long-lasting concealer reduces the look of dark circles, discolouration, and imperfections. The silky formula blends into skin and does not crease or dry leaving a lovely flawless result – perfect if you're looking for a light to medium coverage concealer.
If you have the money to splash out, you will never regret purchasing a Clé de Peau (meaning "the key to skin's beauty") product. True to its name, this brand delivers cutting-edge skin-cell science to ensure that skin is radiant. Dipping into makeup as well as skin care, this Japanese brand has extended their meticulously-crafted products to include this Beauté Concealer Stick, £54. This stick-bullet formula delivers a veil of coverage over every blemish, to create a beautiful, even-tone complexion.
The Glossier, Stretch Pot Concealer, £17 has a dewy, glowy, light coverage with brightening effect that blend seamlessly into skin. It's a brilliant starter concealer because it's easy to apply just the right amount. I love this as a holiday concealer because it glides onto the skin so well and allows the skin to breathe.
The best brightening under-eye concealers
These concealers are targeted just for the sensitive area under the eye and have reflective light ingredients to reflect and banish dark circles. They tend to not be heavy formulations, due to the area around the eye having thinner skin. Here are some super ones:-
IT Cosmetics, Bye Bye Under Eye Concealer, from £13 is water-resistant, highly pigmented and long-lasting. This is my go-to concealer for banishing troublesome dark circles. Infused with skin-loving ingredients, this concealer improves the appearance of fine lines and wrinkles, whilst effectively concealing the look of skin imperfections including dark circles and discolouration.
The Kosas, Revealer Concealer, £25 is multi-tasking and provides a medium coverage for blemishes, but also works as an eye cream and spot treatment to help improve the skin over time. Formulated with Caffeine and Pink Algae, it works to brighten the skin, while Arnica and Provitamin B5 perform a soothing action. Use sparingly for a more flawless appearance with a smooth, dewy finish or just dab gently around the eye to disguise dark circles.
TheBeauty Pie, Super Luminous Under Eye Genius – £12 member price / £24 non-member price has become a makeup artist's essential for eradicating dark circles under the eyes. It works via high luminosity intensity pigments scattering light and reflecting light to the area under the eye. Choose the Light/Medium shade for blue-toned dark circles. Choose Medium/Deep for brown-toned dark circles and choose Deep for blue/purple-toned dark circles on deep skin tones.
Sculpted by Aimee, Brighten Up Concealer, £15, is an liquid, soft-focus, under eye concealer that blurs and brightens beautifully under the eyes. It's also perfect for hiding discolouration in other areas on the skin. This product really is really helpful for fatigue under the eyes and a good mid-price point concealer.
Right I think I've covered just about everything…get it? Good luck!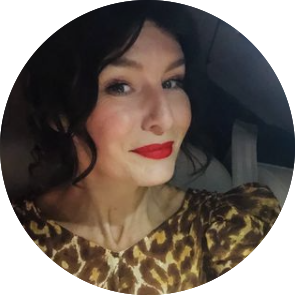 Patsy O'Neill
Makeup Artist and Beauty Consultant
@patsyoneillmakeup