People often think short hair is limiting when it comes to the amount of looks you are able to create…
…but this is soooo not the case!
From chic and smooth, to textured waves, big & bouncy and flicks…there are an abundance of masterpieces you can create. All you have to do is to invest in a good haircut, a few decent products, and with a little bit of trial and effort, you have pretty much the same scope as people with long hair. The key to everything is taking the time to experiment to see what styles suit you best and then practicing until you've mastered them.
So, if you have a short hair do, and you feel in a style rut – here are a few ideas for you to play with!
1. Sleek with a Slight Wave (aka Holly's classic This Morning Hair)
I begin by applying a leave-in spray like Hask, Biotin Boost 5 in 1 Leave-in Spray, £6.24, to clean, damp hair. Then I brush the spray through to leave the hair tangle-free and ready for styling with a product like the So Eco, Detangling Leaf Hair Brush, £7.20. Next, I start to rough dry the hair using a Lanaiblo, Hairdryer, £119.99 to remove most of the water, as this helps me create more natural movement. The key, is to rough-dry the hair to about 60% dry, before moving on to styling. If you over blow-dry the hair, it can end up falling flat. When I'm ready to style-dry, I section the hair using Kitch, No-slip Crocodile Hair Styling Clips, £6.50 for 3, and start to blow-dry the wave into the hair.
My tip for the base of this look would be to allow your hair to air-dry naturally before styling. This process can create natural volume and movement which will help when it comes to tonging. Always apply a leave-in conditioner to dry hair – like this Gisou, Honey Infused Leave-in Conditioner, £26 – to avoid damage during combing and styling. I'd advise starting with a small spritz so as not to leave it looking greasy. Once the hair is dry, I would blow-dry the hair line, so it's smooth and tuck one side behind the ear. (Holly's signature look is to tuck the right side behind her ear.) Then I use a curling iron like the Hot Tools, Pro Signature Curling Iron, £33.80 to create a short, voluminous wave. This might seem fiddly, but the results are so worth it! To finish off the look, I would recommend using a texture spray like the Morrocanoil, Dry Texture Spray, £18.45, followed by a setting spray like L'Oreal Professionnel, Infinium Extra Strong Hairspray, £4.85, to smoothe fly-aways and hold the look in place.
You might think you need a long mane for a ponytail, but I love doing them on shorter hair. It creates a really edgy look that you can elevate by adding in volume. I start by using a volume spray, like the Pureology, Instant Levitation Mist, £21.54. For maximum volume, dry the hair in the opposite direction to how it naturally lays. Start by clipping away a horseshoe shaped section on top of the head (to style later). Gather the rest of the hair into a ponytail at the nape of the neck (or slightly higher depending on how short your hair is). Then, unclip the top section (this is where we create all that lovely texture and volume) and use a curling iron like the Beachwaver, B1 Curling Iron, £95 to create classic waves. I then add texture and hold using a product like Joico, Rise Up Powder Spray, £16.50. Using my hands, I shake out and scrunch the style for even more volume and gather it into a second ponytail that I place over the first. A great finishing touch – if you have enough hair length – is to wrap a strand of hair around the hair tie, and pin it under the ponytail.
4. Holly's 'Flicky' Style
Apply a generous spray of volumizing product to clean, wet hair. I like Colour Wow, Raise the Root Thicken & Lift Spray, £19.50. Rough-dry the hair to about 60% dry, making sure to lift at the roots as you go to create volume. Once you reach this point, take a round bristle blow-dry brush and start to smooth the hair, whilst creating a flick at the ends. To achieve this, roll the ends of the hair around the brush and brush up and out – away from the face. If you find that your hair won't hold the flick through blow-drying alone, take a curling iron to create the outwards flick. When you're finished, tip your head upside down and spray with a volume spray such as Colour Wow, Style on Steroids Texture Spray, £24, to give yourself real lift! And finally, use a setting product like Schwarzkopf, got2b Plump'd Powder Styling Spray, £3.50 to hold it all in place!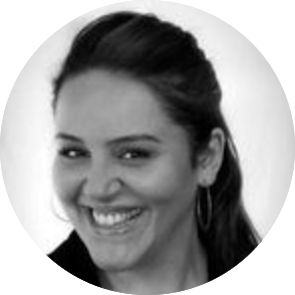 Ciler Peksah
Hair Stylist and Consultant
@cilerpeksah_hairstylist