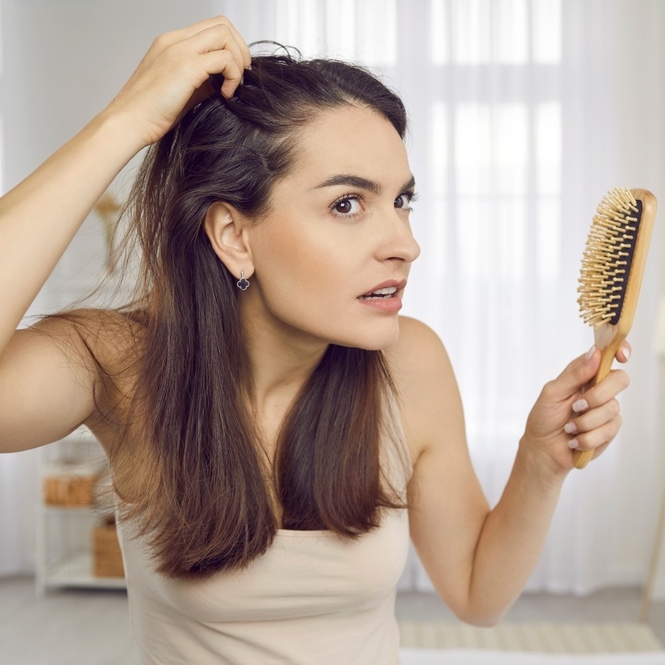 If you are worried about fine or thinning hair, you are not alone.
Many women become anxious about their hair thinning, and it isn't necessarily just due to the hair type you've inherited from your parents. Your hair can be affected by so many factors; from health and gut issues; to pregnancy, stress, hormone and environmental changes. In previous columns I have spoken at length about things you can do to improve hair health and volume (see reminder checklist below), whether it be supporting growth and strength from the inside via nutrition, or using products to transform your hair on the outside.
But this month I'm here to talk about how you instantly boost your confidence every single day by camouflaging areas you are sensitive about. If you've never heard of, or tried Keratin Hair Fibres, Hairline Powders or Disguise Sprays, I could be about to blow your mind! These products act like 'concealer' for where your hair is thinnest and your scalp is visible – and are even great at hiding root growth until you can get to the hairdresser!
All of these products claim to last all day particularly when used with fixing spray, but do check individual product instructions to maximise their efficiency. And best of all – they're SO EASY TO USE both at home and on the go.
What are hair fibre products?
Whether you're dealing with hair loss, thinning hair, or simply seeking to enhance your hair's volume and density, hair fibres could be a game changer for you. Made from Keratin protein, these tiny microfibers mimic your natural hair and bond to hair strands to camouflage hair loss and create a fuller, denser look.
How to use them:
Step 1 – Wash, fully dry, and style your hair as usual.
Step 2 – Blend and Conceal: gently shake fibres over desired areas, a little at a time and pat gently to set in place. Apply little by little, so you can build up if you need to.
Step 3 – For extra staying power follow with a fibre locking spray.


NB: Cover clothing or fabric before applying!
7 of the best hair fibre products to create thicker hair
Here are my favourite brands for this kind of treatment. They all do the fibres and the fixing spray and a couple of them do a disguise spray too. As ever with a new product, it's about trial and error to find something you feel confident and comfortable using because it really works for you.

Nanogen, Fibre Locking Spray 100ml, £12
Formulated with the brand's patented Hydroguard formula, the spray works to defend tresses from wet weather, locking hair fibres in place for long-lasting styling.

Toppik Thickening Spray for Men & Women, £18.95
Available in 4 shades
If you would rather a spray on formula than the fibres, this spray comes in 4 shades to instantly fill in sparse scalp areas and even areas of root regrowth between colour appointments. It is waterproof, and suitable for both men and women. It can be used in place of the fibres, or alongside it to provide thicker, more textured coverage.

MR. Jamie Stevens, Thickening Disguise Spray, £20
Available in 3 shades
A blend of natural ingredients and amino acids deliver a natural colour which blends seamlessly with your own hair to give the appearance of thickness instantly. It can be used on its own or alongside other hair thickening systems for the best results.
The best hairline powder
Whilst you can use all the above products in your hairline, I love this Boldify, Hairline Powder for transforming sparse areas of hair, the hairline, and root coverage. This quick-acting powder is water-resistant and infused with Squalane for an undetectable natural finish.
How to use:
The convenient packaging features a built-in mirror and precise applicator puff, making it easy to enhance what you want on the go. Remove the bottom cap to reveal a puff applicator. Press applicator onto powder and apply formula evenly to sparse or thinning areas. For root touch-up, apply in the direction of hair growth for a natural look. This formula easily washes out with shampoo.
For an undetectable 'real hair' effect follow this powder with Boldify Hair Thickening Fibres. This product claims to offer rain, wind, sweat-proof, all-day coverage that will stay in place until your next shampoo and comes in 13 shades.
The best pre blow-dry hair density boosters
There are a couple of products I wanted to recommend here for you to use when your hair is damp, to boost the density and overall health of your hair.
Weleda, Revitalising Hair Tonic, £13.95
Towel dry your hair before massaging this tonic into your scalp and comb through. The formula contains; stimulating Rosemary Oil to promote hair growth; Horseradish Extract which is rich in nutrients and antioxidants to tone the scalp and Stonecrop Extract to soothe, balance and maintain a healthy scalp for vitality.
Philip Kingsley, Density Thickening Protein Spray, £38
Spray this from mid-lengths through to ends to fortify weakened strands and preserve the internal structure of the hair. The formula contains unique Hyper-Branched Polymers and Hydrolyzed Pea Peptides to volumise fine hair.
A quick reminder of the basics for creating fullness:
Use a lightweight, volumizing shampoo and conditioner.
Only apply conditioner from mid-length to ends rather than the root and scalp.
A lightweight mousse is great for a blowout.
A good texture spray, dry shampoo and volumising hair powder are your best friends.
70% rough dry hair upside down before styling with a round brush.
For extra lift, set hair with velcro rollers.
For more height, backcomb hair at the crown and set.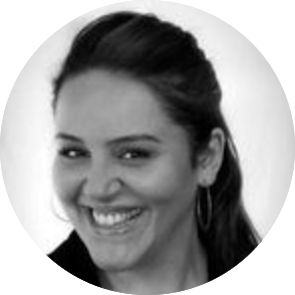 Ciler Peksah
Hair Stylist and Consultant
@cilerpeksah_hairstylist