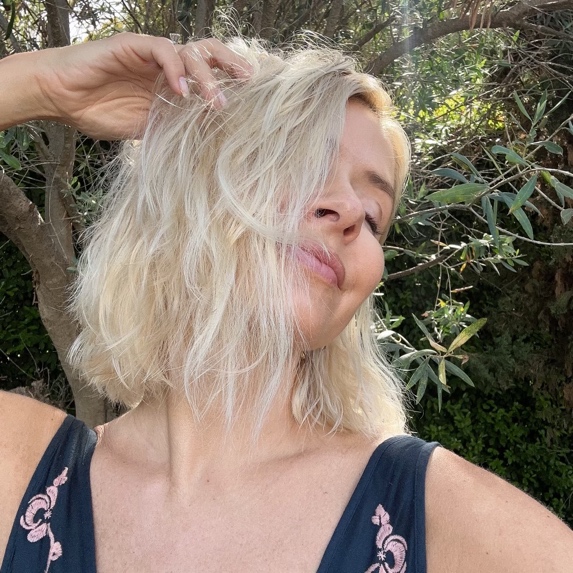 Holly's hairstylist shares the secrets behind her red carpet locks…
In my experience, most people's haircare regime consists of shampoo, conditioner and a styling product – which is fine – but if you want to keep your hair in optimum health, as well as looking fabulous, there are a few more haircare steps you would benefit from working into your routine. Products that shield against environmental damage, prevent follicle damage, and reduce excess grease will all make a noticeable difference to the health of your hair.
Throughout the years, I've experimented with myriad products, and with brands innovating with new ingredients all the time it's impossible to stand still when it comes to haircare! I really would recommend trying different things to see what works for you – but be sure to give any new product you try a chance for a few months before moving onto the next one. Hair textures vary so much, so what works for one person, won't for another, so definitely explore other brands. What's also key to say here is that effective results don't always require a hefty investment, which you'll see from my recommendations below.
There are 6 key products I use on both myself and my clients:
Heat Protectant: offers protection from heated styling tools and often against environmental and chemical damage.
Volume Spray: for maximum root lift.
Blow Dry Styling Spray: for the lengths and ends to prevent frizz.
Texture Spray: to make the hair feel fuller.
Final Touch Style/Sculpt: for shine, smoothing and hold.
Final Touch Hold Spray: but hold with movement – if that makes sense!
My current favourite must-have products for each of these stages are…
1. One of the best ever heat protectant products:
The Spirulina ingredient in this heat protectant contains anti-oxidant properties to help improve overall hair health. It also has all the Keratin your hair needs to control any unwanted frizz.
How to use: This product works best when applied to damp hair.
2. Two of the best volumising hair sprays
This spray is a really great alternative to a dry shampoo. Its vegan, cruelty free and free of lots of the usual nasties. This really does give a great lift to the hair without being heavy.
How to use: Use on damp hair with focus at the roots before you blow-dry.
For a more affordable alternative, I love this gel spray. This product helps to lift the hair at the root whilst protecting it with from frizz, and it even has a UV filter for added hair protection.

How to use: Use on towel-dried hair – for maximum volume tilt hair and spray from root to tip.
3. Two of the best blow-dry styling sprays
This product works wonders on most hair types. Whether you've got extra fine to full or even oil prone hair, it gives the most amazing bounce and hold when blow-drying.
How to use: Pop this into your hair in sections when damp before blow-drying for the best results.
This value High Street alternative contains added heat protection and gives huge body and hold to the hair when blow dried. It even helps to speed up the drying process and gives a wonderful shiny finish.
How to use: Apply liberally to damp hair. Spray from root to tip and follow with usual blow dry.
4. Two of the best texture sprays
This lightweight formula works wonders for adding texture and volume. It's vegan and free of Parabens, Sulphates, Petrolatum and Mineral oil and contains wonderful botanicals to leave your hair shiny, full of body and smelling beautiful.
How to use: Apply on dry hair from root to ends for all-over volume and texture, or just at the root if that's where you need a lift.
This is a great value option that works on all hair types to boost body and add texture – all with an ultra-light hold.
How to use: Spray product at the root. Wait until the product has set a little then work with it, that way you don't build up too much product in the hair.
5. Two of the best styling / sculpting products for the final touch
This product is a little pricey but always feels like an all in one. It is fantastic at getting rid of those pesky fly-away hairs, whilst helping to soften and hydrate at the same time. The travel size is much cheaper.
How to use: Work a quarter-sized amount between hands, and apply to clean, damp or dry hair from mid-length to ends.
If you're looking for something slightly cheaper and a more paste finish, this clay is perfect for creating roughed up, dishevelled styles. Its lightweight formula means it won't weigh the hair down, but it has great hold and a little goes a long way.
How to use: Apply to dry or towel dried hair – but remember, a little goes a long way!
6. Two of the best hairsprays with hold and movement
This spray will hold your hair in place whilst you party the night away. It's not sticky and your hair remains brushable – keeping in that all important movement. Its vegan, cruelty free and smells super fresh!
This formula is a classic, workable, flexible hold hair spray. It's safe to use on colour-treated hair and gives a weightless finish to any hairstyle.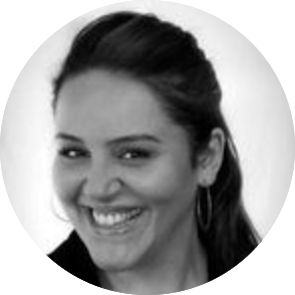 Ciler Peksah
Hair Stylist and Consultant
@cilerpeksah_hairstylist