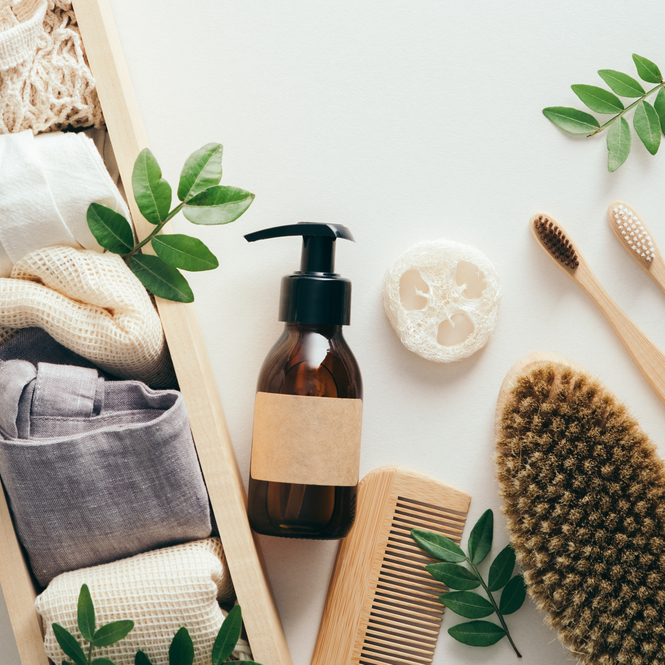 In beauty, sustainable options are readily available. Ateh Jewel shows how we can embrace easy eco-friendly practices.
Many of us worry about climate change and ensuring we leave a healthy and viable planet to our children and their children. But, it can feel very overwhelming trying to make a change for good when it comes to sustainable beauty. The great news is you can take small steps to make big changes. Here are some quick wins…
1. Ditch single-use facial wipes!
As well as failing to do the job of deep cleansing your skin, according to Bustle, '20 million make-up wipes a day are being thrown into the trash.' This makes wipes the third most wasteful product in the world as they end up in landfill. Try the humble cotton flannel instead.
I'm obsessed with Votary London Cotton Face Cloth Set, £30 for 5, which are baby soft and leave your skin feeling buffed and polished. I also love reusable pads such as Garnier Micellar Reusable Make-up Remover Eco Pads, £4.50.
They'll leave you with clean skin and a clean conscience.
2. Use refills to cut down on plastic consumption
Using refills is an economic and easy way to cut down on the use of plastics and reduce what ends up in landfills.
I love L'Occitane's Lavender Foaming Bath Refill, £22. It always chills me out and makes me feel I'm wafting through lavender fields in the South of France. You can relax and know you are also doing good for the planet as well as soothing frazzled nerves.
It's a shocking fact that according to Re-comb, the beauty brand which makes combs out of recycled plastic, that only 7-11% of plastic in the world is being recycled. Grab yourself a Re-comb, £18, to help change that statistic! I'm obsessed with my pink afro pick and take it everywhere with me!
3. Look for marine-friendly formulas
Plastic microbeads in scrubs and oxybenzone found in some SPF formulas can cause damage and have a toxic effect on delicate marine life.
This ocean-safe and biodegradable Milky Sun Spray SPF 30 by Caudelie, £20, feels so silky soft on the skin. It doesn't leave a blue or white tinge and protects your skin as well as marine-life.
Ren, Atlantic Kelp And Magnesium Salt Anti-Fatigue Exfoliating Body Scrub, £35. is one of my all-time favourite body scrubs. It uses epsom salts instead of microbeads to gently exfoliate even the most sensitive of skin types and melts into your bath for a relaxing and marine-safe experience.
4. Go organic
Not only is going organic healthier for the planet as it reduces non-renewable energy use by decreasing agro-chemical needs, the potency of and nutrients in organic products are so much richer.
Margo Marrone, the queen of Organic who has been waving the flag for over 20 years, has launched The Organic Pharmacy Niacinamide Ultra 5 Serum, £95. It's expensive but worth every penny as it's all singing and dancing, with a blend of 5% niacinamide, triple molecular hyaluronic acid, stabilised vitamin C, bakuchiol and organic rose water that work efficiently together to smooth wrinkles, repair the skin barrier, brighten, reduce redness and visibility of pores.
Dr Organic, Aloe Vera and Cherry Lip Balm, £3.99. Is a mouth-watering lip balm laced with shea butter, beeswax and soothing aloe which melts into the skin for soft lips.
5. Try products with upcycled ingredients
Reducing food waste is a huge deal when it comes to sustainability. Here are some products I'm loving with upcycled ingredients.
Pai Skincare, C-2 Believe, £49, is a certified organic and 100% vegan brand. It uses upcycled bilberry extract, which comes from seeds ditched by the juicing industry. They are used to help brighten the skin in this silky vitamin c face cream.
Try Upcircle, Shampoo Creme with Pink Berry, £19.99. This 100% natural shampoo used upcycled pink berry extract and is said to deliver THREE times the washes of a liquid shampoo while being silicone and sulphate free.
With just a few small swaps you can make a big impact for the future generations while looking and feeling great. Enjoy!