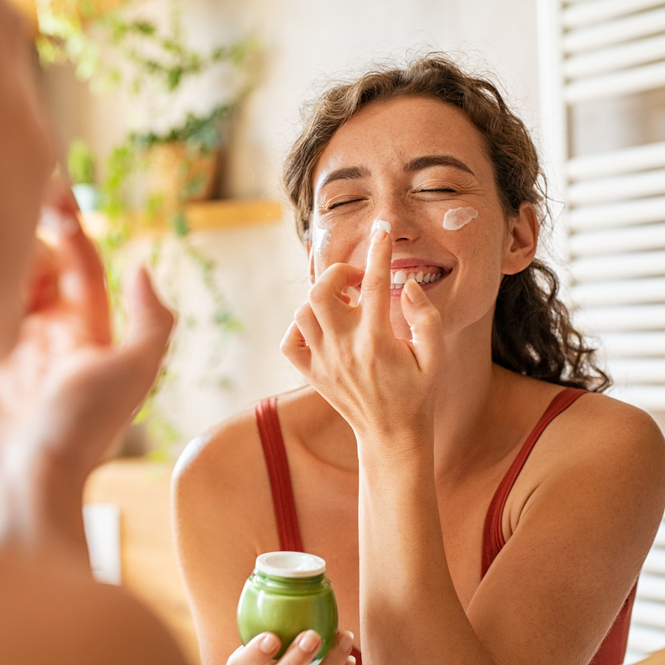 WYLDE MOON beauty expert, Ateh Jewel, has been searching high and low for the best moisturisers and skin plumpers you can use at home to make you look beauty-salon fresh.
We're all trying to be cost-savvy right now. Many skin treatments can be expensive but here are my favourite affordable skin-plumping solutions and products. Remember though, there's no point in spending money on luxurious moisturisers if you don't look after yourself with enough sleep, drinking plenty of water and stick to a regular skin care routine. It will really make a difference.
The best hydrating, plumping cleansers and moisturisers
For me, an essential is always a good cleanser before you even start thinking about adding moisture to your skin. If you start your beauty routine with an effective cleanser it will begin to get rid of a lot of skin issues that are caused by congestion and dullness.
The Ordinary's new Natural Moisturizing Factors + Beta Glucan, £12, could be your new best friend. Formulated with natural moisturising factors, beta glucan and ceramides, this light-weight moisturiser works to help strengthen the skin barrier and provide all day hydration after just one application.
My skin is dehydrated-combination and drinks up moisture which is why I am always on the lookout for the latest moisture-boosting formulas. The new Beauty Pie Shinkai Electrolyte Drench 3-in-1 Deep Hydrating Gel Cream, £34, is the perfect marriage of high-tech hydration and a magical whipped gel-cream texture.
The best hydrating eye cream, masks, serums and scrubs
Tired eyes, dark circles, fine lines from dehydrated skin which doesn't reflect the light can leave you feeling deflated. Try plumping it up with some of these great skin products to help you feel more revitalised.
This wake-up call for your eyes is great value and helps to reduce the appearance of puffiness, dark circles, and fine lines. Caffeine helps reduce puffiness and Matrixyl 3000™ helps boost collagen production.
As a mum of twins I love any chance of lying in the bath with a sheet mask on. This gentle formula delivers an intense moisture boost with a jam-packed blend of skin plumping papaya fruit, hyaluronic acid, vitamin B5, aloe vera and cactus flower.
Say hello to Vichy's, LiftActiv Supreme HA Epidermic Filler, an intensive Hyaluronic Acid serum that reduces the visible signs of wrinkles and fine lines on the skin. It is not the cheapest product but great value for a product formulated with dermatological active ingredients such as Vitamin CG and B5 and Hyaluronic Acid, LiftActiv Supreme HA Epidermic Filler. It smoothes the appearance of wrinkles and fine lines with a filling effect and hydrates and plumps the skin with moisture.
The best brightening and firming products
I love an essence (imagine a serum and a toner/ mist had a baby) as it hydrates the skin. It works to visibly smooth the skin and improve skin texture and tone. The essence also helps to leave the skin feeling softer. Formulated with vitamin C EAE, a potent and stable vitamin C derivative, the essence works to brighten the complexion and even the skin's tone. It also contains a Super Berry Complex that is rich in antioxidants to help protect the skin from environmental stressors, while caffeine helps energise the skin.
This 15-minute formula is a great choice for those looking for hydration, firming and smoothing as this affordable mask helps with all 3. Using Olive Oil and Rose, the treatment will help revitalise the skin for smooth and nourished skin with a healthy glow. The mask is biodegradable, too. 
Gentle exfoliation is great for brightening the skin and skin texture and this non-scratchy scrub is suitable for sensitive skin. Created in France, this grain-free, vegan gel is rich in hyaluronic acid and enzymes to maintain skin's hydration and stimulate cell renewal. Reducing redness and irritation, skin is left soft and smooth with a fresh fragrance in just five minutes.