Clodagh McKenna; @clodagh_mckenna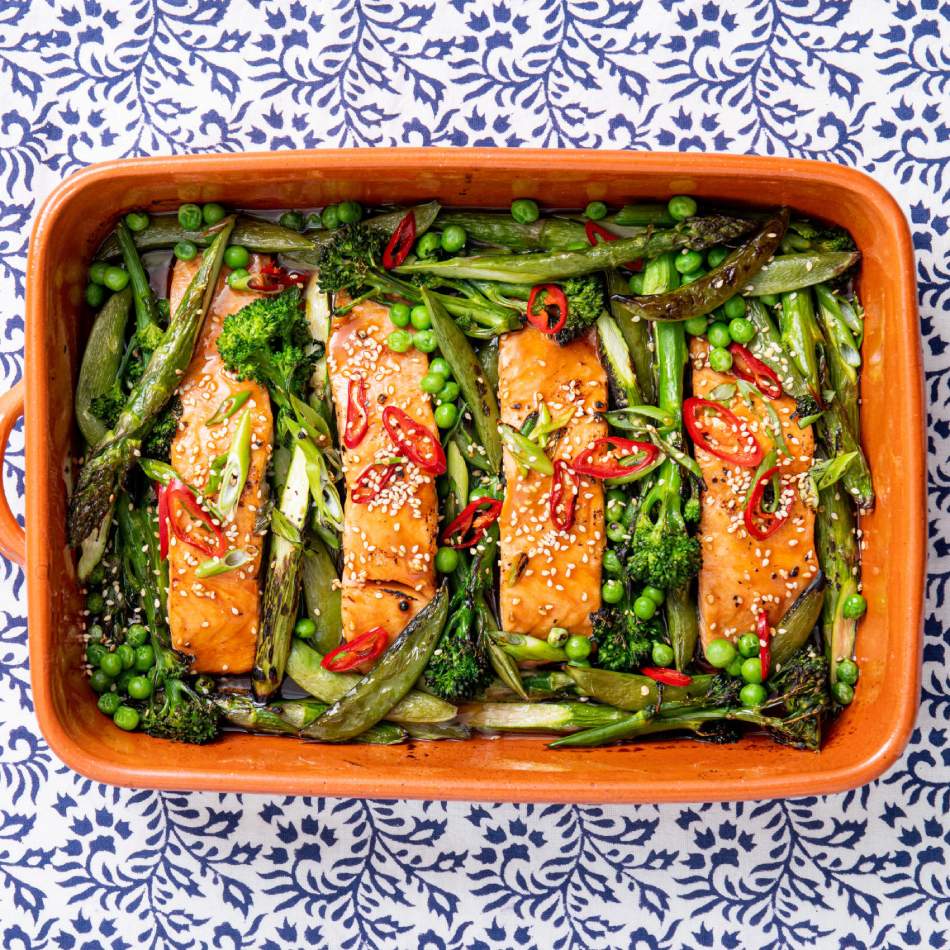 Ingredients
200g tender-stem or purple sprouting broccoli
12 asparagus spears or French beans
200g sugar snap peas or kale
200g frozen or fresh peas
1 tbsp sesame oil
1 tbsp sesame seeds
For the Dressing
6cm fresh ginger, peeled and grated
Juice and zest of 2 limes
1 tbsp sesame oil
3 spring onions, finely chopped
1 red chilli, finely sliced
For the Salmon
4 salmon fillets
1 tbsp soy sauce
1 tbsp sesame oil
1 tbsp honey
Method
1. Preheat the oven to 200C.
2. Blanch the broccoli into a saucepan of salted boiling water for 2 minutes, then drain.
3. Mix the broccoli, asparagus, sugar snaps, peas, sea salt and sesame oil in a roasting tin. Place the salmon fillets in around the veg, then whisk the soy, sesame oil and honey together and spread over each fillet. Roast for 20 minutes in the pre-heated oven, until the salmon is cooked through.
4. Meanwhile, mix together the ginger, lime juice, sesame oil and spring onions. Once the salmon is cooked, pour the dressing over the vegetables. Scatter over the sesame seeds.
5. Serve hot, with noodles or rice.