@bettinas_kitchen Bettina Campolucci Bordi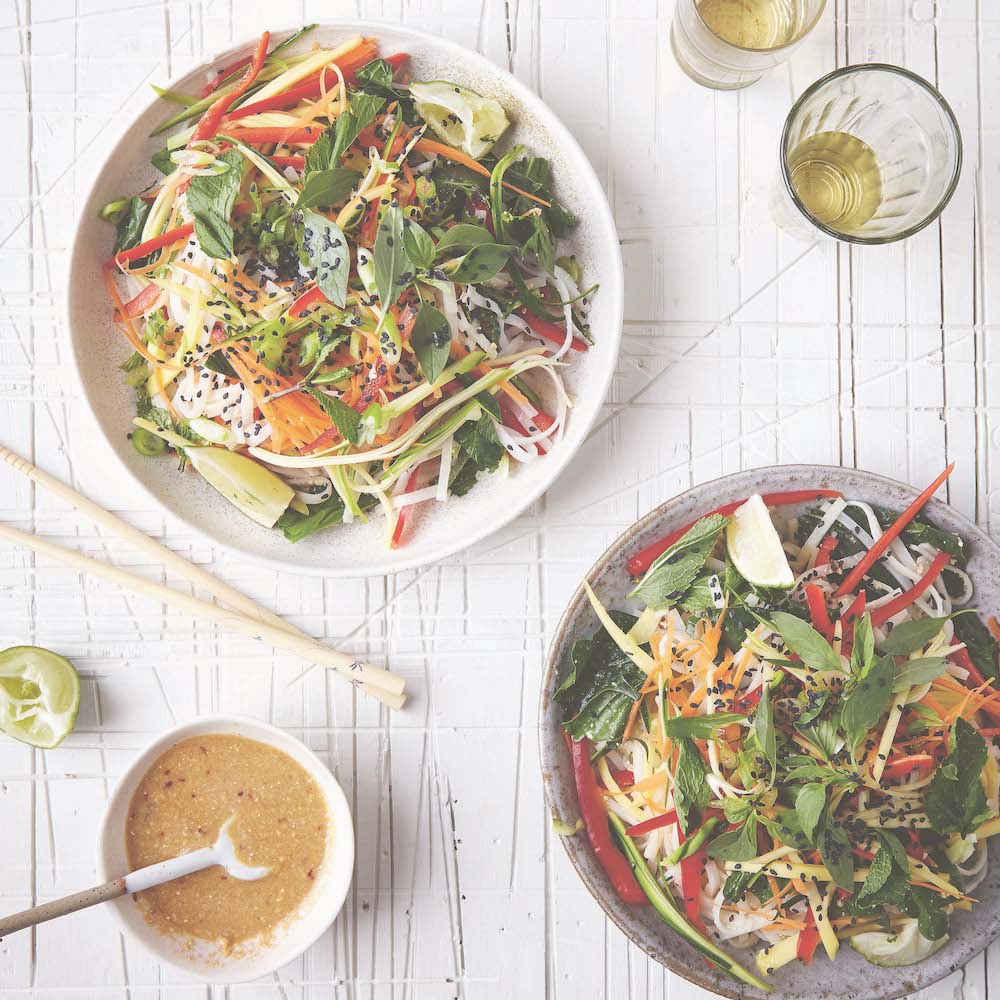 Easy, spicy with an Asian flare. A great way to include as many vegetables as possible, masking them with a spicy sauce that will make anything taste amazing!
Ingredients
200 g (7 oz) rice noodles
1 carrot, julienned
1/4 courgette (zucchini), cut into ribbons
1/4 red (bell) pepper, julienned
1/4 yellow (bell) pepper, julienned
1/4 mango, julienned
1 spring onion (scallion), chopped
Handful of spinach
For the peanut dressing
1/2 red chilli, finely chopped
A few sprigs of basil
1/2 lime
Black sesame seeds
1/2 tablespoon finely grated fresh root ginger
3 tablespoons peanut butter
1 tablespoon maple syrup
1 teaspoon apple cider vinegar 80 ml (21/2 fl oz / 1/3 cup)
Water
1 tablespoon tamari soy sauce
To serve
A few sprigs of mint
A few sprigs of basil or Thai basil
1/2 lime
Black sesame seeds
Method
1. Cook the rice noodles following the packet instructions. Drain and set aside.
2. Mix all the dressing ingredients together in a bowl, and set aside.
3. Combine all the prepared vegetables for the noodle dish in a big bowl. Add in the noodles and stir in the dressing so that everything gets coated.
4. Serve in bowls sprinkled with the fresh herbs and with a lime wedge for squeezing over. Sprinkle over some black sesame seeds for a bit of extra crunch.
A great dish for making in advance – perfect as a lunch-box meal to take to work.
Please note this recipe contains nuts.