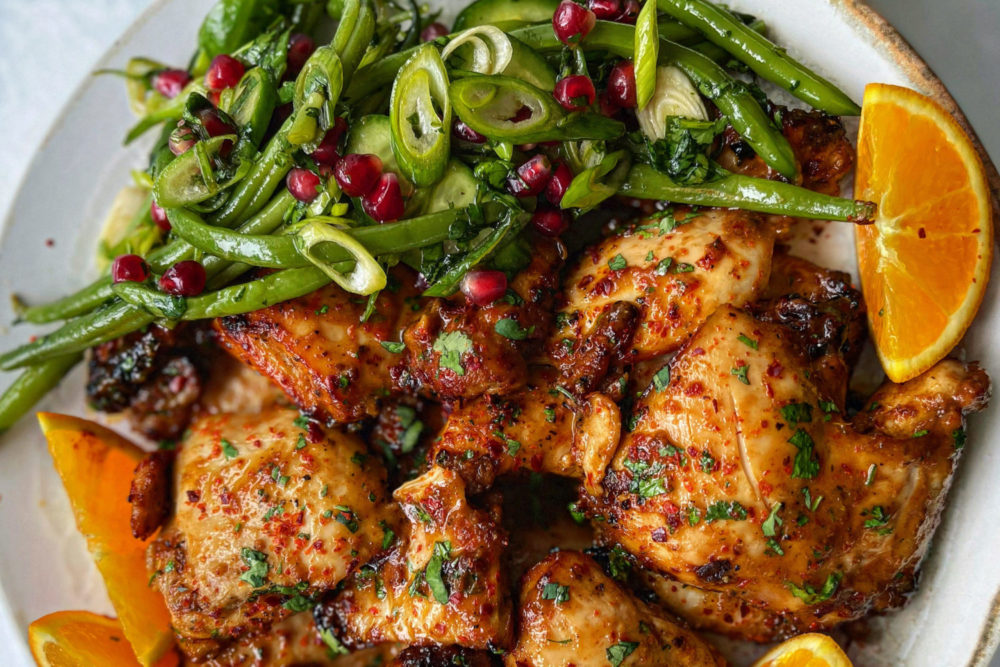 For the Chicken
2 tbsp thick natural yoghurt
1 tsp pul biber
1 1/2 tsp sweet smoked paprika
1 1/2 tsp garlic granules
1 1/2 tsp dried oregano
1 tbsp honey
2 tbsp olive oil
1 tbsp pomegranate molasses
Zest of 1 orange
1kg chicken thigh fillets, boneless and skinless
1 tbsp freshly squeezed orange juice
1 tbsp Cornflour
1 1/2 tsp sea salt flakes
3/4 tsp coarse black pepper
Finely chopped coriander and pul biber to serve
For the Salad
200g green beans, cooked
1 Middle Eastern cucumber, thinly sliced
2 large spring onions, finely sliced
100g pomegranate seeds
25g fresh coriander, finely chopped
2 tbsp extra virgin olive oil
2 tbsp pomegranate molasses
1 tsp honey
1 tbsp white wine vinegar
2tbsp freshly squeezed orange juice
Good pinch of sea salt flakes to taste
Method
1. In a large dish, mix together the yogurt, pul biber, sweet smoked paprika, garlic granules, dried oregano, honey, pomegranate molasses, 1 tbsp of the olive oil and the orange zest. Add the chicken thighs and mix and coat well in the marinade. Cover and refrigerate for at least an hour, or up to overnight.
2. Take the chicken out of the fridge 30 mins before you are ready to cook and preheat the oven to 210c fan / 230c.
3. Use half of the remaining tbsp of olive oil to brush a non-stick tray with. Add the orange juice to the marinated chicken thighs, and stir well, followed by the cornflour, stirring well again, followed by the remaining olive oil, stirring well again.
4. Add the chicken thighs to the oiled tray, season with the salt and black pepper, pop the tray on the middle shelf of the preheated oven and cook for 15 minutes, take out, flip the fillets over, cook for another 10 mins, take out and flip again, and cook for a final 5 mins until the fillets are juicy all over and caramelised around the edges. Take the tray out of the oven, sprinkle over the chopped coriander, swish the chicken fillets around in all the juices and serve immediately, so that they remain hot and juicy – serve with a sprinkling of pul biber and an extra squeeze of orange juice if you fancy it.
5. While the chicken cooks, mix together the salad ingredients so that the salad is ready to serve as soon the chicken is.