The Secrets of Holly's Wedding Day…
Summer is wedding season, and as Holly is about to celebrate her 15th wedding anniversary, we asked her for the most memorable moments from her big day, and to find out what made her cry.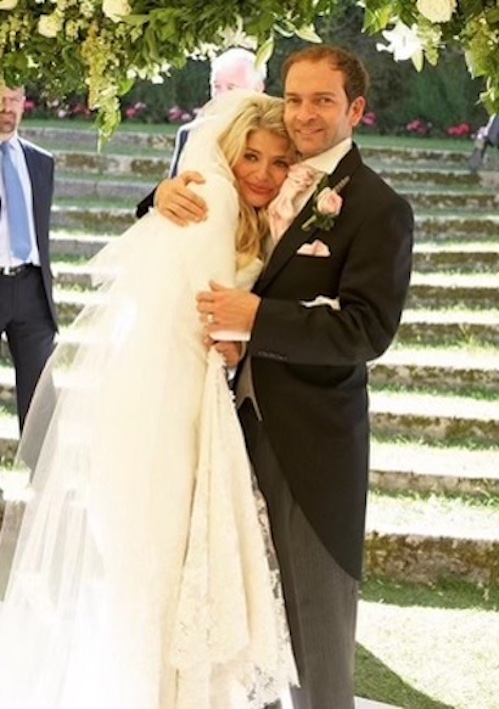 Credit: Nicky Johnston & OK! Magazine
  Let's start at the beginning – where and when was your wedding to Dan?
Dan and I got married at Amberley Castle in Sussex on the 4th August 2007. Amberley is a beautiful, fairy-tale castle I used to visit when I was little for very special family occasions. I always dreamt that one day I'd get married there. So, when Dan proposed, I took him to see it and he fell in love with it too.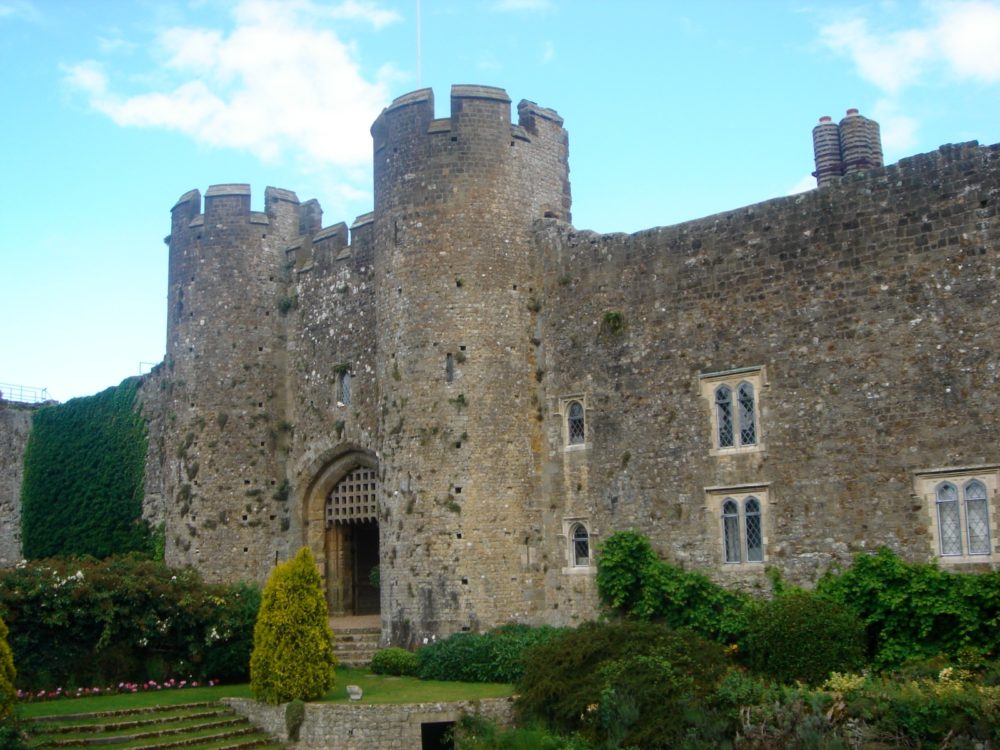 Tell us about the dress!
I had in my head exactly what I wanted, but I couldn't find it anywhere! I knew I wanted it to be very vintage, lace, with long sleeves, a high neck and a beautiful, open back, as that's what everyone sees when you walk down the aisle. Oh, and a long train…if you can't do that on your wedding day when can you?

A friend of mine introduced me to this incredible lady who was a pattern cutter for Alexander McQueen. I sat down with her and we sketched my dress. I had pictures of my mum's wedding dress which was a similar shape, and that formed the basis of it. Her dress had that 70's Biba style sleeve – not unlike the puffed Vampire's Wife shape actually. My mum's sleeve came down to a point with a loop over her middle finger, which I loved so I added that to my design. I had an old pair of bright red, leather high heel shoes that I loved. I can't remember where I got them from, but as luck would have it the dad of one of Dan's friends was a shoe-maker. He re-made them for me in white satin. Dreamy!
 
And what did the Queen of Cake choose for her wedding?
Well my all-time favourite cake is Battenberg, which would have been my dream layer. But, because it's made from four different square cakes the shape just wouldn't hold. So, I ended up with one lemon and poppy seed tier and a vanilla Victoria sponge tier. I wanted it to look like one of those old-fashioned wedding cakes with loads of really ornate icing! I remember walking past plates where people had left their icing and mine sweeping! Who on earth leaves icing?
"When Dan and I first got together I went on a girls' holiday to LA with Fearne Cotton and Dan made me a mix tape, because that's how old I am."
 
What music did you have on the day?
My favourite film growing up was 'Slipper & The Rose'. People of a certain age will remember it and in my humble opinion, it's the best Cinderella story ever told. I walked down the aisle to a string quartet playing 'Suddenly it Happens' which Cinderella sings on the way to the ball. (I chose the lyrics to another song, 'Secret Kingdom', as my reading for my sister, Kelly's wedding.)
Our first dance was a song by Paul Weller called 'English Rose'. When Dan and I first got together I went on a girls' holiday to LA with Fearne Cotton and Dan made me a mix tape, because that's how old I am. The first song, which he told me not to play until I was taxiing down the runway, was 'English Rose'.
  Any wedding day panics?

We definitely had weather stress! Like many venues the castle event space was mainly in the grounds and whilst you'd think you'd be safe with the weather in August, I can remember that summer was one of the wettest on record. Amberley isn't a great sprawling castle and it would have been such a squeeze to hold the whole day inside. Shortly before the wedding, I was working with Fearne and spotted one of the crew reading a newspaper with '5 Days Until Summer Begins' splashed across the front page. I was getting married in 5 days! I burst into tears, and unbelievably, it turned out to be absolutely true! Come the 4th August, there wasn't a cloud in the sky and it was boiling! Talk about luck!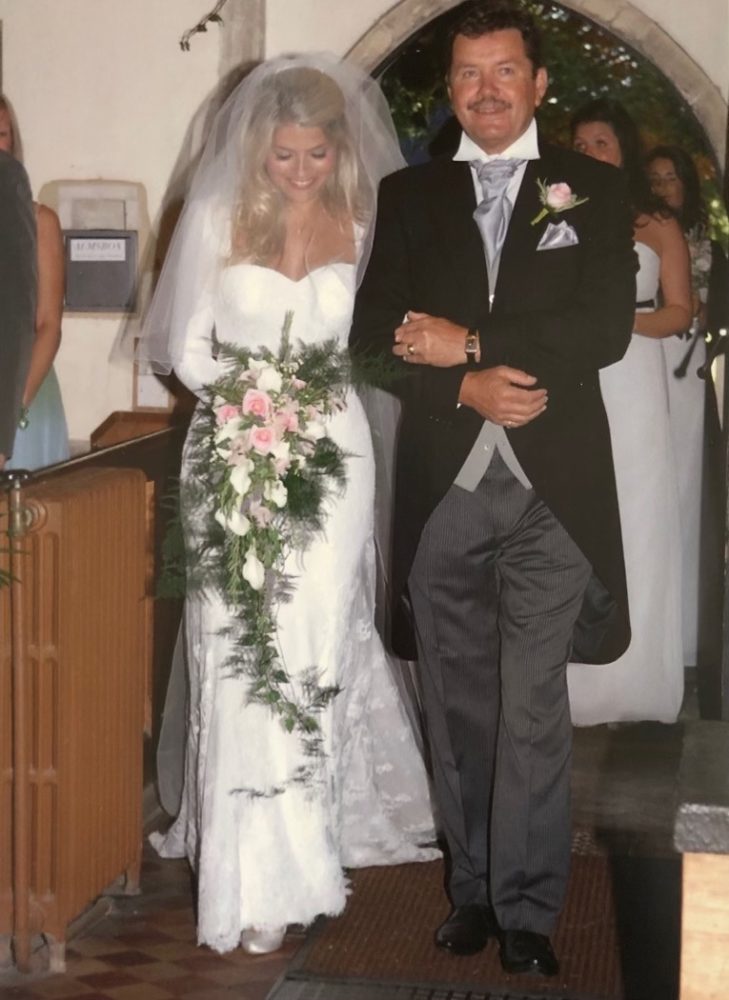 Credit: Nicky Johnston & OK! Magazine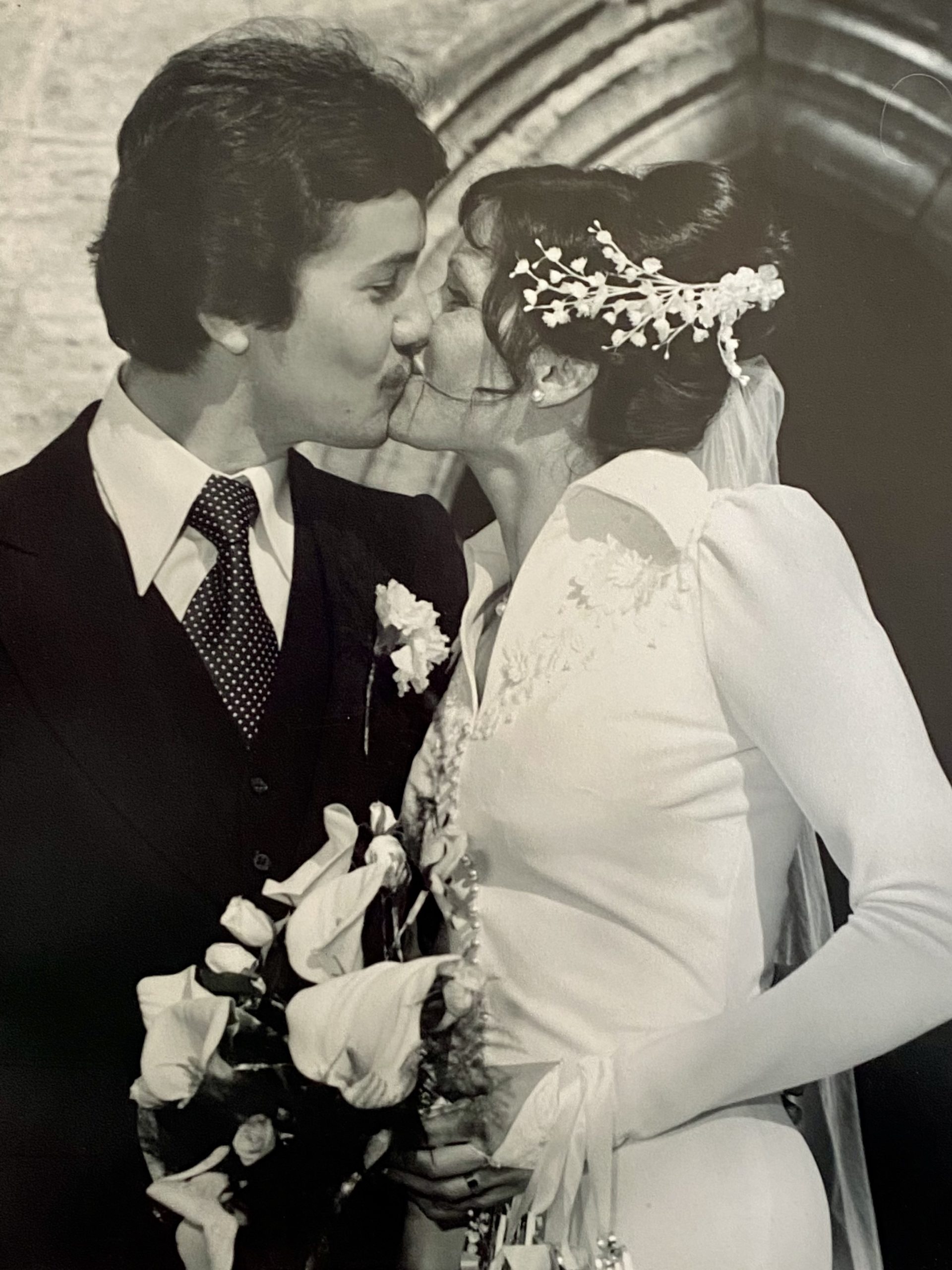 My mum and dad on their wedding day in 1977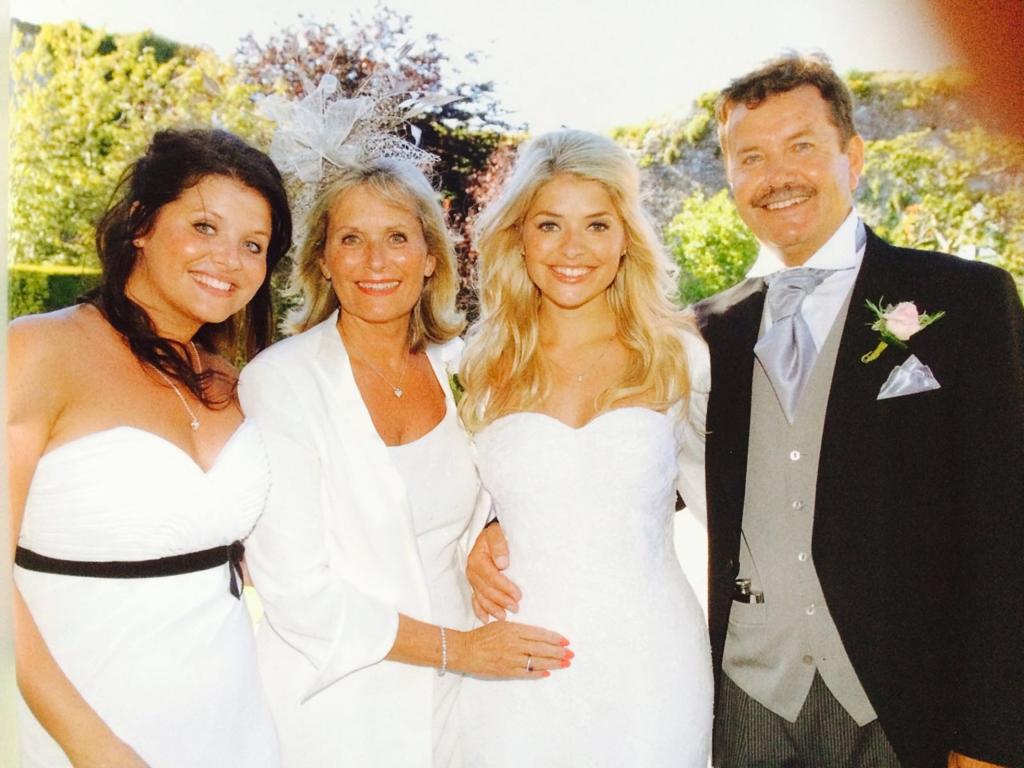 Credit: Nicky Johnston & OK! Magazine
Credit: Nicky Johnston & OK! Magazine
  Do you have a favourite moment from the day?

There are a few moments actually. Those hours before you get married are crazy and your head can't possibly process the day you are about to have. It was a magical, nervy morning getting dressed with my mum and my sister, and I'll always remember the moment my dad walked in when I was ready to go and he burst into tears. It immediately set me off. I'll never forget the overwhelming feeling of love that hit me as I walked into the church and everyone turned around and smiled. That's just unforgettable! Lastly, I remember sneaking a peek into the marquee with Dan whilst we were having a moment to ourselves, and being bowled over by how beautiful it looked and smelt. We had little pots of fresh herbs on all the tables as wedding favours for guests to take home, and the intoxicating fragrance of bay, basil, mint, rosemary, oregano, sage was just unreal. I just burst into tears…again! I mean, I literally spent the whole day in tears!
  Was there anything that didn't matter as much as you thought it would?

None of it matters! You spend so long on table plans and colour schemes, but when it comes to the day it's human interaction that matters more than anything. That's free and the most special part!
"I'll never forget the overwhelming feeling of love that hit me as I walked into the church and everyone turned around and smiled."
  Did anything surprise you?

I think the 'overwhelm'. You know it's going to be a magical day, but it is so overwhelming, all of it, because it's so important and so special. And the love; a wedding is a love-fest! There's nothing like it.
  What would you have changed about your day?

I wouldn't change a thing about my day! Not a thing!
  Tell us something about your wedding that nobody knows.

It's obviously very important to get your underwear right under your wedding dress, and even more so with a backless dress. My amazing dressmaker had a vintage pattern for a bunny girl outfit. She adapted a 1960's original bunny girl corset by cutting the back so low, it didn't show. She even made me a fluffy tail – but I'm not sure that ever saw the light of day!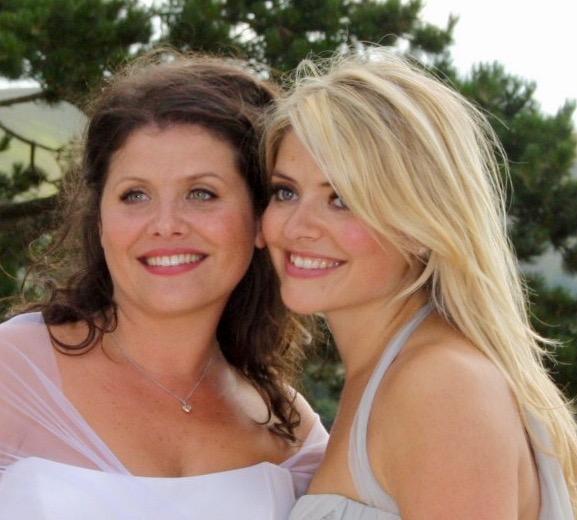 I was Maid of Honour for my sister, Kelly.
  Have you ever been a bridesmaid?

As a child, I was a bridesmaid twice. First was for my grandmother and then for my Auntie Debbie. Both times I sported incredible, 80's floral 'curtainesque' dresses, complete with hooped skirts and fake flower wreaths for my head. 
One piece of bridesmaid advice – definitely don't over-cook it the night before so you can make sure your bride goes to bed feeling relaxed, not trollied. As an adult, I was Maid of Honour for my sister. The stress of prepping for a wedding in our parent's garden, meant that all the bridesmaids piled down the road to the pub to let off some pre-wedding steam for rather longer than we ought to! Sorry Kelly! 

Believe it or not, I've actually had the responsibility, as a non-hairdresser, of doing the hair for three brides on their wedding days. Can you imagine the pressure? I did my best friend, Emma's hair for her wedding, after hours spent watching tutorials for an up-do with tiny flowers all over. Then my cousin-in-law, Ria, who had a short bob, wanted long wavy hair for her wedding day. There was me, praying that all the hair pieces I put in would last until the end of the night! Then Dan's best friend Juliet asked me to do hair and makeup for her wedding in Majorca. The heat was a major concern so I spent ages looking for make-up that wasn't going to slide off. On the day I had to be on hand to powder her down and re-apply her lip-gloss.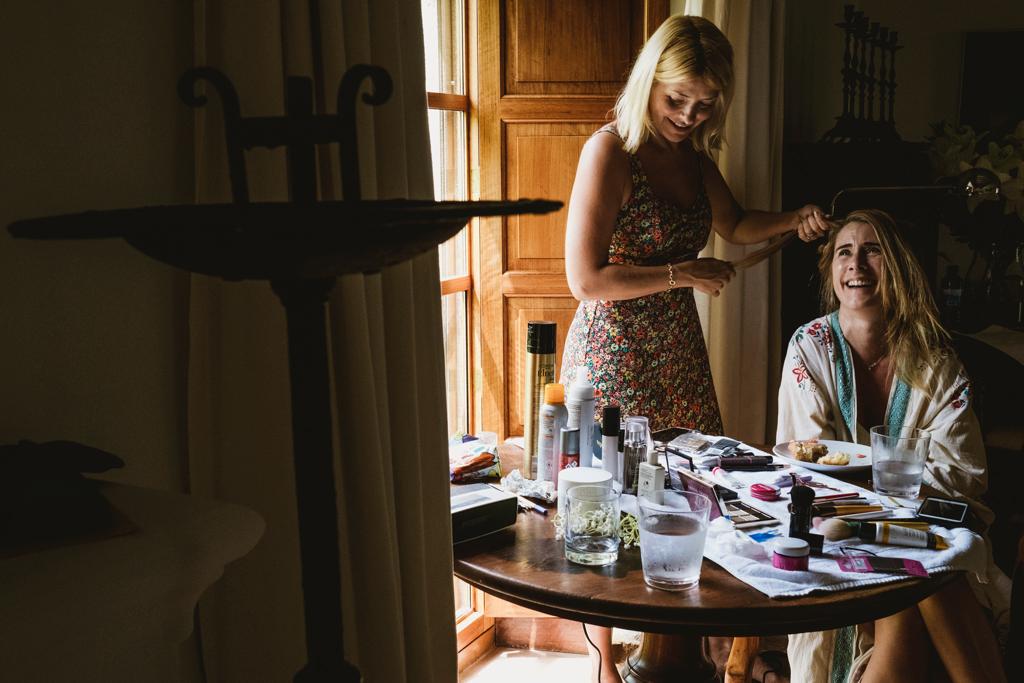 My friend Juliet trusted me to do her hair and makeup on her big day!
  What's your advice for any brides-to-be?

I would say, stop and look, because it's really easy to get swept along with the festivities and before you know it's all over. You get carried through the day by a mass of miniature moments, so you must try to take it all in. And, remember to take a moment to check in with your new husband throughout the day. 

What else? Oh photos! Make sure everyone takes hundreds of photos!! I remember posing for our official wedding photos and being so desperate to race through it so that I could go and see everyone. Actually, those photos are everything afterwards, so ensure you write up a short list of all the key people you want photos with and stick to it. You'll never get that opportunity again.
  And words of wisdom for the newly-weds?

I'd say you have to work hard not to take each other for granted. Continue to make the effort throughout your relationship. By effort, I'm not talking about looking nice for your husband, I'm talking about carving out time in your lives for each other. If you can't have a date night, then make sure you sit around the table and eat together, have a glass of something and talk through your day. 

It's so easy to live under the same roof and experience the same life but in parallel lanes rather than together. Sometimes you forget to look up and really see each other. 'Oh there you are… there you actually are'. If you continue to put as much energy into your marriage as you do all the other relationships you have in life, you'll not go far wrong.