Each month, WYLDE MOON will be shining a light on women doing inspirational work in their field.
If you haven't heard of Hunza G, you're bound to have seen their swimwear, which has been worn and loved by some of the most famous faces in the world. Flattering, inclusive, perfect for pregnancy and seriously well designed, Hunza G is a rose among the thorny world of swimwear and recently, fashion too. And the woman behind the brand? Georgiana Huddart, who it's safe to say, is a seriously bright light. Having always had a keen eye for fashion and design, Georgiana re-found and revived Hunza – as it was known then – in 2015 and has been at the helm of the brand ever since. Here, she talks to us about the chance meeting that led to her starting her business, what she thinks it takes to stand out amongst a sea of competitors, that original Hunza dress worn by Julia Roberts in Pretty Woman and the advice she would give to someone wanting to follow in her footsteps.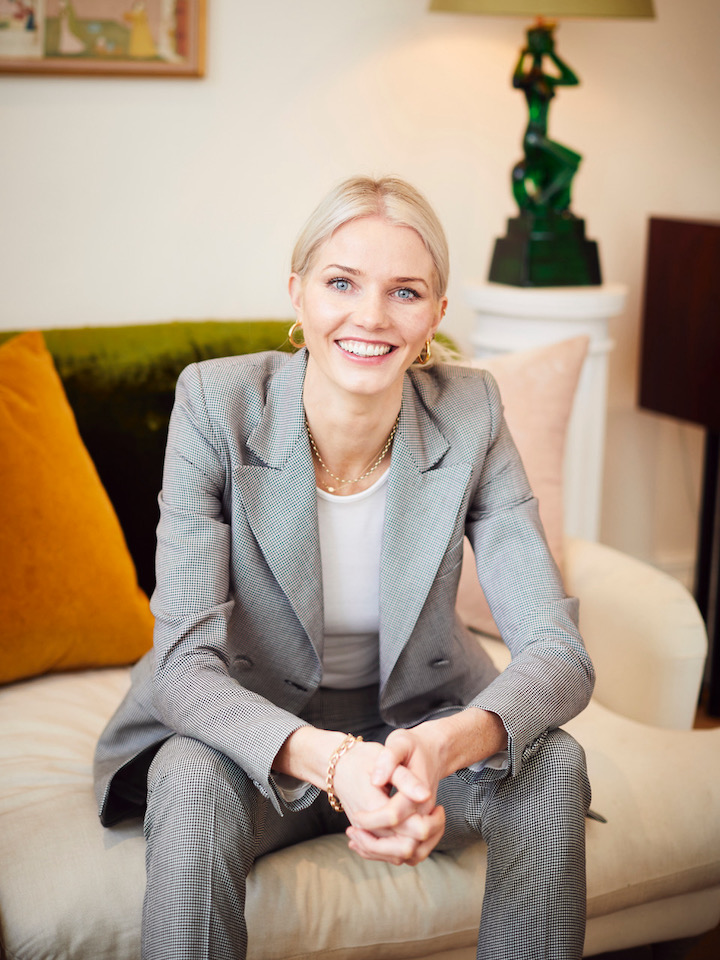 On the piece of advice she would give her younger self.
"I don't know anyone who's really successful and who hasn't worked really hard for it and been really committed to it. You can of course have success without hard work, but there's no longevity to that. Commitment is everything: commit to the thing that you want to do and really put your all into it."
"Commitment is everything: commit to the thing that you want to do and really put your all into it."
 
On life before Hunza G.
"I've worked in quite a few creative jobs, doing everything from working for a menswear designer and a stylist to spending some time as an interior designer. That interior design job, where I worked with a friend, was the first one that I could see myself doing for a long time. Around the same time, I'd been thinking about setting up a swimwear brand; I would send fabric over to China and Turkey to try and get it copied but to be honest, I had no idea where to begin. Obviously now, everything we do is made in Britain but at the time, I was just seeing what I could do. I'd found 500 metres of the original Hunza fabric, which is what we now call the crinkle fabric. That's when things really started for me. I got some samples made up in some of the styles that I had designed and the rest is history."
 
On the chance encounter that started everything.
"One of the styles that I got made up was this black dress, which I wore to a party. While I was there, someone came up to me and said that she knew Peter Meadows, the man who'd originally founded Hunza in 1984. I couldn't believe it, because I'd been looking for him! A few days later, we went for a coffee and he said that he was up for me giving it a go and trying to revive the brand. He had all of the production in place as he was making clothes for someone else so I could use all of the seamstresses, use a space in his office, have some of the original fabric – and off I went. Peter is still a majority shareholder in the brand today."
 
On what it took to revive the brand.
"Because it was started in the 80s, there wasn't really anything on Google about Hunza. Now, you can Google it and see Julia Roberts, see that digitalisation of everything that was once just physical editorial. So when we revived the brand, the power of social media was very much in place and within about 5 months, we were marketing really well on Instagram, had an inexpensive website that my friend kindly helped me set up and managed to spread the word relatively quickly. I think a lot of that had to do with the fact that we had this nostalgic fabric that meant so much to so many people and coupled with that, we were really one of the only brands making inclusive, one-size-fits-all sustainable clothing."
 
On the turning point where she realised Hunza G was going to be a success.
"In those beginning stages, before I met Peter and where I was making my own clothes in black and white fabric, people would always come up to me and comment on what I was wearing (whenever I was wearing one of my own designs), whether that was at a festival or at that party where I met Peter – about 6 different people came up to me that night. People's engagement with the fabric was so high even from that point, that I just knew that this idea of making a one-size-fits-most product was really exciting. In the beginning, lots of the London girls were wearing the brand, people like Clara Paget and Georgia May Jagger and that was great.
And then just 2 years after we launched, Emily Ratajowski was pictured wearing it – I hadn't sent it to her and actually, I wasn't sure how she had even got it. Her world was so far from my outreach, so that was incredibly exciting. Then, our Instagram froze and website crashed when Rosie Huntington-Whiteley wore the domino swimsuit. She posted it on her Instagram and tagged us and that was huge. At the time, we were still tiny, so we were taking orders and making them as we got them. But we got something like 300 orders in 3 hours after Rosie posted so we had to actually shut down the website for a bit to keep up with the demand.
We've since had amazing people, like Holly, Rihanna, the Kardashians all wear our pieces. It's also really exciting for me when I see people wearing our pieces; a few years ago I was on holiday in about 3 different places in Europe and I saw tons and tons of people wearing it, all from different backgrounds, all with different body shapes. And that same year at Glastonbury I was about 15 girls wearing the swimming costumes with shorts. To me, there's nothing more exciting than going somewhere and seeing it like that, especially when there are two completely different women wearing the same item and it looks amazing on both of them."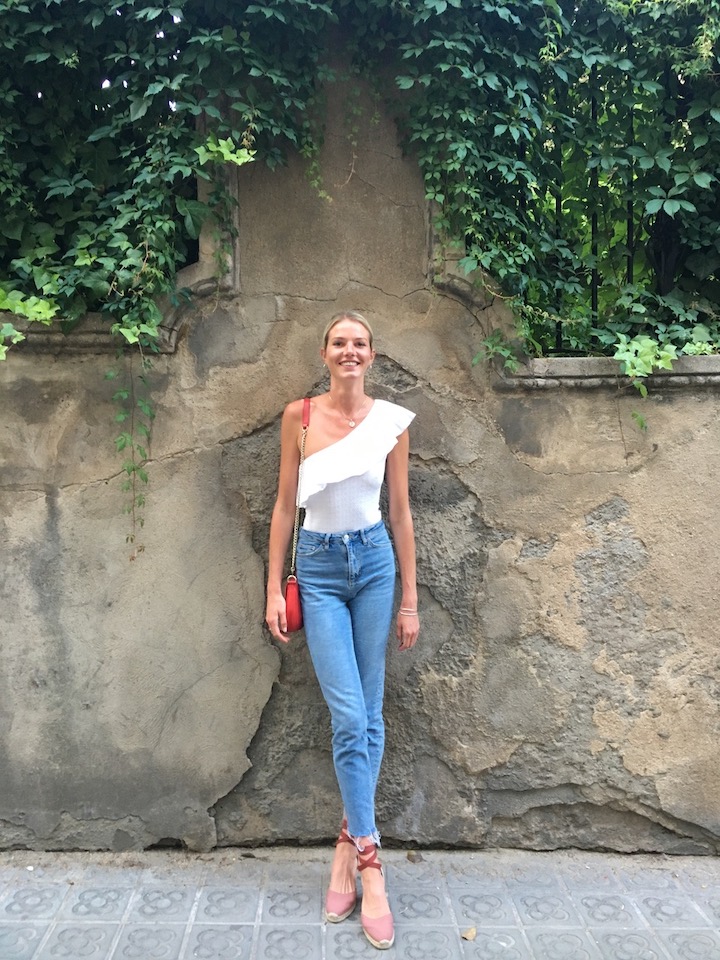 On being one of the first brands to do one-size-fits-most.

"Inclusivity is huge for us and I think is a big part of our success. Most brands either come up smaller or larger than standard sizing so it's frustrating, you have to buy it, try it on, and most likely send it back. I think Hunza G works because it's an easy purchase and one that'll continue fitting you, whether you get pregnant, put on weight, lose weight or whatever. You can purchase our pieces and know that whatever journey your body is on, they'll still fit you. It's not a complicated buying process but a joyful one, and I think that's quite rare with shopping. Inclusivity is also about age, and we have a strong customer base of older women. I love the idea of 3 generations all wearing our brand, which is why our baby range was so fun to do. For me, inclusivity really is everything: it's age, it's skin tone, it's body size, it's income. We try to keep our prices down and although I'm aware that we aren't the cheapest swimwear brand, we're a luxury item that's made in the UK, creating pieces that will grow with you and last forever."
" When I design, I like to think about women's bodies and what actually works in terms of movement, too."
 
On her creative process and where she goes for inspiration.
"I read constantly and I'm looking for inspiration everywhere and anywhere. I have my allocated time for design each season, but I'm a curious person and I read a lot of magazines, watch a lot of films, I go to art exhibitions and things like that, so I feel as if they all cross-reference. I feel lucky that we are a London-based swimwear brand which I guess is unusual in itself. I don't just want us to be about taking pictures of women with amazing bodies on beaches – that's not what we do. Instead, our lookbooks are inspired by different places, architecture, colours, hotels. We want to transport our customers. When I design, I like to think about women's bodies and what actually works in terms of movement, too. I'm sporty myself, so I know the importance of actually being able to move in a swimming costume, for example. Hunza G is never designed in a really glitzy way and the styling has never been super glamorous because you're meant to be able to jump into a pool and swim around."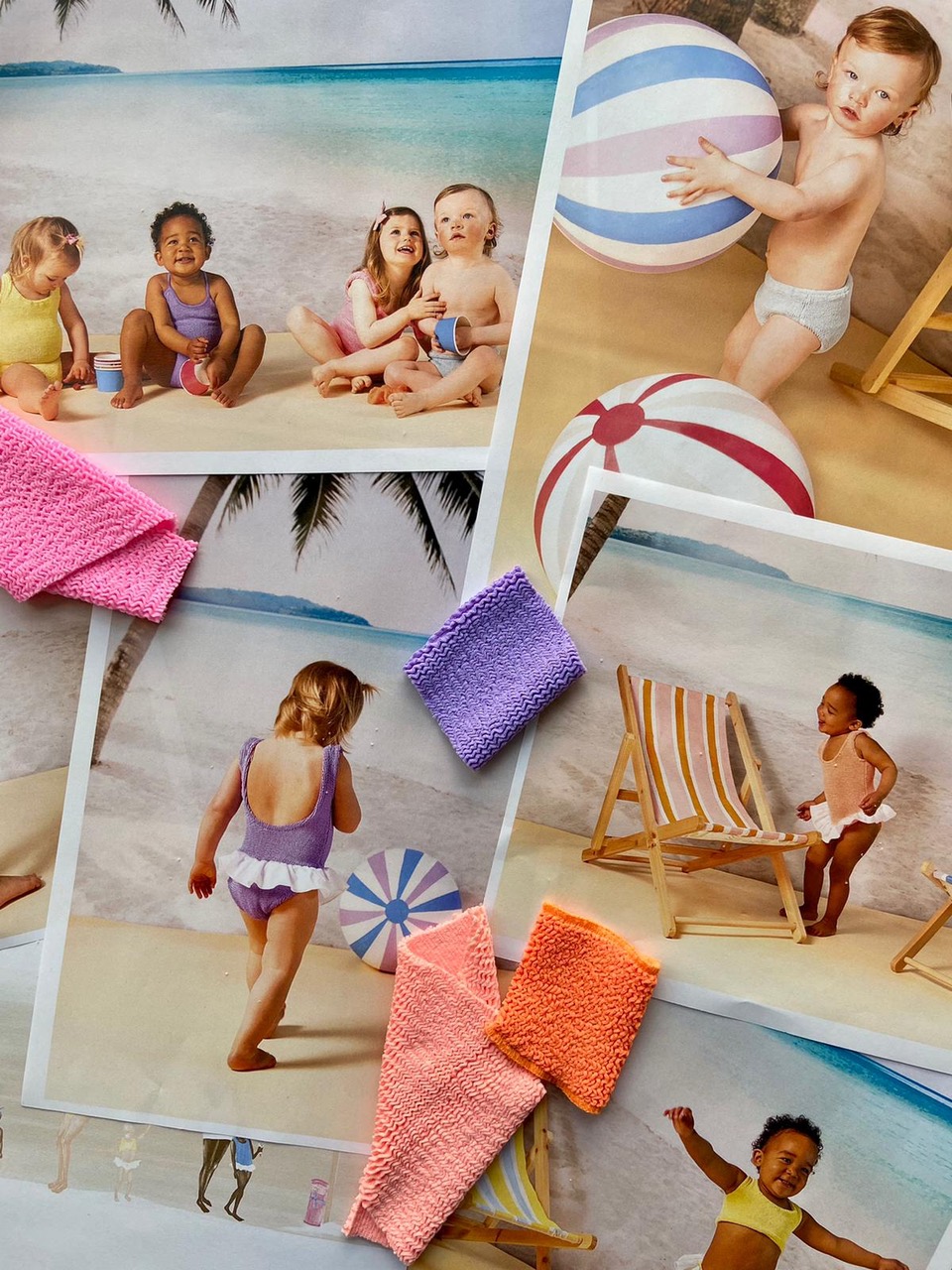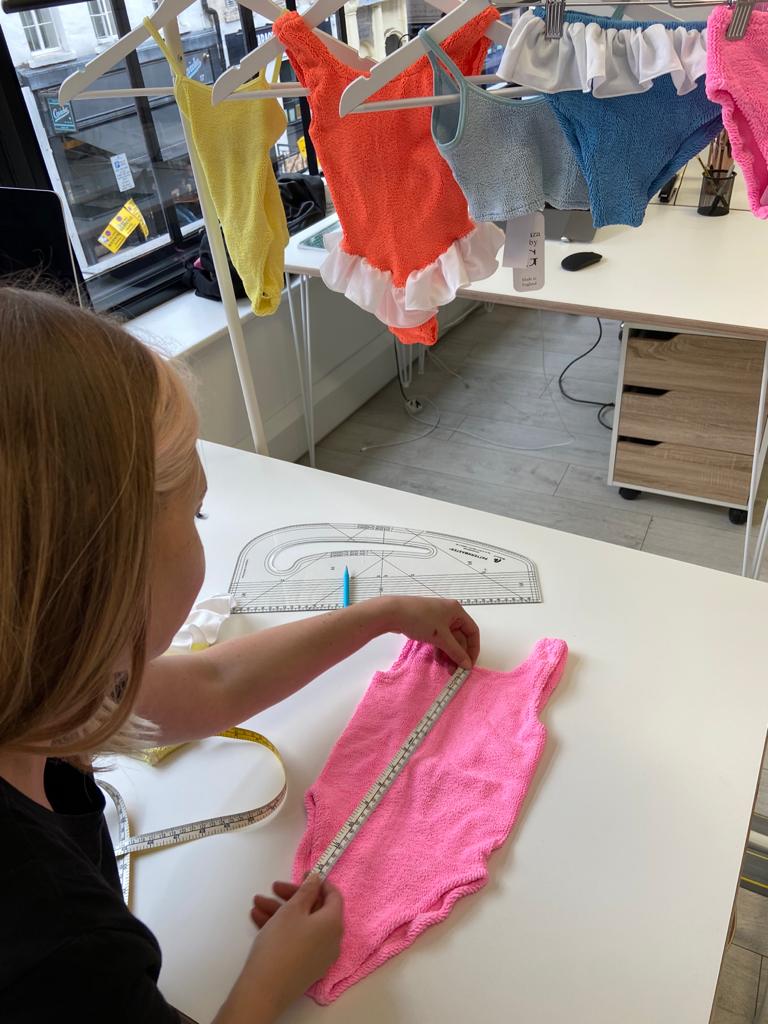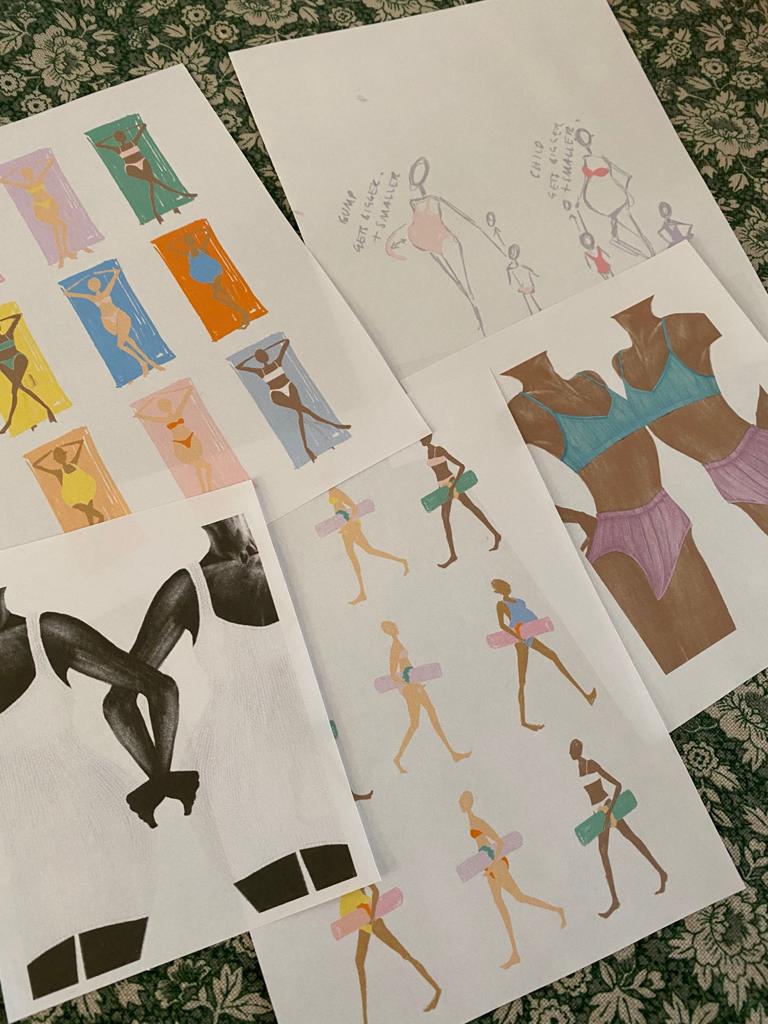 On standing out against brands that try to rip off Hunza G.
"We are the original, which really does help us stand out because we have that heritage element to the brand. Having Peter on board really helps with that and we were genuinely the first people to find the fabric and then to come out with collections that are creative, exciting, interesting and inclusive. Our products are also made entirely in the UK, so we are sustainable – which a lot of brands are not. Our best selling piece is the crinkle one, the one that Holly wears, but it's also the one that's the most ripped off. So we don't always like to shout about those bestsellers, because when we do something new, it just feels like a move on, which is creative and exciting. It doesn't mean that our customers are always going to go out and buy our new products because they might love the bestsellers, but I like to do stuff that keeps people excited and looking at what we're doing. It's always about being exciting and engaging."
Thank you, Georgiana, for sharing your incredible story with us.